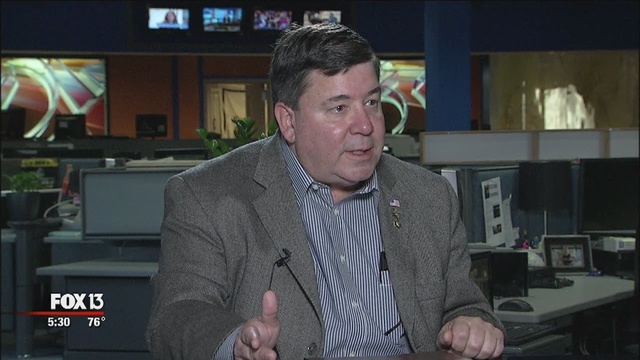 Retired U.S. Air Force Colonel and Hillsborough County's Republican State Committeeman Jim Waurishuk is the new Chairman of the Hillsborough Republican Executive Committee.
Waurishuk defeated political consultant April Schiff, 76-58 Tuesday night during the party's monthly meeting in Tampa.
The military veteran has only been involved with local party politics since 2011 when he joined the Hillsborough County REC. He told the local Republicans in his speech that he naturally gravitated to Donald Trump during the most recent presidential election
"In May of 2015 I took a stand and stood to support Donald Trump for president and I have stood steadfast with him ever since," he boasted. In fact, Waurishuk introduced Trump when the then Republican presidential candidate spoke at the USF SunDome in February of 2016. He also touted endorsements from not only local Republican officials, but also support from such figures as Corey Lewandowski and David Bossie, high ranking officials for at least part of Trump's 2016 campaign.
Nearly everyone in local Republican politics admits, the party is in dire need of  a transfusion of energy and excitement, following the resignation last month of Deborah Tamargo.

Tamargo was elected in 2014 but faced an inter-party battle in 2016 before stepping down after she faced a grievance filed against her by other party officers, including Waurishuk.
Waurishuk admitted that Hillsborough County is a different place than it was in 2004, the last time it went red in a presidential election.
"Through strong Republican policies and leadership, we will turn the party around and continue to grow," he promised, adding that he would improve fundraising and grow the party's volunteer basis. He also said that the party needed to change its message, and its messaging.
Waurishuk's military background has made him a respected voice with national conservative media venues like Fox News, the Laura Ingraham radio show and 970 WFLA in Tampa. He served as a staff advisor at U.S. Special Operation Command (USSOCOM)  and Central Command out of MacDill Air Force base over the past 15 years.
He defeated Schiff, who in her speech said that she had ran her campaign based on three principles – unity, civility and success.
She said she believed in celebrating a diversity of views a la Ronald Reagan's "big tent" philosophy and said it was important to respect each other's opinions And she promised to bring back elected officials who had wandered away from the local party during the Tamargo years.
Pasco County State Committeeman Bill Bunting attended the meeting and excitedly called Pasco County Chairman Randy Evans immediately after Waurishuk was announced as the winner.
"I'm glad this guy's in because we're going to need him, and we're going to help him," Bunting said, adding that he throught that the party under Tamargo was "dysfunctional" in his opinion.