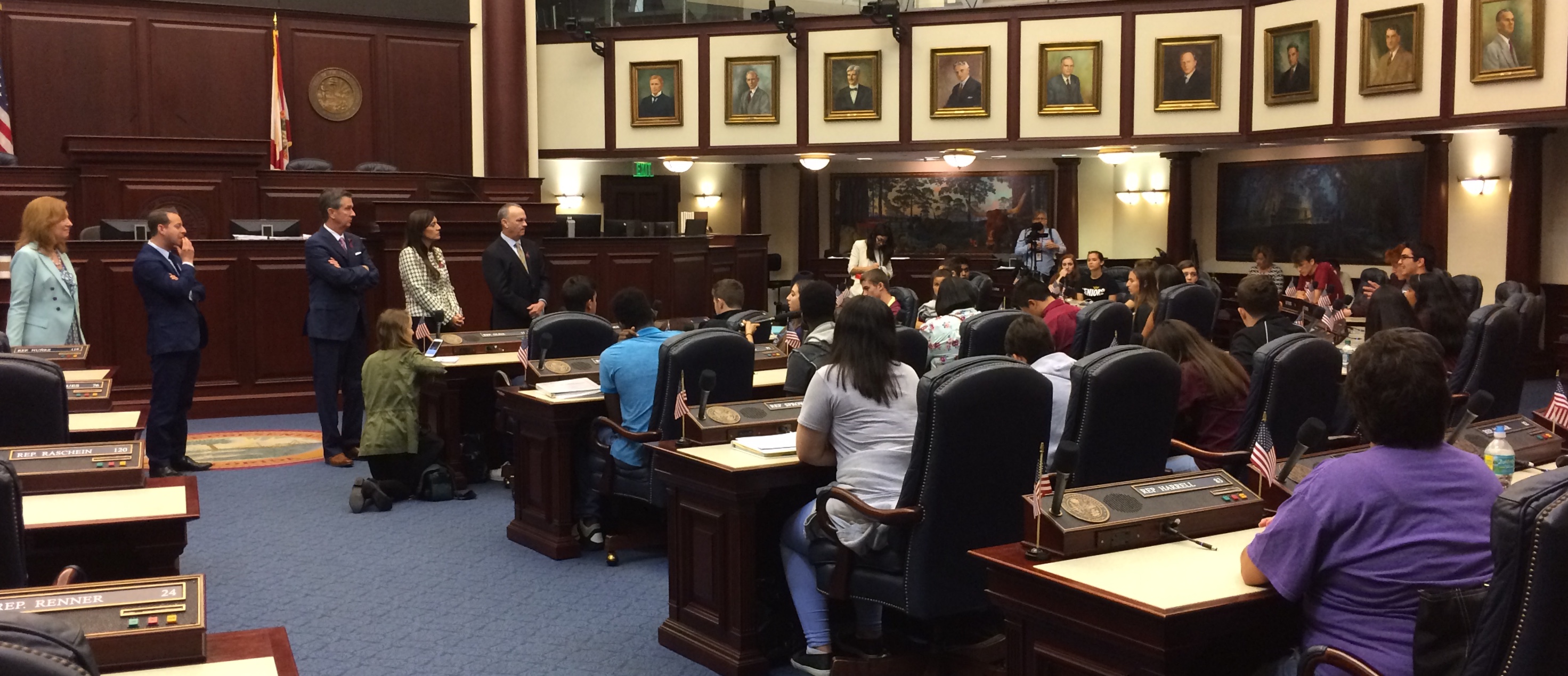 House Speaker Richard Corcoran told a group of Marjory Stoneman Douglas students Wednesday "how guns are treated is absolutely on the table" for bills that are in the works.
Corcoran, a Land O' Lakes Republican, and other House members met with dozens of teens who attend the Broward County high school in a midday meeting on the House floor.
Lawmakers are now struggling to come up with a legislative response to last Wednesday's Parkland high school shooting. The 2018 Legislative Session is slated to end March 9, just two and a half weeks away.
Many in the audience seemed boggled at the state's approach to gun control, with some asking how people are able to get assault rifles and what lawmakers plan to do, if anything, about it.
Others were concerned over the House's Tuesday party-line rejection of a Democratic procedural move to pull a stalled assault rifle ban out of committee and down to the floor for a vote. It included the type of weapon, an AR-15, used by the Parkland shooter.
"I'll ask you to trust us," Bradenton Republican Rep. Jim Boyd, chair of the Commerce Committee, told the crowd. "We all need to deal with this together."
Added Kristin Jacobs, a Coconut Creek Democrat: "A bunch of us in the middle are looking for change; this isn't on one party or the other.
"…I'm not being a Pollyanna about this. I truly believe we are on the cusp of change," she added.
Speaker pro tempore Jeanette Nuñez, a Miami Republican, told the teens to avoid the "noise out there."
"Just talk to us," she said. "We want to hear your opinion. You matter to us. But we want to pass meaningful legislation, not just window dressing."
One student asked Corcoran what he would like to see: "We need more than a little change. There's been multiple mass shootings."
For instance, 49 people were killed and 58 wounded in June 2016 in a shooting inside the Pulse gay nightclub in Orlando. That shooter was himself shot and killed by police.
"It's everything," Corcoran said, specifically mentioning mental health and school safety. "We are getting closer to the most sweeping package in the history of our state … Regardless of age, if you're mentally ill, you shouldn't have access to guns.
"… I think the people who do this are immense cowards," the speaker added.