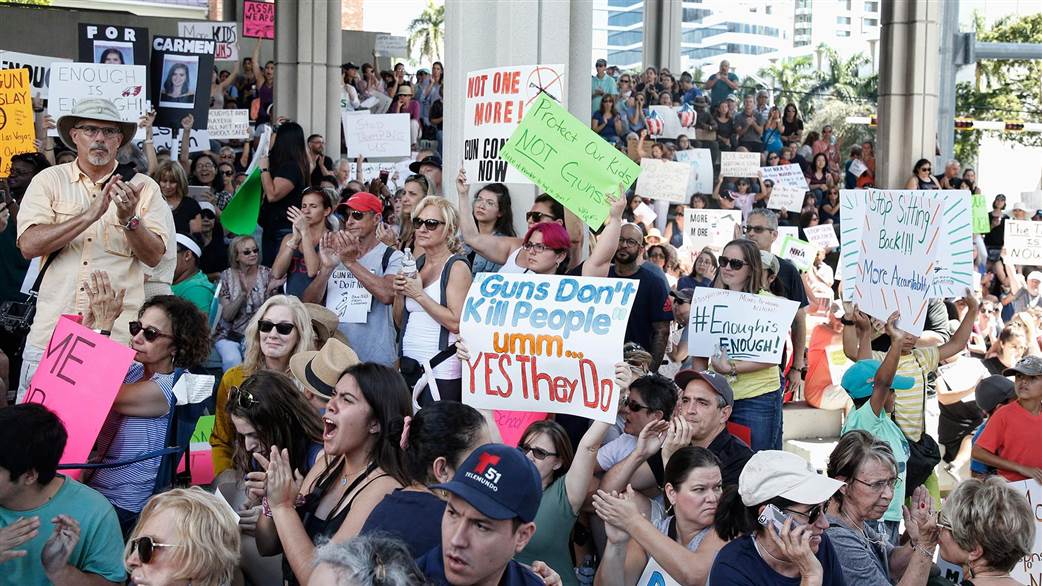 With teenagers directly impacted by last week's massacre in Parkland calling for politicians to stop accepting support funds from the NRA, three activist groups announced this week that they will spend $1 million nationally on registering eligible high-school students to vote in the 2018 midterms, with an emphasis on Florida and California.
NextGen America, Giffords: Courage to Fight Gun Violence, and Everytown for Gun Safety will launch on March 25th, a day after the March for Our Lives demonstration in Washington, and will include a national voter registration drive, support fellowship programs for high school students, and provide trainings that will reinforce their activism.
NextGen America is led by environmentalist and progressive philanthropist Tom Steyer, who will kick in $1 million of his own money to jump start the program.
"If this Congress won't act to protect our kids, we must elect one that will," said former Congresswoman Gabrielle Giffords, co-founder of the gun safety group Giffords. "If the politicians who have benefited from millions of dollars in NRA cash won't pass laws to make our schools and communities safer, we will vote them out. Today, students from Parkland and across the country are inspiring the country to be better. Come November, many of those young Americans will be making the difference themselves as they cast their votes for the first time."
"The passion and courage displayed by young people after the mass shooting in Parkland has compelled millions of Americans to act," said John Feinblatt, President of Everytown for Gun Safety. "Teens are speaking out and demanding more of their elected leaders. Now they're ready to channel their passion into the 2018 elections, when voters will throw out lawmakers who are beholden to the gun lobby and its dangerous agenda."
According to a press release, the effort will focus on districts and states represented by legislators who are backed by the NRA and have consistently opposed common sense gun reform. It will include a large digital and mail voter registration program, as well as a pre-registration program for 17 years olds in states such as Florida and California.
Florida, coined "The Gunshine State," by critics following the Trayvon Martin Stand Your Ground case in 2012, has long been considered one of the most pro-Second Amendment states in the union, at least when it comes to its conservative  Legislature.
Agriculture Commissioner Adam Putnam, considered a leading candidate for governor,  tweeted last summer that he was a "proud sellout" to the NRA, and directed supporters to sign a petition declaring that they too, could become an NRA sellout. He has now removed any such reference on his campaign website.