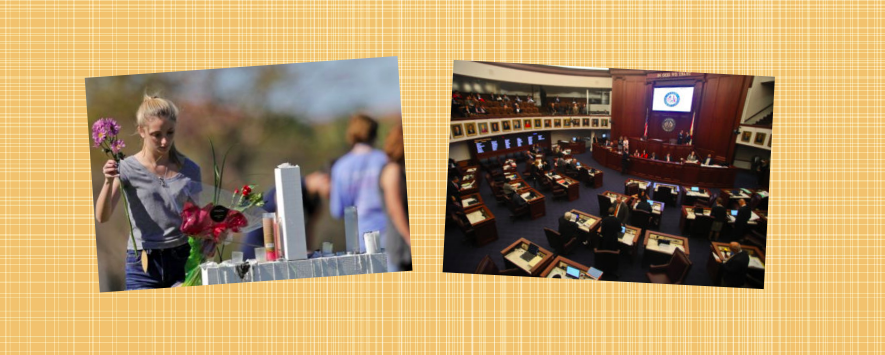 A win turned into a loss Saturday, as the Republican-controlled Senate first approved—then killed—an amendment on a school safety bill that would have mandated a moratorium on assault rifle sales in the state.
The legislation, called the "Marjory Stoneman Douglas High School Public Safety Act" (SB 7026), is in response to the Valentine's Day shooting at the Broward County school that left 17 dead.
The defendant in custody – 19-year-old Nikolas Cruz – used a semiautomatic AR-15 rifle, police say.
Mentioning other mass shootings in recent years, "what you can say about all of them is that (the shooters) had an AR-15, that's the one thing that's consistent," said Democratic Leader Oscar Braynon II of Miami Gardens, who filed the amendment.
His filing would have created a 2-year moratorium on the "sale, delivery, and transfer of all AR-15-style assault rifles" while the Florida Department of Law Enforcement studies the effectiveness of a permanent ban.
Surprising many in the chamber, Senate President Joe Negron ruled that a voice vote had OK'd the amendment.
Soon, however, Fleming Island Republican Rob Bradley moved to reconsider that vote, with the chamber eventually killing it 21-17, with Miami-Dade Republicans Anitere Flores and Rene Garcia joining the chamber's Democrats to vote for the moratorium.
Bradley later explained to POLITICO Florida's Matt Dixon: "The president calls balls and strikes. He thought he heard more senators say yes than no. When we went to the board, it turned out he was wrong."
Democratic outrage to the procedural move was swift.
"Just when you think the GOP is going to do the right thing, they go right back to do nothing to end gun violence," Florida Democratic Party spokeswoman Caroline Rowland quickly vented in an email to reporters.
Democratic candidate for governor Gwen Graham also tweeted, "If I was Governor, I would veto any bill that puts more guns in schools & doesn't ban assault weapons, and I'd call the Legislature back all summer to get this right."
Plenty of other amendments from Senate Democrats were also voted down, including "a registry of all firearms sold in the state," by Jose Javier Rodriguez of Miami-Dade County, and an outright ban on assault weapons and large-capacity magazines, by Orlando's Linda Stewart.
In a lengthy speech, Altamonte Springs Republican David Simmons inveighed against a ban, mentioning Adolf Hitler, violent video games, the North Korean dictatorship, and alluding to Cuban strongman Fidel Castro.
"You think it doesn't happen in a free society? It does," Simmons said. "You never know when that day is going to come."
But Stewart called them "killing machines" that "blow people up."
"They need to be banned," she said. "Let's do what the kids asked us to do," referring to Douglas High teens who have come up to Tallahassee to ask for a ban. After an hour of debate, that measure went down on a 20-17 vote against it.
Braynon also tried to remove a "school marshal" proposal from the bill. Commonly referred to as the "arming teachers" provision opposed by Republican Gov. Rick Scott, it would allow willing teachers, administrators and staff to be trained and carry concealed weapons.
"No way, no form, no shape. This is a non-starter," said Sen. Perry Thurston, a Fort Lauderdale Democrat.
Sen. Wilton Simpson, a Trilby Republican, countered that a teacher could the first defense against a future school shooter: "A teacher with a firearm could be the only thing that stops them." The amendment to delete the marshal program was defeated 20-18.
By late afternoon, senators were still debating amendments after agreeing to extend Saturday's floor session to 9 p.m. And late-filed amendments were still being submitted as of nearly 4 p.m.
The latest form of the legislation includes a 3-day waiting period – with some exceptions – to buy any firearm; a waiting period now applies only to handguns. It also raises the age to purchase all firearms in Florida from 18 to 21. And it creates a commission to make recommendations on school safety. Its first meeting could be as early as this June.
A story from earlier Saturday is here. A summary of the bill's provisions is below.