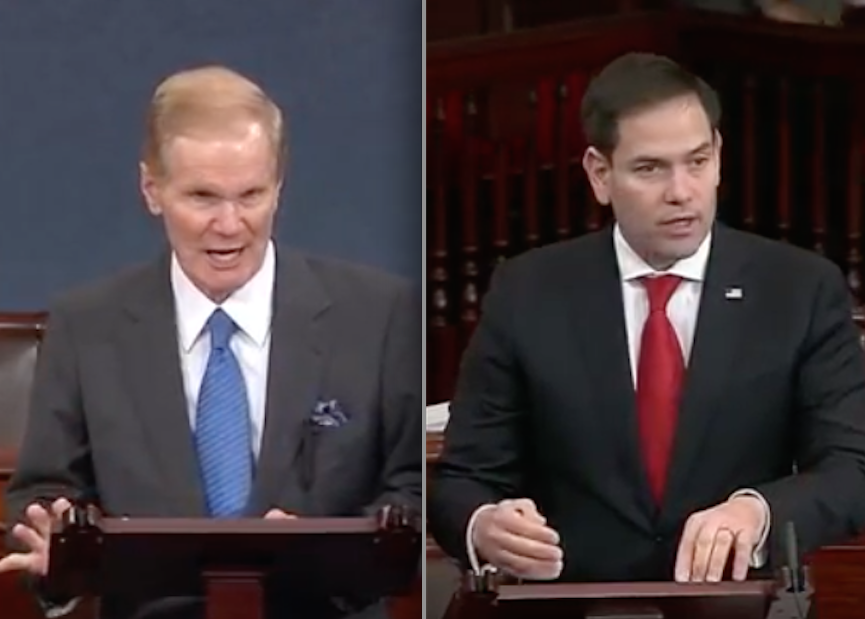 When someone fails a background check while attempting to purchase a gun, that should be reported to state law enforcement as a possible precursor to criminal gun activity, under a bill being pushed by Florida's U.S. Sens. Marco Rubio and Bill Nelson and a bipartisan group of several other key U.S. senators.
Republican Rubio, Democrat Nelson, Pennsylvania Republican U.S. Sen. Pat Toomey, and Delaware Democratic U.S. Sen. Chris Coons announced Monday they will sponsor a bill called the "NICS Denial Notification Act" which will help alert state law enforcement agencies to allow them to enforce existing laws against individuals who attempt to purchase firearms but have no legal right to do so.
The legislation also is backed by Texas Republican U.S. Sen. John Cornyn, South Carolina Republican U.S. Sen. Lindsey Graham, Illinois Democratic U.S. Sen. Tammy Duckworth, and Missouri Democratic U.S. Sen. Claire McCaskill.
"The Parkland shooter was able to carry out this horrific attack because of multi-systematic failures," Rubio said in a news release issued by his office. He tied the bill to the Feb. 14 massacre at Marjory Stoneman Douglas High School and to reports that the alleged shooter's intentions should have been clear to law enforcement officials.
"While we work to ensure that our background check system contains the critical information necessary to be able to conduct an effective background check, we must also ensure that federal and state authorities are successfully communicating with one another when it comes to dangerous individuals and their attempts to acquire firearms," Rubio continued. "The NICS Denial Notification Act would not only require federal authorities to flag background check denials for state-level authorities, it would also hold these federal officials accountable. This would be a strong step forward in preventing future tragedies. I urge my colleagues to immediately support this bipartisan legislation so that the president can swiftly sign it into law."
A similar bill, House Resolution 4471, was filed in the U.S. House of Representatives last year by Illinois Democratic U.S. Rep. Mike Quigley. It's gone nowhere — despite a bipartisan group of 13 cosponsors.
When convinced felons, fugitives, domestic abuses and others banned from legally purchasing firearms fail a background check through the National Instant Criminal Background Check System database, they often violate federal and state laws, the release notes.
However, the federal government rarely prosecutes any of these individuals, the release adds. What's more, 37 states and the District of Columbia all rely on the FBI to do some or all of their background checks, and generally are not made aware when prohibited persons fail the checks.
Individuals who are willing to "lie and try" to buy a gun may be dangerous and willing to obtain guns through other means, the release notes. As a result, these states and D.C. may lack critical law enforcement intelligence that they could use to try to keep their communities safe.
"Efforts to reduce gun violence are only as good as the systems in place to prevent prohibited individuals from obtaining guns," Nelson said in the release. "This bill is just another commonsense way to further those efforts to keep our communities safe from gun violence. I hope we can continue this conversation and continue to work together on comprehensive gun reform."
The bill also would require the U.S. Department of Justice to publish an annual report with statistics about its prosecution of background check denial cases, so that Congress and voters might hold federal officials accountable.
The effort already has been endorsed by the Fraternal Order of Police; Major Cities Chiefs Police Association; Federal Law Enforcement Officers Association; National District Attorneys Association; National Domestic Violence Hotline; National Coalition Against Domestic Violence; Everytown for Gun Safety; and the Giffords Foundation, according to the release.