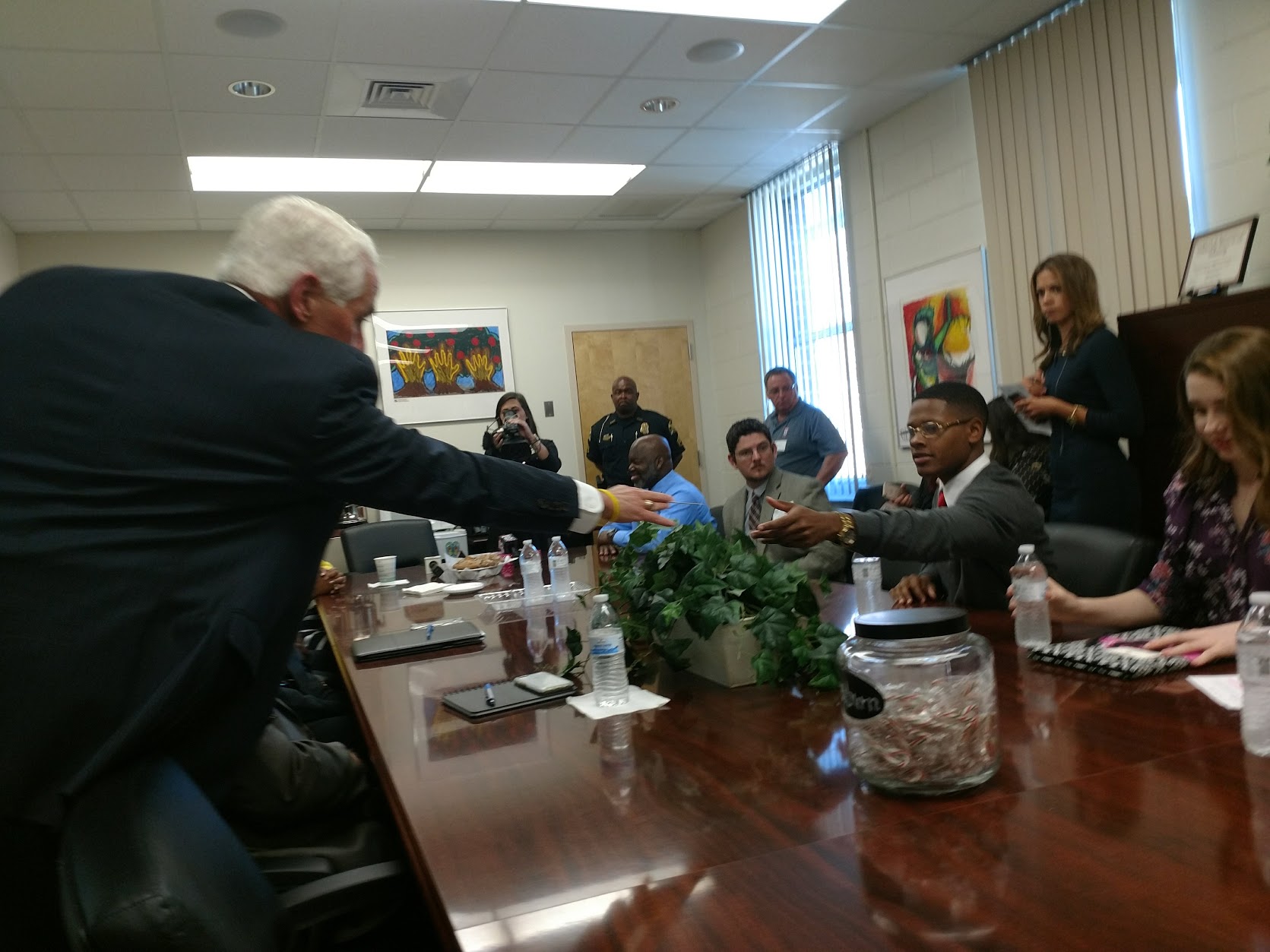 While Democrats like Charlie Crist hope Washington can finally address "common sense" gun regulations in the wake of the Parkland massacre, he admits the odds aren't great that will happen. That's why he's hoping President Donald Trump can intervene and push for some of the proposals he mentioned last week while meeting with legislators in the White House.
"I don't really understand why commonsense ideas can't be brought forward, or even discussed on the floor," the Pinellas congressman said twhile visiting with Pinellas County School Board Chair Rene Flowers, law enforcement officials, administrators and students at Gibbs High School in South St. Petersburg on Monday morning.
"I do think these things will change, and I do think new ideas will be brought forward, I just don't know if it's going to be now," Crist added. "If the President weighs in more, I think we'll have a better shot at that, so I hope that happens."
Trump stunned Republicans and thrilled gun-control advocates last Wednesday when he called for comprehensive gun control legislation that would expand background checks to weapons purchased at gun shows and on the internet, keep guns from mentally ill people, secure schools and restrict gun sales for some young adults.
A day later, he seemed to back off from that position after meeting with officials from the NRA, and on Friday, White House spokesperson Sarah Huckabee Sanders said that he still supported raising the age to purchase a rifle to 21 "conceptually."
Regarding background checks,  Sanders said the president favors "not necessarily universal background checks but certainly improving the background check system."
At Gibbs, Crist queried the students on what they felt was needed to keep their school safe.
Student body president Jameira Green, 18, said it was critical for student leaders like herself to include other students who don't feel involved in regular school activities. She said all it takes is one student who feels alone to explode in violence, as was the case last month in Parkland.
"They feel alone, and so now that they feel alone, they have to do mass destruction to get that attention they want from their peers, so I think it's more about the students and how they treat each other at school," said Green.
Anthony Harrell, 17, said that school lockdowns have been very productive in making students feel safe.
"When we have an announcement, they say 'this is not a drill, someone is on our campus,' " Harrell said. "Our teachers lock their doors and we cover windows. We duck and cover to make sure that no one comes in. If things are clear, we have an administrator come unlock the doors and tell us everything is all clear."
The students all said they would feel uncomfortable with teachers being armed in schools, a proposal that Crist strongly rejects.
Clint Herbic, the Associate Superintendent of Facilities and Operations with Pinellas County schools asked Crist if the federal government would be able to set up a grant program for districts and states to have "quick access" to funds to harden the infrastructure of public school campuses.
The congressman said he'd look into it.
Flowers talked about bulletproofing doors on school campuses, something she says she wants the school district to look into.
"We want our schools to remain inviting," she said. "We want our family members when they're coming in, to not feel like they're coming into a prison, they're coming into a school environment."