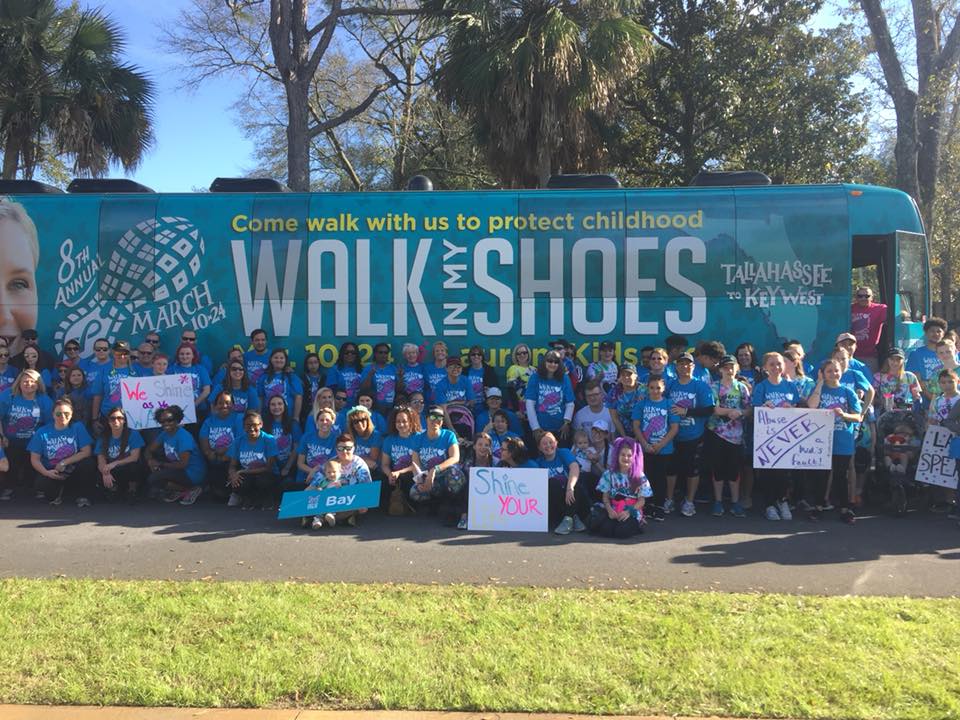 Survivors, advocates, elected officials and law enforcement turned out in St. Petersburg Wednesday to rally for an end to sexual abuse, taking added significance in light of the growing #MeToo movement.
Hosted by the nonprofit Lauren's Kids, the rally was part of the 8th Annual Walk in My Shoes, a 13-day Tallahassee-to-Key-West advocacy event led by founder and CEO Lauren Book.
With Wednesday's 4.8-mile walk, which began at the St. Petersburg Police Department headquarters, protesters wanted to send a message: "Enough is enough!"
Since 2010, Book — herself a sexual abuse survivor, advocate, mother of twins and now state Senator from Plantation — has walked throughout Florida every year to raise awareness and eradicate sexual abuse.
In 2018, Walk in My Shoes — along with the #MeToo and Time's Up movements — illustrates there is still more to do to remove the shame surrounding sexual abuse, protect Floridians, support survivors and hold abusers accountable.
According to statistics cited on the Lauren's Kids website, a sexual assault occurs every 98 seconds in the U.S. One in 3 girls and 1 in 5 boys in America will be sexually abused before their 18th birthday by someone they know, love and trust.
However, since statistics also show that 95 percent of child sexual abuse can be prevented through education and awareness, Lauren's Kids has made it a mission to walk through cities across Florida to educate the public.
"We are proud to share the road with the St. Petersburg Police Department, along with survivors, advocates and elected officials all committed to increasing awareness and protecting children," Book said a statement.  "Our law enforcement partners set the tone as the first responders to abuse reports. This department has long sent a strong message that there is zero tolerance for sexual abuse in the St. Petersburg community."
Walk in My Shoes — which crisscrosses the state every year — began Saturday in Tallahassee, a departure from its traditional starting point in Key West, which is still recovering from Hurricane Irma.
Since she also serves as a state lawmaker, Book postponed the walk until after the recently ended Legislative Session.
During this year's 60-day work period, Book had sponsored several bills to combat sexual abuse and assault — including those aiming to hold hotels accountable if they turn a blind eye to human trafficking (SB 1044) as well as legislation to combat sexual harassment in state government (CS/SB 1628).
"We recognize that one way to foster a safe community is by proactively aligning ourselves with organizations committed to crime prevention and keeping our citizens safe," said Sgt. Jason Deary of the St. Petersburg Police Department Crime Watch Unit. "Lauren's Kids has done a tremendous job increasing awareness about the threat of sexual abuse while empowering children and adults with tools to keep themselves aware and informed."
While in Pinellas County, the Lauren's Kids team also visited the Pinellas County Sheriff's Department to refresh a children's intake room with a Dr. Seuss theme. The intake room is designed to be a safe place for children involved in a crime. Participants updated the area to help it become more comfortable and friendly for children experiencing trauma.
After traversing the state, 2018's Walk in My Shoes will conclude with a celebration in Key West on Mallory Square Friday, March 23.
For a full schedule or learn more, visit LaurensKids.org.