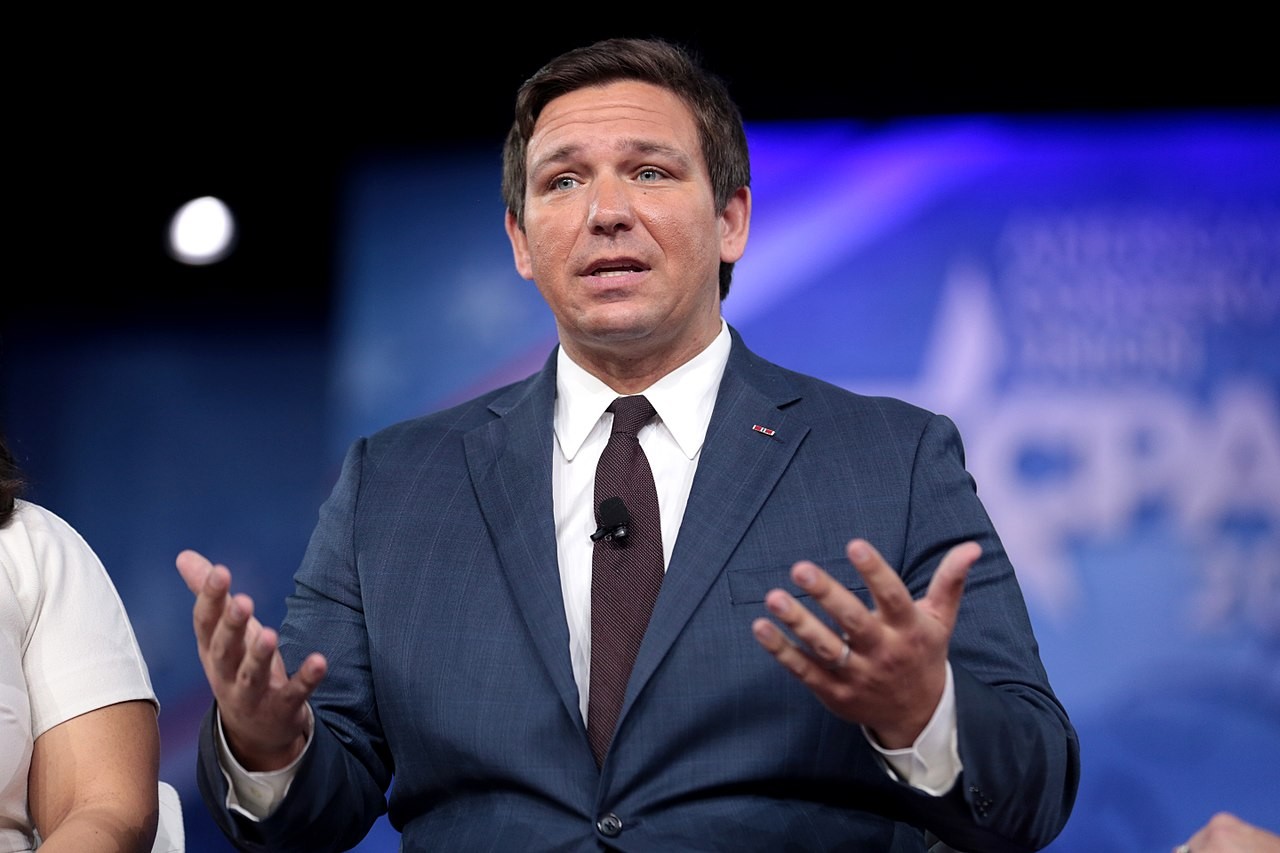 As U.S. Rep. Ron DeSantis pursues the GOP nomination for Florida governor, new scrutiny has been visited on two unrelated cases involving sailors who possessed child pornography.
DeSantis was Special Assistant U.S. Attorney in each of these cases, in which lesser sentences than the maximums were ultimately delivered.
DeSantis was a signatory to the plea deals.
However, despite the fact that the sentences were lesser than what a lay person may have seen as appropriate, multiple accounts – including that of DeSantis himself – tell a story of a tough prosecutor who pursued the strongest sentences he could.
—
The cases got contemporaneous coverage in the Jacksonville media market.
"Two Mayport sailors were in court Monday answering to federal indictments charging that they possessed or transmitted child pornography while on their Navy ships," read the original Florida Times-Union article from 2008.
"Matthew S. Orth, a sailor on the USS Roosevelt, [faced] charges he used a computer to transmit from the ship six images depicting minors as young as 9 engaging in sexually explicit conduct. Orth was indicted last week on one count of transporting child pornography and two counts of possession. Chase E. Keefover was arraigned on one count of possessing nine images of child pornography on his laptop computer aboard the USS Halyburton," the article continued.
In 2009, the Florida Times-Union reported on the sentencing phase.
Orth, who possessed hundreds of images of child pornography, got eighty four months of prison time and eighteen years supervised release. Keefover got six months in prison and six months house arrest, in addition to 18 years supervised release.
—
Ronald Henry, a former deputy chief who was also DeSantis' direct supervisor, supervised all Assistant U.S. Attorneys in these cases.
Henry said DeSantis, an "aggressive prosecutor who didn't go light," "absolutely" got what he could in these cases, especially given judicial discretion.
"If you get a sentence within the guidelines," Henry said, "you're doing a good job."
DeSantis likewise described the reason he took the cases out of the court martial system, saying that the sentences were not strong sentences, as members administered them. And he wanted the cases federal for more predictable results.
"The possession of child pornography is not a victimless crime," DeSantis explained Monday in a telephone interview, describing one judge who told him in a courtroom "why bring these cases — everyone has this crap on their computer."
"It's not true that [many people] have it," DeSantis said. "It's beyond the pale."
—
The Orth case got the harshest sentencing for good reason; the sailor had transmitted numerous images of children engaged in sexual contact, via filesharing services from his home port in Mayport. He had also taken the images on cruises, and downloaded them while in the Navy.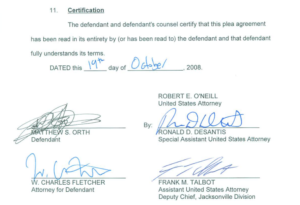 Weeks after he was detained, Orth accepted a plea arrangement. The two counts: transportation of child pornography and possession of obscene visual representations of the sexual abuse of children within the special maritime and territorial jurisdiction of the United States.
Per the plea deal, Orth had hundreds of images of child pornography on his computer equipment, including animated images. Routine network maintenance in August 2007 led to the discovery of images he had saved on the ship's server.
Cumulative penalties ranged from five to 30 years with a $500,000 maximum possible fine. In that context, the plea deal of seven years was at the low end of the guidelines. Orth was compelled to register as a sex offender also.
DeSantis notes that sentence was "three or four times" what a court martial case would be, and that people in the Navy "said wow" at the length of the sentence.
The plea deal exempted Orth from any further related charges known to the feds at the time of the plea deal.
—
The Keefover case likewise showed a sentence far short of the guidelines for the images. But here too there were circumstances that explained why.
"I think Keefover would have been acquitted in the military system," DeSantis said.
The government wanted 30 months, but the case was hampered by a lack of evidence beyond the images Keefover downloaded before he was 18, DeSantis said.
As a transcript of a court proceeding involving Keefover revealed, mitigating circumstances led to the six-month prison sentence and the six months of house arrest.
Ultimately, the judge has discretion, and considered the fact that Keefover had downloaded the material while still a minor himself, and didn't download or distribute any child pornography after the 2004-2005 timeframe.
"But, obviously, part of my judgment is that — is that this was something you did, it was really wrong, you shouldn't have done it, you've got to be punished for it, but that you are unlikely to ever do anything like this again, and that I am unlikely ever to hear about anything that you've done again of this type or any other criminal type," asserted Judge Timothy Corrigan.
The sentencing memo was in a similar vein, citing  "incredibly poor judgment by a teenager, rather than the calculated victimization of children by a sex offender."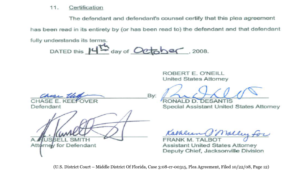 Keefover got a six month prison sentence and six months of house arrest, both below the 10 years of imprisonment and a $250,000 fine that were theoretically permitted by sentencing guidelines. Keefover also had to register as a sex offender.
Corrigan noted that the government was "thinking that [Keefover] should have gone a lot longer with this" in terms of sentencing.
Even in a case like this, DeSantis thought it important to prosecute to send a message. That accords with his NCMEC training, he said.
—
The plea deals DeSantis signed are not unusual in their types.
The gap between maximum sentences and what is dispensed is common to many of these cases which involve peer to peer file sharing.
As an ABA Journal article reports, there is a tendency for judges to give reduced sentences for defendants in these cases for a variety of reasons.
Per Families Against Mandatory Minimums, the combination of low recidivism in these cases with a "current sentencing scheme [that] is plagued with problems and has led to extraordinary injustice" has increasingly led judges to give sentences on the lower end of the spectrum than the guidelines would dictate, with a majority of judges believing the sentencing guidelines are harsher than the crime merits.
—
Florida Politics' A.G. Gancarski contributed to this post.