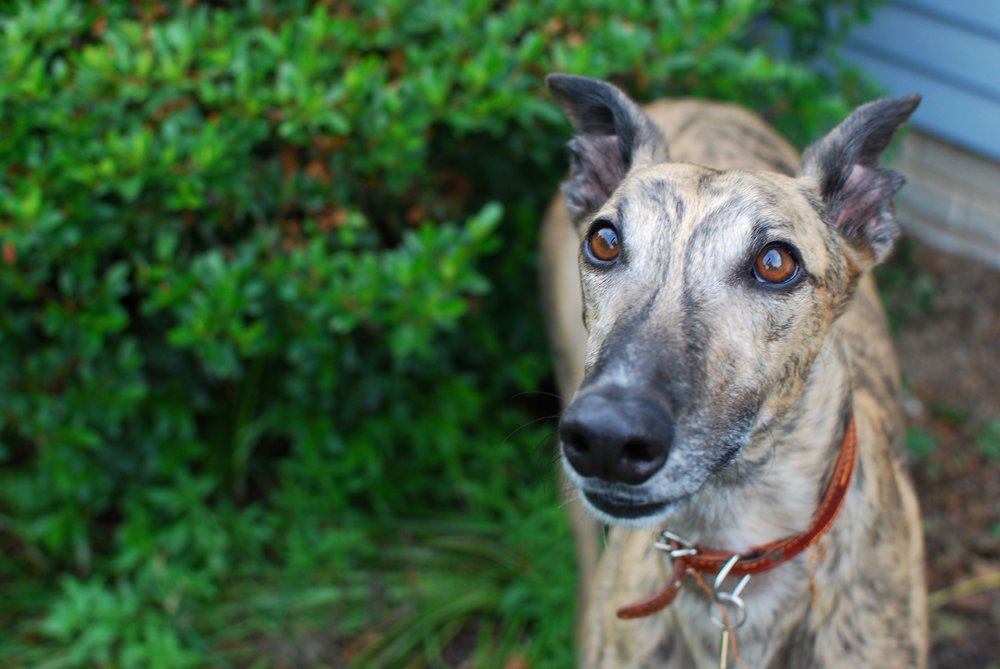 I adopted my first greyhound in 2003, a decision that changed my life forever. I offered to take the dog that had been waiting for a home the longest, and was introduced to a four-year-old dark brindle dog named Leroy. He had suffered a back injury and his owner, a large greyhound breeder from Colorado, had ordered that he be "euthanized." Luckily his trainer reconsidered, and Leroy eventually found his way to me.
Leroy was nervous when he first joined our family, and never left my side. He was quiet, loyal, and loved to go on adventures. Within two months, I had adopted five more greyhounds and Elite Greyhound Adoptions was formed.
Over the next decade and a half, and thanks to the work of hundreds of dedicated volunteers, I was able to help more than two thousand gentle greyhounds find homes. Leroy even showed other dogs how to acclimate to their new surroundings when they arrived. Elite became officially recognized as a track adoption group for Palm Beach Kennel Club.
I'm grateful for the opportunity I had to help so many dogs, but it came with a price. When I started my rescue group, I was instructed to not speak publicly about anything that would put the industry in a negative light, and was discouraged from even using the word "rescue." Greyhound trainers made it clear that if I violated this devil's bargain I would stop receiving dogs, and they would instead be killed. Race dog owners generally lived out of state and many never even met the greyhounds they owned. On a daily basis, these owners would instruct trainers to get rid of dogs that had been injured or were no longer profitable. There was also a steady stream of dogs that were sent "back to the farm," trucked back to breeding farms and presumably killed. I had trainers call me in tears, begging me to take a favorite dog before it was sent back to meet a dismal fate.
In the ensuing years I personally witnessed rampant cruelty in the racing industry. Dogs arrived with severe infestations of fleas, ticks and internal parasites. Many had old hock fractures that were never healed properly. Nearly every single breeding dog that came to us required extensive dental work with multiple extractions. We were given countless dogs with catastrophic injuries, including dogs with legs that were literally dangling. A dog I was trying to rescue died while being shipped to another state, after the industry hauler put her and a second dog together in a small cage for the long trip.
I tried to work within the industry and push for changes. I provided track officials with specific information about animal welfare problems, but nothing came of my complaints. The industry has not changed. All these years later, greyhounds are still breaking their legs and being dumped. The lucky ones are kept at vet clinics for years, where they are used as blood donors, while others are simply destroyed.
After suffering a personal tragedy a year ago, I simply couldn't stay silent any longer. I began speaking up about my experiences, and joined a movement to end this cruel industry. I spent the last month traveling across the state to testify before the Constitution Revision Commission, which is considering a measure, Proposal 67, to phase out greyhound racing by 2020.
As a consequence of telling the truth, my family and I have been verbally attacked and subjected to cyberbullying. I have also come to grips with the sad fact that I will no longer be able to help individual dogs as I used to. Nonetheless, I'm incredibly proud of the choice I have made to speak out.
I have seen this industry from the inside, and it's time for it to end. With my entire heart, I urge commissioners vote yes for the dogs on Proposal 67, and let the voters decide the fate of dogs like Leroy.