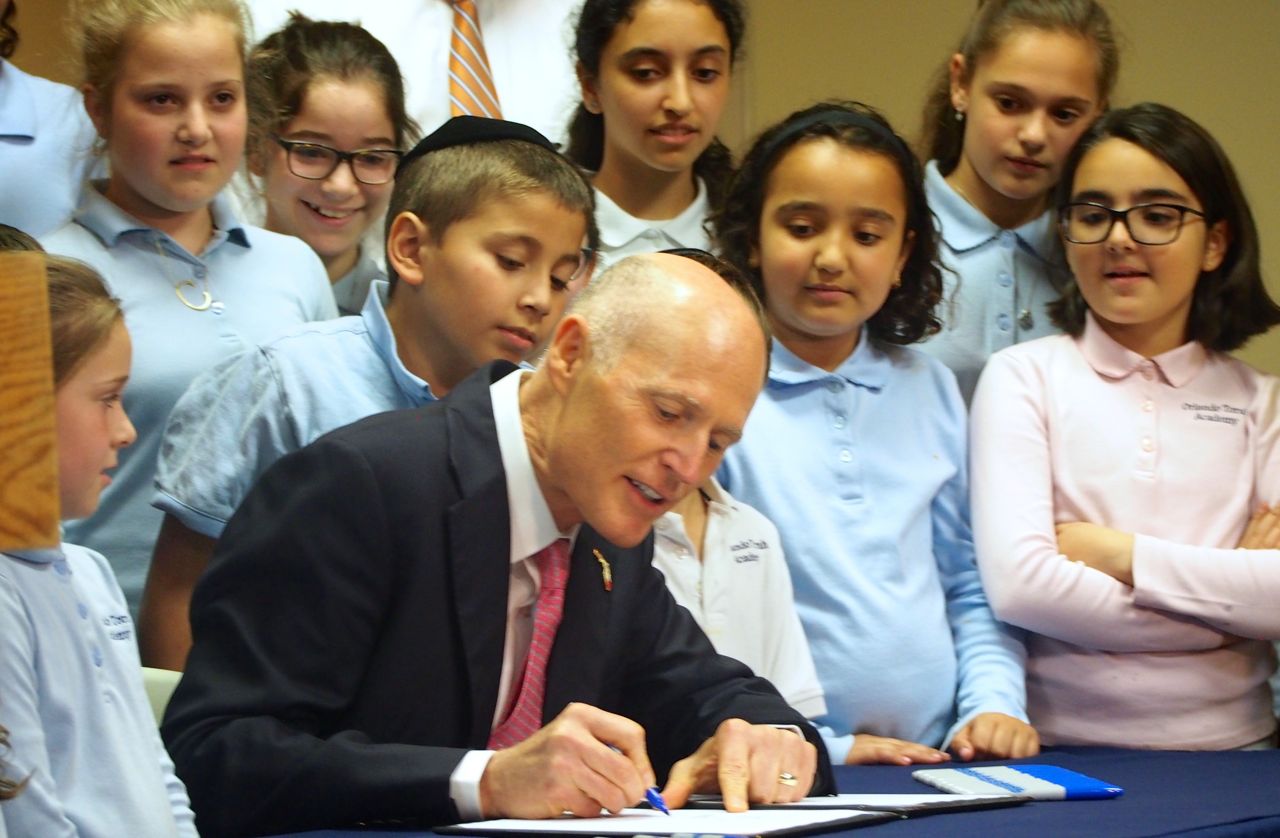 Gov. Rick Scott condemned the boycott-Israel movement as anti-Semitism as he signed House Bill 545 in Orlando Wednesday, outlawing Florida governments from doing business with any entities boycotting Israel.
Scott's bill-signing ceremony Wednesday at the Orlando Torah Academy, a Jewish day school, also served to allow him to tout the $2 million that was included in the state budget to such institutions harden security against terrorist and other potential attacks.
"The state of Florida stands firm with our ally Israel. In 2016 I was proud to sign legislation that prohibited the state, or administration, from investing in companies that boycott Israel. Today I'm proud to sign HB 545, an important piece of legislation that builds on our efforts by prohibiting any state agency and local governments from contracting with companies that boycott Israel," Scott said.
"This bill sends a message to companies across the world that anti-Semitism has no place in our state or in our country," Scott said. "By signing this bill we are assuring that Florida will not support those that participate in this intolerant movement. We're also celebrating our continuing relationship with our great friend and partner, Israel."
Scott was joined by state Rep. Randy Fine, the Palm Bay Republican who sponsored the bill with Coral Springs Democrat Jared Moskowitz. Also on hand were Republican state Reps. Bobby Olszewski of Winter Garden and Mike Miller of Winter Park.
"I just wish every state would emulate how great you all have responded," Mimi Jankovitz, director of Teach Florida, an advocacy group for Jewish schools, told Scott and the trio of lawmakers.
The $2 million included this year to improve security and safety at Jewish schools came after $1 million provided last year, an effort that followed a series of bomb threats made against various schools.
"We need to stand with Israel. That's step one. Step two is we should not be doing business who are boycotting Israel. That's wrong. And step three is, we've got to keep these schools safe," Scott said.