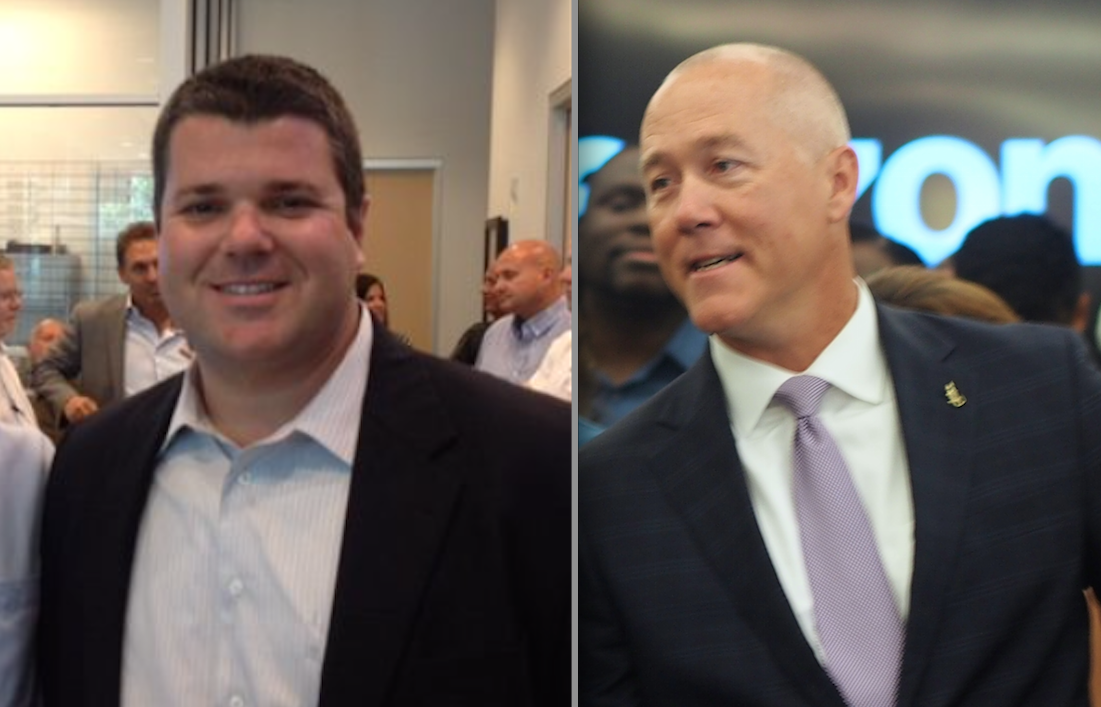 Republican U.S. Sen. Marco Rubio's reluctance to give full-throated support for Gov. Rick Scott's anticipated run for Florida's other U.S. Senate seat is becoming an issue in the Republican primary contest between Scott Sturgill and Mike Miller in Florida's 7th Congressional District.
The congressional campaign for Sturgill, a businessman from Sanford, is criticizing Rubio's loyalty, and questioning whether an alliance with Rubio might be an issue for Miller as Republicans look to support Scott this fall against Democratic U.S. Sen. Bill Nelson.
Miller used to work on Rubio's campaigns, and Rubio had endorsed him in the CD 7 contest, following a pattern in previous races when Miller was elected and re-elected to the Florida House of Representatives in Florida's House District 47. Rubio will be featured at an April 6 fundraiser for Miller.
In a sit-down with Tallahassee reporters Tuesday, Rubio said he would not campaign against Nelson, whom he considered a good colleague and partner in several matters they worked together on for Florida.
Sturgill's campaign spokesman Frank Torres declared in a statement released early Thursday that Rubio's reluctance is something Republicans need to think hard about when they're considering whom Rubio is or isn't supporting.
Miller, too, seems to be seeking a little distance from Rubio. An unconfirmed audio clip sent to Florida Politics appears to be a Miller speech in which he criticizes Rubio's spending in Washington.
Nonetheless, his campaign shot back at Sturgill, noting the praise that Scott gave Miller at an event in Orlando last week, and suggested that Sturgill was "upset" by the Governor's acknowledgment.
Miller and Sturgill top a multi-candidate Republican primary seeking a shot at Democratic U.S. Rep. Stephanie Murphy in November. Once solid red, CD 7 was redrawn to take in more Democratic neighborhoods in Orlando, and now is pretty purple, covering the predominantly Republican Seminole County and the predominantly Democratic north and central Orange County.
Also in the CD 7 Republican primary are Vennia Francois and Patrick Weingart.
There's a chance backlash against Rubio's reluctance to support Scott could spread, as Rubio offered endorsements in other Republican primaries, notably when he tapped  Julio Gonzalez in Florida's 17th Congressional District. CD 17 came into play last month when Republican U.S. Rep. Tom Rooney announced he would not seek re-election. Several Republicans have since entered or are considering a bid.
"Senator Rubio's decision to not campaign against Bill Nelson is unfortunate and a 'must know' for Republicans living in Florida's 7th District," Torres stated. "While Republicans all over the state will likely be rallying behind the 'Jobs Governor' Rick Scott, in this year's Senate race, Rubio will be on the sidelines because he has a 'good working relationship' with Nelson."
Torres fired a suggestion at Republicans considering attending Miller's fundraiser next week, at which Rubio is the headliner. He also took a shot at Miller, charging that the Winter Park house member hasn't been Scott's best ally in the Florida Legislature.
"Republicans supporting Mike Miller need to know this ahead of Senator Rubio's visit next week," Torres added. "Mike himself has opposed the governor on issues such as economic development and cutting regulations while continuing to fund organizations like Planned Parenthood. He's not a conservative and not the best chance to defeat Stephanie Murphy in November."
In the unconfirmed audio recording, Miller criticizes out-of-control spending in Congress and notes that even Republicans are part of the problem. He states: "I love Marco for a lot of the good things. I wonder how fiscally conservative he is. I want to remind him sometimes, 'Heads up, we're spending a lot of money.' Fiscal conservatism is where it all begins."
On Thursday, Miller's campaign responded to Sturgill's statement with this statement:
"It is sad Mike's opponent is more focused on politics than the issues that are most important to voters. We should be talking about building the wall, balancing the budget, and protecting the Trump tax cuts, but instead Mike's opponent is upset by the kind words Governor Scott has said about Mike recently, and is using them to infuse unnecessary politics into our campaign. Mike is focused on discussing real issues and ensuring Central Floridians have a representative in Congress that is fighting for them – not special interests. Governor Scott is a great American and Mike has enjoyed working with him keeping taxes low and making life better for all Floridians."
On Tuesday, Rubio said he wouldn't campaign against Nelson if Scott, as expected, runs: "Bill Nelson and I have a very good working relationship."
The full transcript of Rubio's comments, provided by his office, read: "I don't campaign against Bill Nelson. Bill Nelson and I have a very good working relationship. I think come election time, both of us understand — he supported Patrick Murphy because he wanted his party to have more seats in the Senate. And I'll support the Republican nominee, and if Rick Scott runs, it's going to be him. And I think he'll do a good job here in the Senate. It's not an indictment on Bill. I couldn't ask for a better partner — especially from the other party. Come election time I want my party to win, just like he wants his party to win. So I don't have anything negative to say about him, but I clearly want to have more Republicans in the Senate."
Scott has scheduled an April 9 event, when he is expected to formally announce his entry into the U.S. Senate race.
"We're proud to stand with Gov. Rick Scott in his anticipated campaign for Senate and will run side by side as the voters reject both Bill Nelson and Stephanie Murphy at the polls this November," Torres stated.
As for Francois, her campaign issued a statement Monday suggesting the bickering between Miller and Sturgill shows why they're both bad for the district.
"Two men running for Congress arguing about whether the Senator should support the Governor is the type of backroom bickering from career politicians that people are sick of. Everyday Vennia will continue to talk directly to the voters about the issues that keep them up at night and it's why she'll prove she's the only Republican who can win against Stephanie Murphy," stated Larry Farnsworth, spokesman Vennia for Congress.