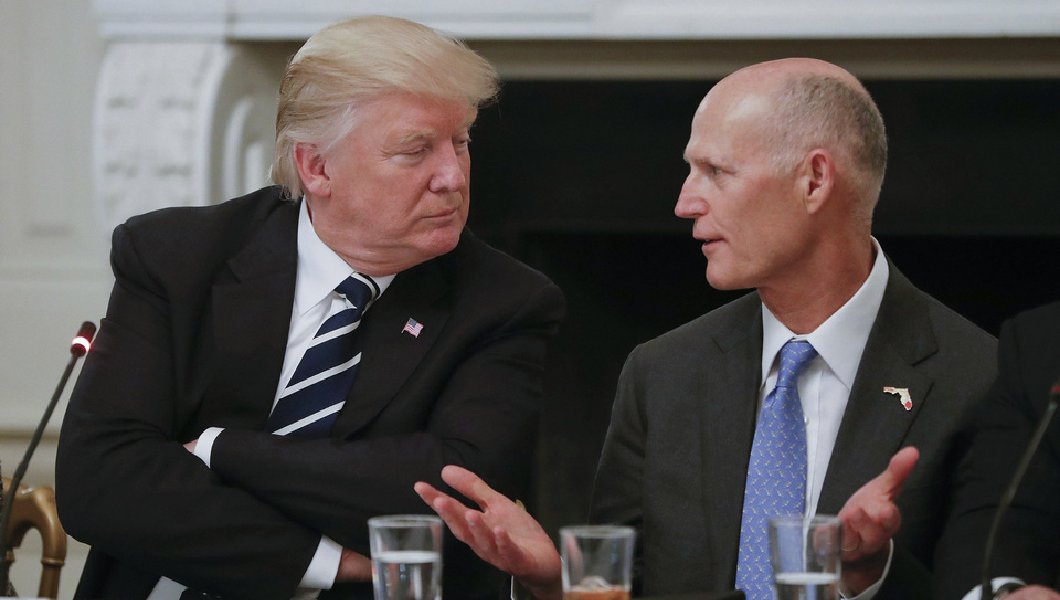 Guns and Trump.
Let's just cut to what figures to be the essence of a showdown between three-term incumbent Democrat Bill Nelson and two-term Republican Gov. Rick Scott for a Florida U.S. Senate seat.
Scott's entry into the race, long a foregone conclusion, becomes official Monday and signals the start of what could the most expensive and nasty race in the country. These days, that's a high bar to hurdle but it can be done here.
There also could be a false assumption about this election.
So, you think Democrats are building toward a blue tsunami this fall? You think Donald Trump's record unpopularity will suck down Republican candidates like the vacuum effect from a sinking ship?
Maybe so.
As we know in Florida all too well though, it's dangerous to make assumptions about politics. And Scott's candidacy already is a problem for Democrats.
To have any hope for their party to gain control of the Senate, Nelson must win. To do that, he will need lots of money from the national Democratic machine, potentially taking resources away from races in other states.
Scott, meanwhile, could again choose to self-fund a large part of his campaign, which would be heaven-sent to Republicans.
There are 33 Senate races this fall and nearly a dozen are expected to be competitive. Democrats must defend 25 seats, including 10 in states where Trump won in 2016. Eight of those seats are considered tossups.
Florida, of course, is one of those and it figures to be the big prize for both parties. Polls have been all over the place in this race so far.
That brings us back to the two things that matter most in this campaign: Guns and Trump.
Scott has been joined at the hip to Trump, which Nelson's camp will exploit to the max. It may not matter as much as Democrats would like, though.
While Trump's approval is hovering around 40 percent, and perhaps a little higher in Florida, his people will turn out and vote no matter what. In a mid-term election, turnout is the key and Democrats have fallen short there in the past.
The X factor is whether the slaughter of innocents at Parkland brings out thousands of new voters. If so, it could turn the election in Nelson's favor.
Although Scott pushed through and signed a law imposing modest gun restrictions after 17 people were shot to death at Marjory Stoneman Douglas High School, he still is closely identified with the National Rifle Association.
Nelson, on the other hand, proudly points to his F rating from that organization. And in an interesting twist, he has developed a close working relationship with his Republican counterpart in the Senate, Marco Rubio.
They have appeared together several times, and Rubio has vowed he will not campaign against Nelson.
Scott is not happy about that.
There's another bit of unpredictability tossed into the stew. Start with how they got to this position.
Neither candidate is dynamic on the stump. Even their record of election wins comes with question marks. Nelson won three races against Republican opposition that seemed to get weaker every time.
Scott likely will be a tougher opponent, but by how much? He won both his gubernatorial races by about 1 percentage point. A win is a win, but wins like that are hardly an overwhelming mandate.
Democrats will attack Scott's record on the environment, various scandals that popped up during his two terms, and – did we mention – he endorsed Trump.
He is friends with Trump.
Trump. Trump. Trump.
Guns. Guns. Guns.
The question becomes whether making that argument to voters over the next seven months will convert hearts and minds or just reinforce existing opinions.
My guess is the latter. We'll find out soon enough.
Game on.