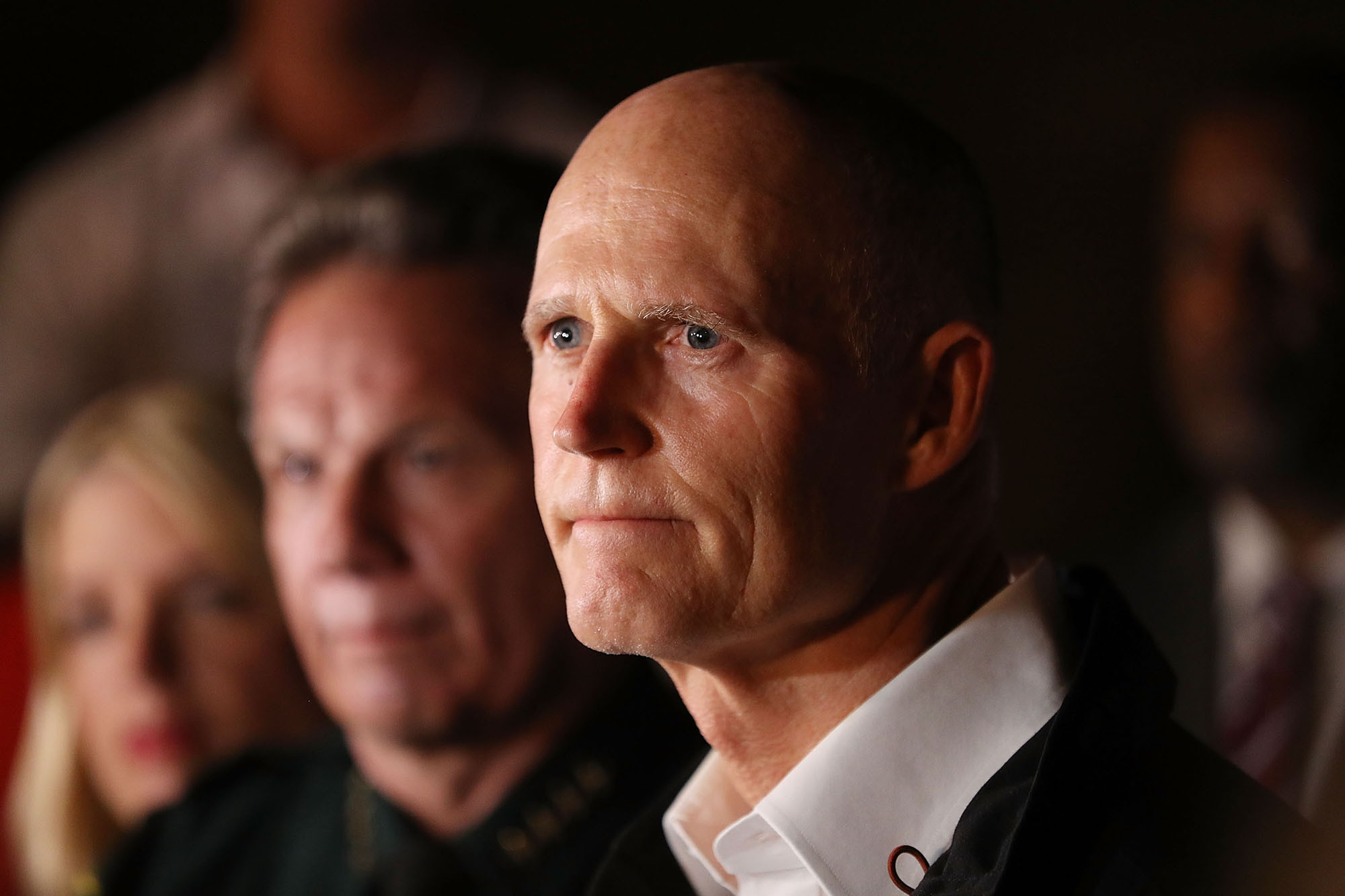 Rick Scott, who is about to formally declare his campaign Monday to become Florida's next U.S. Senator, is a man whose life has twice defined The American Dream.
Scott still frequently tells the story of how he rose from a working-class childhood spent partly in the projects to pursue a Navy career, then work his way through a college education, a law degree, and, finally, overwhelming success and fortune in the business world.
And then he showed that a man willing to spend $73 million of his own fortune and stay laser-focused on a single, resonate issue – let's get to work – can rise from absolute political obscurity in a matter of months to blow away the party's establishment, and then get elected governor of one of the biggest, most complex states in America.
His third act might make those against-all-odds aspirations seem easy. Now he wants to defeat Florida's most popular Democrat, U.S. Sen. Bill Nelson, in a time when almost every Republican with close ties to President Donald Trump has lost or at least dramatically underperformed in recent elections.
"Any other year, Scott would beat Nelson. But with this trend, he's about as tied to the president as anybody, how does he get around that?" mused pollster Doug Kaplan of Gravis Marketing.
This undoubtedly will be the national marquee matchup of the 2018 elections. Florida's seat is the biggest in play in the battle for the U.S. Senate. Trump needs a big election win this year. Already, Democratic and Republican national groups are weighing in, and Scott's not even officially a candidate yet. Come autumn, any political organization with a few tens of millions of dollars to spend is going to want to spend a lot of that in Florida.
"Enormous amounts. It's going to be large, large amounts, because, as frequently is the case, this Florida race has national implications," said University of Central Florida political scientist Aubrey Jewett. "There's only maybe about six or seven U.S. Senate races that are going to be competitive, and Florida is right at the top of the heap as one of those races. So Republicans would dearly love to knock off a Democrat and make a gain, not just hold a Republican seat, but actually gain a seat. If they did that it would be virtually impossible for Democrats to gain control of the Senate."
Scott and Nelson are as much of known quantities as Florida voters will ever get in a big race.
Eight years ago Scott ran for governor on a promise of jobs, period. In practice, once he was in office, that broke down to the whole agenda of business-friendly, conservative policy moves, cutting spending, cutting taxes, cutting regulations, handing the keys to boards and commissions to business interests. Seemingly almost nothing else mattered.
In the beginning of his first term those moves appeared harsh. Florida was in the throes of the Great Recession, so the cuts went deep. Schools laid off teachers. Community health and services programs shut down. Big transportation projections, notably the high-speed train envisioned to connect Orlando and Tampa, were cancelled.
Stunningly quickly, Scott's popularity plummeted to lows not seen before in Florida. By his first spring in office, 2011, polls had his approval rating down around 30 percent, with disapproval ratings approaching 60 percent.
Those ratings improved only slightly and slowly over time. They remained underwater when Scott was re-elected in 2014, and for the most part stayed that way until this year. Even today, at best, he only flirts with majority popular approval.
Yet Florida's economy went from bust to boom, with his administration claiming 1.5 million new private sector jobs since 2010. A Republican establishment that overtly didn't like him at first rallied. The business sectors embraced him.
"Rick Scott has a singular, Terminator-style focus on jobs and the economy and he never, ever, ever breaks message," said Republican strategist Rick Wilson. "For all the drama we go through in this state, what's the big issue right now? Jobs and the economy still dominate every other subject.
"It's not guns. It's not immigration. It's not any of the pet issues, left or right. It's the economy," Wilson continued. "If Rick Scott can draw this discussion onto the ground of what's better for the economy and for Florida's families, he has a tremendous opening, and probably one of the only openings in this country for a Republican to pick up one of the Senate seats."
But if the Democrats have anything to say about it, and they're likely to have many millions of dollars worth of that opportunity, much of the discussion will focus on Scott's strong and consistent support for Trump.
Democratic strategist Steve Schale bears scars from 2010, when he advised Democrat Alex Sink's failed campaign against Scott. The difference maker that year, he insists, was the wave of voter opposition to President Barack Obama.
"The thing I learned in 2010, the hard way, and certainly we learned it around the country, is when people want to send a message to an incumbent president, the only way they can do that in the midterm is through the people and the party on the ballot," Schale said.
With this year's mood, Schale added, "You'd much rather be Bill Nelson than Rick Scott."
In person, Scott is affable, soft-spoken, civil, even friendly, never projecting mean-spiritedness or harsh rhetoric, at least never publicly. There is no Trump-like abrasiveness, or Bernie Sanders-style crustiness, perhaps due to the Terminator-style focus Wilson described.
Yet Scott also has physical appearance and mannerisms that have made people uncomfortable, whether he's appearing in person or on TV. His bald-dome look [softened in more recent times with grandfatherly hints of silver hair on the sides and, often, a Navy ball cap] looked stark. His interactions with people could come off as standoffish. His laugh could be cringe-worthy.
"People say he looks like Voldemort. People think he's awkward," said Florida State University political scientist Robert Crews Jr., author of the book, "The 2010 Elections in Florida: It's The Economy, Stupid!"
In that book, Crews quotes the late Tom Slade, who had been Scott's campaign co-chair, as saying that he gave Scott "an 'A' for strangeness."
"This is not the kind of thing you want to get from your campaign chair," Crews said. "So he's kind of an odd personality."
Floridians have gotten used to it, Wilson suggested.
"If Rick Scott is not the most natural, slick, sweet-talking politician, and he's not, that's OK," Wilson said. "What's not his brand? Backslapping bullshitter."
There may be an age factor in his favor. Nelson is 75 and sometimes looks and sounds every bit of that. Scott is 65 and comes off as robust, even spry. That may not become an overt issue in the campaigns. But if Scott keeps up his routine of multiple trips, every week, always looking as if he's on the move, Nelson will have to do likewise. November is a long seven months away.
Nelson also is among the most-traveled politicians anywhere, boasting that he gets to every county in the state during his terms. Just last week he was in Palatka, Jacksonville, Madison County, Port St. Joe, Tindall Air Force Base, and Orlando. He can put on the drawl and be at home in Marianna, or put on the ritz and be at home on Palm Beach.
"Always when I have an opponent I assume they are the toughest opponent and I run like there's no tomorrow," Nelson said last week.
But Scott may travel on a different level, popping up in two or three cities, two or three or four days a week, every week. Orlando, West Palm Beach. Miami. Ponce Inlet, Green Cove Springs. Fort Walton Beach. They all get their turns to see the governor come to town.
"The thing about Scott, he has long been underrated for his political skills," Schale allowed. "He's sort of been branded as the outsider, a little awkward, and all those things. The reality is, he's a tireless worker.
"At the same time, I think Nelson is equally underrated. All Bill Nelson has done is won five consecutive statewide elections. His wins… they aren't fancy. But I tell people he's like a running back who just has a nose for the goal line," Schale added.
Scott won both of his elections by razor-thin margins while spending more money than anyone has ever seen in a Florida state election. And the first time, he did so as an outsider to the Republican Party.
He was able to pay to establish what Crews said may have been the largest gubernatorial campaign ground game in state history, and flooded the Florida airwaves with very simple, appealing commercials, showing him getting into his SUV, slamming the door, and declaring, "Let's get to work."
"In the past, his clear asset has been the overwhelming amount of money he had, and I think that's going to be a big factor this time," Crews said. "If he can get the kind of distance between his campaign and Nelson's campaign, that he got between his and Alex Sink's, and between his and Charlie Crist's [in 2014.] the latest research in political science shows it's the differential amounts between candidates that makes the biggest difference."
Today, Scott starts almost from scratch in the money race, with, as of the latest reports at the end of 2017, about $900,000 in his New Republican political action committee and no official campaign account open yet. Nelson ended the year with $8 million in his official campaign and $43,000 in his Moving America Forward PAC.
Campaign money has never been a problem for Scott. Backed by his personal wealth, Scott's campaigns and committees spent about $80 million to elect him in 2010; and, with enormous support from business interests the next time, they spent about $60 million to re-elect him in 2014. By contrast, Nelson spent less than $18 million, including money from his PAC, in his latest, 2012, re-election campaign.
The consensus of current polls has Scott getting into the race while running about four points behind Nelson.
Pollsters are doubtful that the landscape favors much improvement for him. There is the Trump factor; the mass migration of Puerto Ricans coming to Florida tends to register as independent voters, or, about a third of the time, as Democrats, but rarely as Republicans; and the divisive guns issue's ability to mobilize angry young people, seemingly as strong in Florida as anywhere.
"There are certain things that matter in elections, things that have nothing to do with the candidates, [such as] how President Trump fares in the public eye, because you can't fight a tide," said Peter Brown, assistant director of the Quinnipiac University Poll. "The question is whether there will be a tide or not. I'm not saying there will be…. It's not impossible, but it is often difficult to fight that tide."
Democrats already have fired off a few rounds of some of their best ammo as warning shots, signaling even before Scott gets into the race that they're prepared to make the campaign against him ugly negative.
Already, Democrats are calling attention to Scott's personal wealth, investment and finances, and any conflicts of interest the Democrats can imply from his pro-business record; his potential mishandling of communications with nursing homes, combined with the horrific tragedy that took place at the Rehabilitation Center at Hollywood Hills following Hurricane Irma; his relative legislative inaction following Orlando's Pulse nightclub massacre; his early deep cuts in funding for education, mental health and disability programs; his less-than-convincing record fighting against off-shore drilling; and his initial support for and then opposition of Medicaid expansion in Florida, among others.
We've got all of that loaded up, Democrats have been saying in recent weeks.
"Rick Scott is notorious for his dishonesty and for prioritizing his own self-serving politics at the expense of hardworking Floridians," Democratic Senatorial Campaign Committee spokesman David Bergstein declared, setting the tone.
Nelson has never been known for such negative campaigning, and even this year he may not have to resort to it. The outside groups will be happy to carry that load.
The same is true for Scott.
"With little to show for his time in Washington, other than his free ride to space as a congressman, it isn't hard to see why Do-Nothing Democrat Bill Nelson is one of America's least effective and most vulnerable Democrats," observed Republican National Committee spokesperson Taryn Fenske.
But the Democrats' most explosive ammunition likely is that with Trump's name on it.
"There is plenty of video out there, plenty of statements out there, where Rick Scott says, 'Rah, rah, Donald Trump.' Those will be Democratic ads," Wilson forecasted.