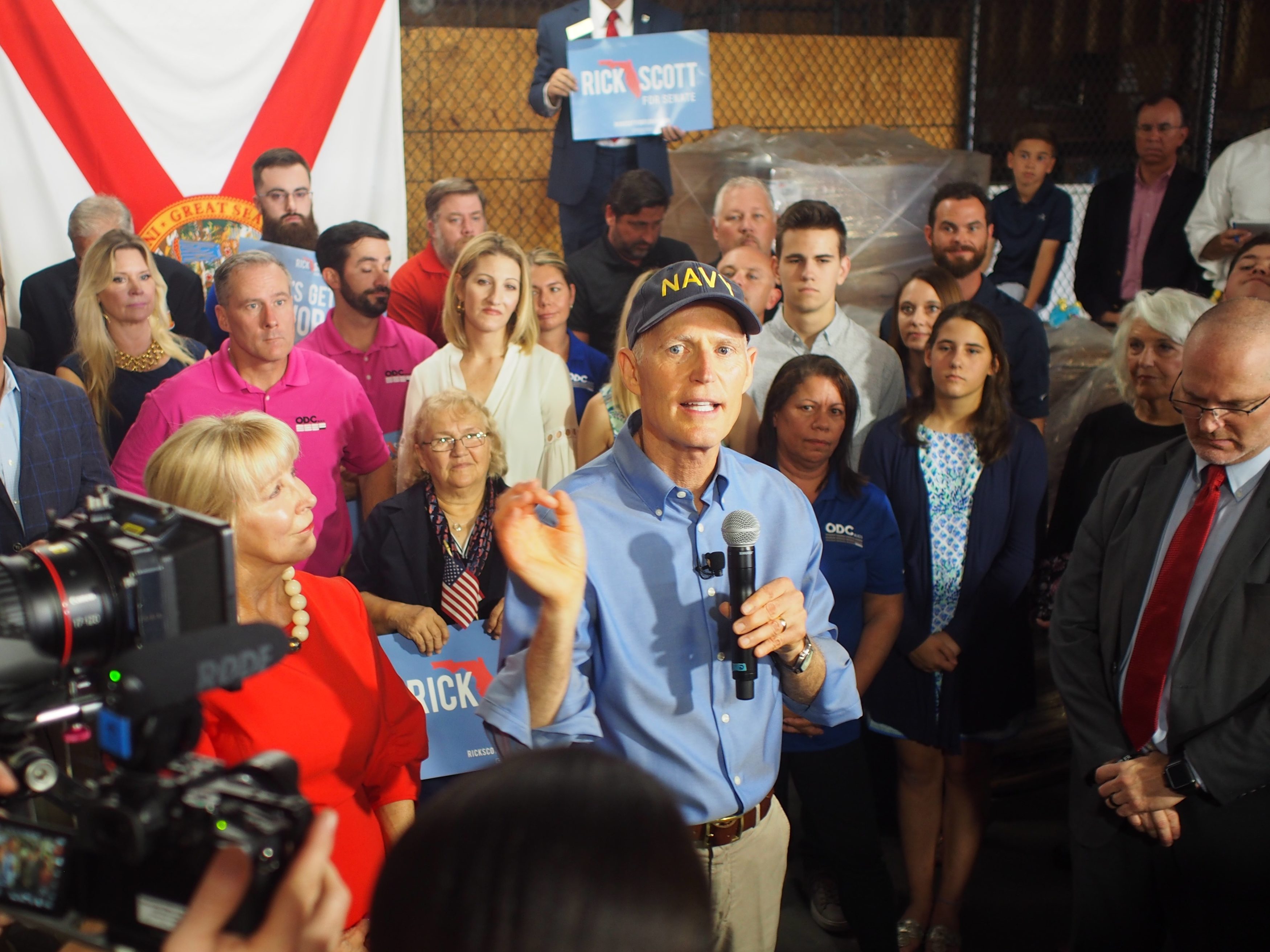 Gov. Rick Scott sought to reclaim his image as an outsider when he announced Monday morning in Orlando that he is running for the U.S. Senate.
Scott ended more than a year of little suspense as he formally announced his Republican bid for the Senate seat held by Democratic U.S. Sen. Bill Nelson. He did so on the eighth anniversary of his announced run as a true outsider for the Florida' governor's office, and made it clear he's intending to capture that same tone.
On Monday Scott made no specific references to Nelson, though he railed against career politicians, a label Nelson can wear as someone who's been in public office since the 1970s. And he made no reference at all to President Donald Trump, whose unpopularity could become Scott's greatest challenge with voters who know the president and governor have been close.
Instead, he chose to turn back the clock to 2010 when he came out of no where, talked  of nothing but jobs, brushed aside Florida's Republican establishment, and then won the governor's office. He even finished his announcement rally Monday with his trademark slogan from that campaign, shouting, "Let's get to work!"
Scott made his announcement in front of a couple of hundred supporters crowded into the warehouse area of ODC Construction in Orlando.
"When you go to Tallahassee and make real change, guess what happens? The first they are is mad at you. They say you don't fit into Tallahassee. I think that's true," Scott said. "I didn't fit in in Tallahassee because I didn't play the insider game. I never intended to fit into Tallahassee. And guess what? I'm not going to fit into Washington either."
Scott repeatedly called for "shaping up" Washington, and he even called for term limits, something that apply to Nelson, who's seeking his fourth term representing Florida in the U.S. Senate.
Other than the term-limits support and pledging to continue his jobs push, Scott made no promises and offered few policy statements or philosophies. He did not meet with the media, though he did answer a couple questions shouted at him as he pressed through the throng to leave after his speech.
"It's going to be fun," he said when asked about getting back on the campaign trail. "I'm going to work hard to get my message out. I'll be coming out with a variety of proposals over the next several months. It starts with: we've got to get rid of career politicians."
Nelson responded earlier Monday with a written statement: "I've always run every race like there's no tomorrow – regardless of my opponent. While it's clear that Rick Scott will say or do anything to get elected, I've always believed that if you just do the right things, the politics will take care of itself."
Scott declined to comment on Nelson.
"We have a record of getting things done in this state. I'm going to take that same record to D.C. We've got change the national economy like we've done with the Florida economy, and that's what I'm going to take there. It's a can-do attitude that says we're going to get our country back to work," Scott said instead.