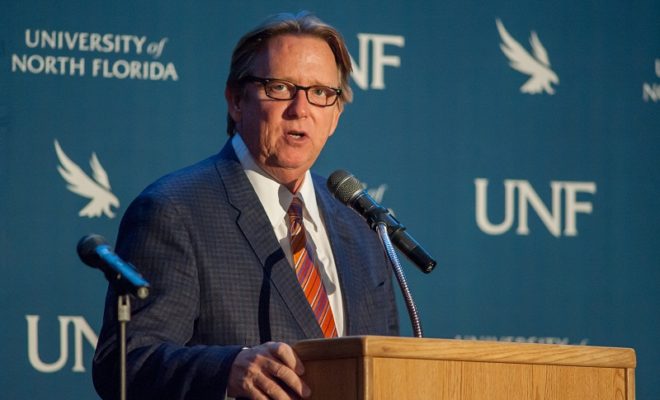 The next move for former Jacksonville Mayor and University of North Florida President John Delaney was revealed Wednesday. He will work as part of a strategic alliance between Rogers Towers and the Fiorentino Group.
The alliance, formed five years ago, includes collaboration on business and government affairs issues; business counsel; higher education issues; complex environmental matters and a variety of other government affairs needs at the local, state and federal levels.
Delaney is singularly positioned to help in these matters.
"John's professional career has been one of the most unique and diverse of almost anyone I know and he brings to our clients' needs a special perspective that will be of great value as they deal with legal issues as well as the ever-changing landscape of both the political world and government affairs arena," said Fred Franklin, Rogers Towers managing director.
"As a lawyer, John's background and knowledge carries with it a distinct perspective, his political and government savvy is matchless," Franklin added.
"John has been a part of some of Jacksonville's most successful public policy initiatives," said Marty Fiorentino, president of The Fiorentino Group. "His decades of experience in local, state and federal politics and tenure as president of one of Florida's leading educational institutions has involved him in many complex issues where his leadership has had a real and positive impact. His addition to our team will provide exceptional added-value services as we develop winning strategies for our clients to influence public policy."
"As I made my decision to retire from UNF, I looked for a new chapter to open in my career that offered me the chance to bring together the skills and experiences I have harnessed since starting out as a young lawyer working for former Mayor Ed Austin, when he served our community as State Attorney," said Delaney.
"Having known Marty and Fred both personally and professionally over the years, I was aware of the great work their firms were doing. We collectively started a conversation that led to this decision. I look forward to working with the two of them and their teams to represent clients in a variety of areas both here in Northeast Florida and around the state and nation," Delaney added.
Delaney was elected to two terms as Jacksonville Mayor, from 1995 to 2003, after which he became president of the University of North Florida. He announced last year that he would leave the UNF job after 15 years, and since then speculation has swirled that Delaney would make a run for public office, possibly for Congress, possibly for state Senate, though he opted not to run for either.
The Fiorentino Group is one of the top lobby firms in Florida. The firm has clients all across the state, though Jacksonville-based groups make up the bulk of their client sheet.