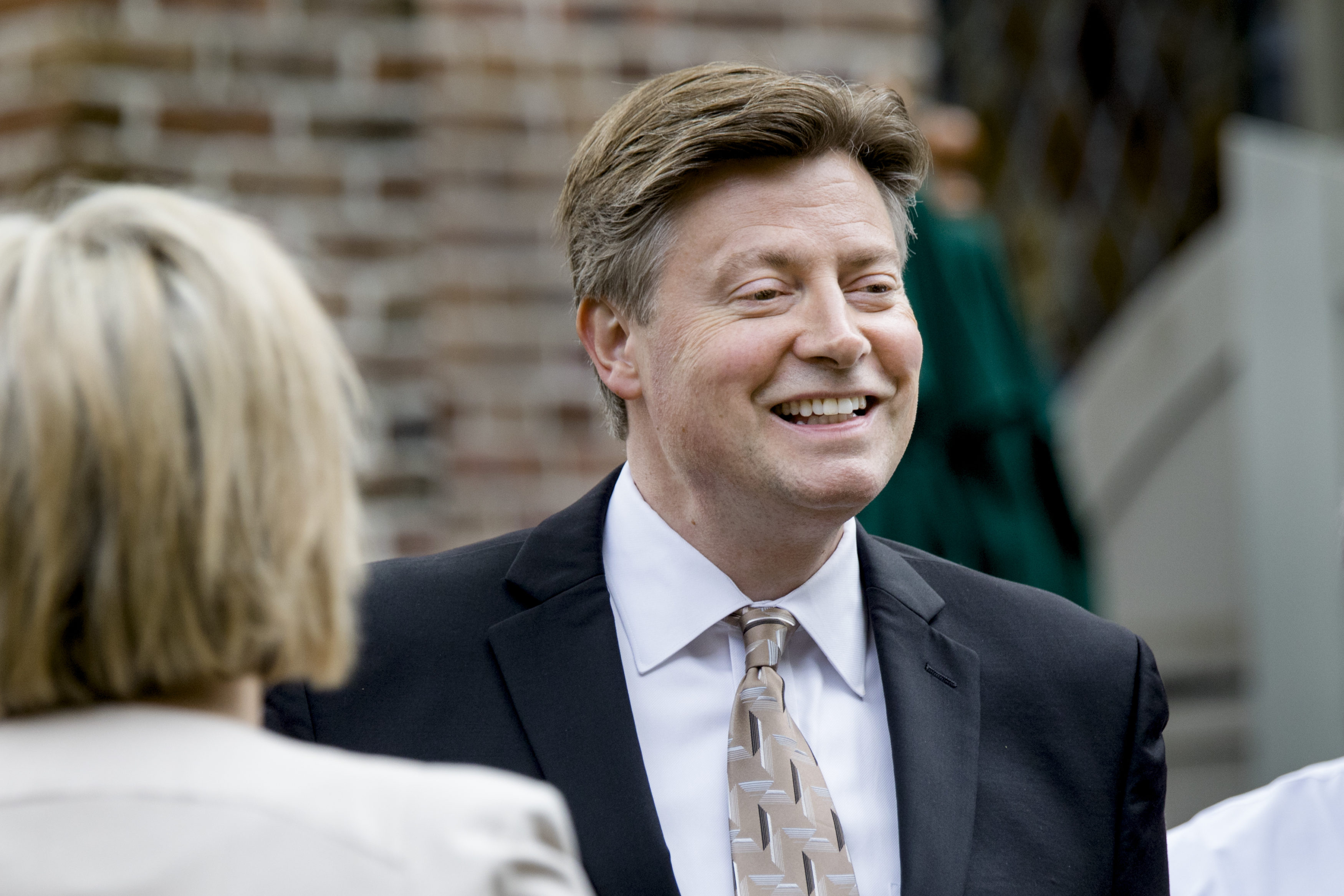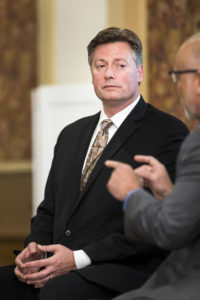 When the National Journal ranked the relative conservative-to-liberal leanings of the members of Congress, No. 218 was Pennsylvania's Rep. Jason Altmire. He was the man in the middle.
After being elected to three terms in the state's 4th District, he's now-former Rep. Altmire, serving between 2007 and 2013.
Altmire wrote a book about his experiences, "Dead Center: How Political Polarization Divided American and What We Can Do About It," and was making the penultimate appearance of a six-month book tour with an appearance at The Village Square in Tallahassee Monday night.
"His record got him both a great title for his book … and a one-way ticket back home, since centrism and compromise aren't exactly trending in Washington," is how the event's promotional material described his voting history.
Altmire was speaking before a receptive audience — a sell-out crowd of 160 people and a group dedicated to providing a forum for civil discourse. The Village Square mascot is a flying pig and, if the commentary should get a bit testy, offenders are reminded to be nice by a ringing bell.
That bell stayed silent throughout the evening as Altmire conversed with pollster and political strategist Steve Vancore. The pair have a history that dates back to 1990, when they met waving campaign signs during the first Congressional campaign of Pete Peterson.
Altmire said the impetus for his book was the Pulse shooting in June 2015.
"The Pulse nightclub was really the inspiration to turn random writings that I had into the book," he told the group. "This horrific tragedy used to be something that would bring the country together in a shared sense of grief. But in this instance, it touched on every hot-button issue that exists," referring to the fact that most of the victims were gay, the shooter was an American-born Muslim and that he had amassed an arsenal of weapons.
While the outpouring of donations and vigils and the actions of first responders showed "the best side of America," he said, "you also saw the worst of America mostly through the social media of people who immediately took a tragedy and tried to find a way to gain political advantage."
Altmire outlined a few common tropes about why Congress is so polarized, including closed primaries that effectively lead to representatives being elected by hyper-partisan voters on either end of the political spectrum — effectively shutting out the broad swath of moderate voters in the middle.

The Democrat also spoke about his personal experience, such as the challenge of representing a diverse district that encompassed Rust Belt Western Pennsylvania and the wealthy suburbs of Pittsburgh. One vote, in particular, would follow him throughout his time in Congress. Despite courting from as high as President Obama, he voted against the Affordable Care Act and got punished by his own party. While the president seemed to understand that Altmire's vote "was the right vote for my district … Speaker [Nancy] Pelosi did not speak to me for three years after that," he said.
When Pennsylvania lost a seat in reapportionment, the new district pitted him against another Democratic incumbent. The party supported his opponent, and he lost in the primary.
But he also offered solutions.
One would be to not limit primary voters to party members, opening them to the growing number of NPA voters or giving a vote to members of the opposing party in deep red or blue districts.
An even more radical solution would be to switch Florida to a "Top 2" primary, similar to what's being done now in California, Louisiana and Washington state. In these elections, all those running for office are on the primary ballot, and every registered voter is eligible to vote. The top two vote-getters move on to the general election.
"If you are someone who runs in that primary and you only appeal to your narrow extreme within the base of your party, you are going to lose," he told the group. "In order to win that primary, you have to appeal not just to your own people, but the people in the center and even members of the other party. It totally changes not only the way you campaign for that seat but the way you legislate and the way you carry yourself when you vote and the way you talk."
He also suggested that House should require 60 percent of votes to elect a Speaker rather than the 50 that is required now. "That means you're going to have to get members of the other party to support your nominee for Speaker to have any chance to win," he said. "When you build that coalition to get that 60 percent, you build it from the center out rather than from the extremes in. And you would start with somebody who knows how to work with both sides and accomplish something."
Born in Pennsylvania, Altmire attended and played football for Florida State University in the mid-80s. After Peterson's election, he worked him as a congressional aide, becoming an expert in health care policy. He worked as a lobbyist in Pennsylvania before challenging and beating a Republican incumbent. After leaving Congress, Altmire moved to the Jacksonville area, working as a lobbyist for Florida Blue. He left the company to promote his book.