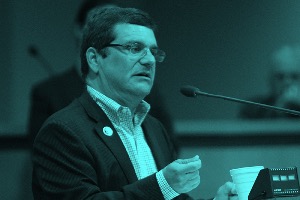 U.S. Rep. Gus Bilirakis' re-election campaign announced Friday that it had collected enough signatures to make the ballot in Florida's 12th Congressional District.
The campaign said it had brought in "well over" the 5,125 required signatures for the Pasco-based seat, allowing it to avoid paying a hefty fee to make the ballot.
"With everything going on in Washington, D.C. these days, it is extremely encouraging to receive such strong support from the people here at home," Bilirakis said in a press release. "It shows that they know me and recognize that I'm not the stereotypical politician. Their support reflects an appreciation for how hard I am working to fight for the issues they care most about."
Also included in the petition announcement was an update on the Tarpon Springs Republican's fundraising efforts: More than 1,100 unique donors chipped in a combined $277,000 in Q1, and 95 percent of them lived in the Sunshine State.
"I am humbled by the financial support my campaign has received, despite the fact that raising money has never been my primary focus.  In fact, fundraising is the part of this process I like the least," the sixth-term Congressman said.
"I've always trusted in the belief that, if I do a good job representing my constituents, coming home every chance I get to connect with them and work with them, the voters will continue to honor me with their support."
Bilirakis had brought in $787,000 through the end of 2017, so the new report will put him past the $1 million mark in total fundraising. The campaign didn't give an update on its on-hand total, though it had $370,000 on hand at the end of last year.
The Q1 total also edges out the $242,000 Q1 report previewed last week by former prosecutor and FBI agent Chris Hunter, the money leader among the four Democrats challenging Bilirakis in 2018.
CD 12 covers all of Pasco County and parts of northern Pinellas and Hillsborough counties. The seat carries a heavy advantage for Republicans – it voted plus-19 for Donald Trump in the 2016 cycle and is currently listed as "safely Republican" by University of Virginia political scientist Larry Sabato's "Crystal Ball."