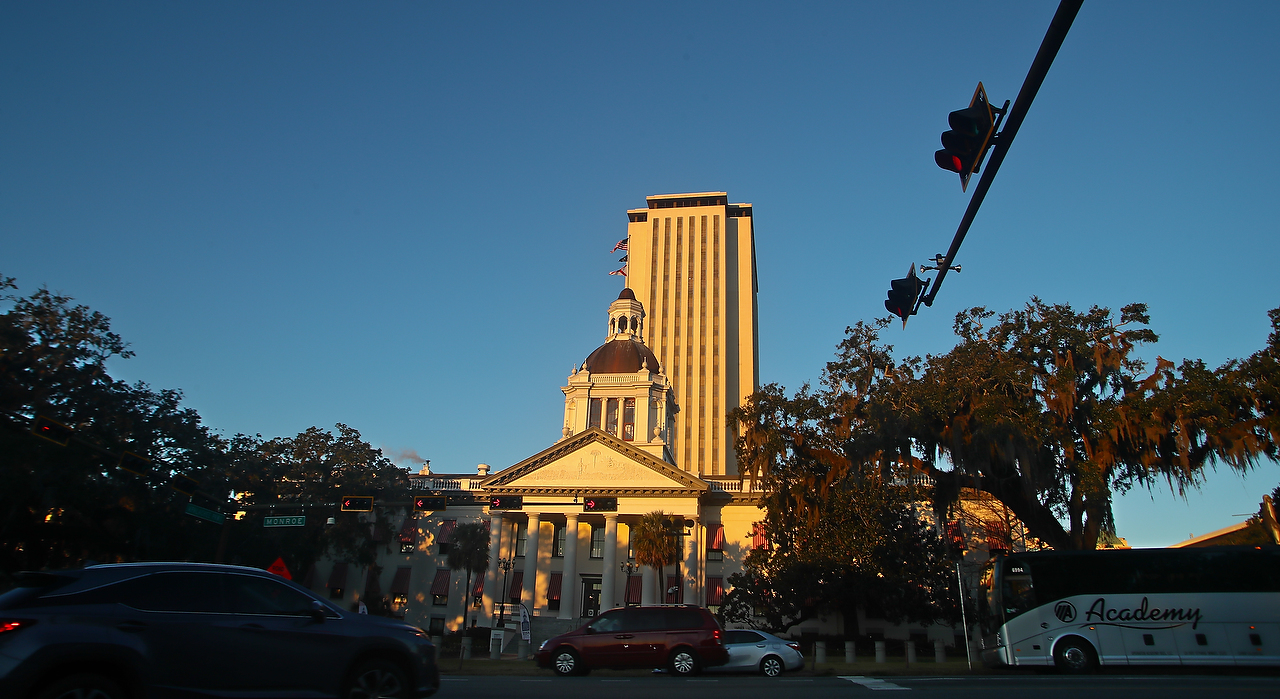 Sunburn — The morning read of what's hot in Florida politics.
By Peter Schorsch, Phil Ammann, Daniel McAuliffe, Jim Rosica, and Drew Wilson.
We're back.
Thank you for the many notes of support. We hope not to do that again any time soon.
— SITUATIONAL AWARENESS —
— @JebBush: The Bush family is grateful for the thousands and thousands of expressions of condolence and love for our precious mother this week, and we thank everyone who joined us today to celebrate her remarkable life.
— @DeFede: It was the first time we've seen Jeb's daughter Noelle in years. She's 40 — no longer the troubled kid some remember who battled drug addiction. She lives a quiet life now. I'm glad to see her come through her struggles and I hope she's doing well.
— @PBump: We're inured to it, but the president publicly calling someone a drugged-up loser while heading to the golf course he owns as past presidents head to a former first lady's memorial service is something.
— @NicoleDWallace: How did last night's dinner conversation go down between DT and Flotus? "Honey what did you do today?" "I was warmly welcomed by 4 former presidents and their families for a celebration of service, marriage and civility, how bout you?" "I attacked reporters on Twitter."
— @RealDonaldTrump: Sylvester Stallone called me with the story of heavyweight boxing champion Jack Johnson. His trials and tribulations were great, his life complex and controversial. Others have looked at this over the years, most thought it would be done, but yes, I am considering a Full Pardon!
— @LearyReports: Trump Victory/RNC pulled in $3 million at Mar-a-Lago fundraiser.
— @MayorLevine: The latest from @realDonaldTrump is a shameful attack on underrepresented & vulnerable communities. Our nation is built on diversity and freedom. We must continue to progress & ensure that everyone can access the care they need. Period.
— @MarcACaputo: Golden Corral in Tallahassee is a packed madhouse on Sunday afternoon. Multi-ethnic working-class demographic: non-Hispanic whites, Hispanic (more Mexican/Central Am than Cuban descent) and post-church African Americans. Win the Golden Corral Independent and you win Florida
— @Rob_Bradley: Emotional night in Trenton as we gathered to pay our respects to our fallen heroes. I ask that you hug or shake the hand of a law enforcement officer. Tell them thank you. #GilchristStrong
— @GusCorbella: Today marks 39 yrs since my family and I moved to the US, the land that welcomed us and made us one of their own. We pause every April 20 to give thanks for how far we have come, and to reflect on the places yet to go. The horizon is boundless. Thank you, America
— DAYS UNTIL —
Batman Ninja released — 1; NFL Draft begins — 3; Close of candidate qualifying for federal office — 11; Mother's Day — 20; Solo: A Star Wars Story premier — 32; Memorial Day — 35; Father's Day — 55; Close of candidate qualifying for statewide office — 60; Deadline for filing claim bills — 100; 'The Race for Governor' Republican gubernatorial debates — 100; 'The Race for Governor' Democratic gubernatorial debates — 101; Start of the U.S. Open — 122; Primary Election Day — 125; College Football opening weekend — 129; 'Before You Vote' Florida U.S. Senate debate — 183; 'Before You Vote' Florida Governor debate — 184; General Election Day — 197; 'Hamilton' comes to the Straz Center — 297; 2019 Legislative Session starts — 316.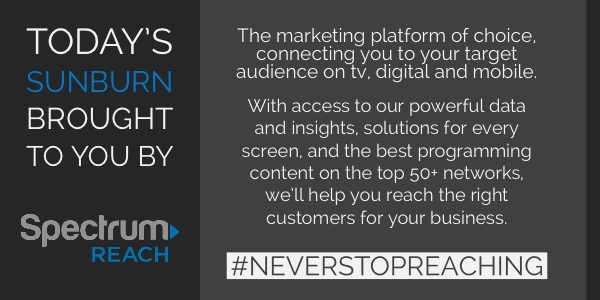 — REQUIEM —
Presidential historian Jon Meacham gave an emotional eulogy for Barbara Pierce Bush, as she was laid to rest at a funeral Saturday at St. Martin's Episcopal Church in Houston: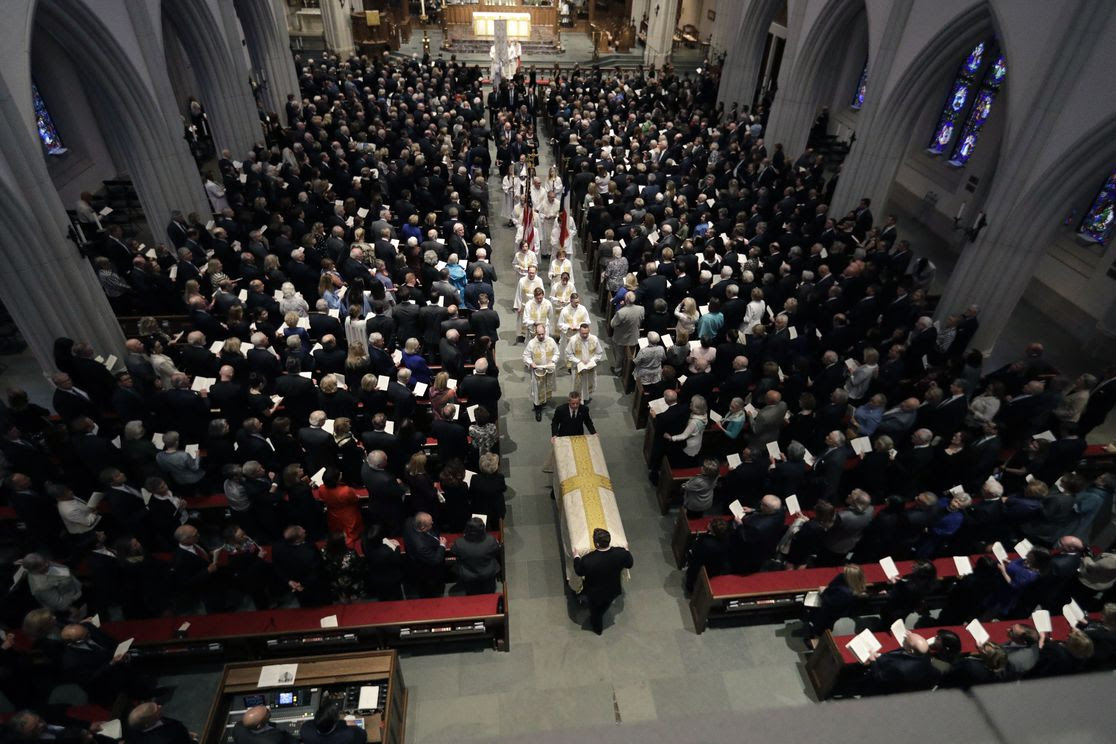 — "Barbara Bush was the first lady of the Greatest Generation. As the fiancee and then the wife of a World War II naval aviator, she waited and prayed in the watches of the night."
— "During the war she worked at a nuts-and-bolts factory in Port Chester, New York, doing her part. And she joined George H.W. Bush in the great adventure of postwar Texas, moving to distant Odessa — 70 summers ago."
— "And as the wife of one president and as the mother of another, she holds a distinction that belongs to only one other American: Abigail Adams, who was present at the creation."
— "From the White House to Camp David to Walker's Point, in hours of war and of peace, of tumult and of calm, the Bushes governed with congeniality, with civility, and with grace. Instinctively generous, Barbara and George Bush put country above party, the common good above political gain, and service to others above the settling of scores."
"The couple had met at a Christmas dance in Greenwich in 1941, not quite three weeks after Pearl Harbor. She was wearing a red-and-green holiday dress; he endeavored to get introduced. She was 16; he was 17. He was the only boy she ever kissed. Her children, she remarked, always wanted to throw up when they heard that."
— "When she once unwisely described a female political opponent of her husband's [Geraldine Ferraro] as a word that rhymed with 'rich,' she reported her family had started referring to her as the 'Poet Laureate.'"
— "And she loved the story of how, when her eldest son, the 43rd president, took up painting, his instructor asked him if he'd ever used the color 'burnt umber.' No, Bush 43 replied, but he did remember that from his mother's cooking. 'Brings down the house,' she'd say, approvingly."
— "Mother and son needled each other to the end. In her final days, while the 43rd president was visiting, Mrs. Bush asked one of the doctors if they'd like to know why George W. was the way he was, announcing: 'I smoked and drank while I was pregnant with him.'"
"Watch Jeb Bush give a touching eulogy for his mom" via Ron Brackett of the Tampa Bay Times — Standing at the lectern … Bush said, "As I stand here today to share a few words about my mom, I feel her looming presence behind me and I know exactly what she's thinking right now: 'Jeb keep it short, don't drag this out. People have already heard enough remarks already. And most of all, don't get weepy.'" … "Barbara Bush filled our lives with laughter and joy," he said. "And in the case of her family, she was our teacher and role model on how to live a life of purpose and meaning."
Click on the image below to watch the eulogy:
"Before dying, Barbara Bush said she would miss George but was going to 'a beautiful place'" via Rick Jervis and Gregory Korte of USA TODAY — Past presidents and pizzeria owners, heads of state and historians, and people from all walks of life crowded into St. Martin's Episcopal Church in Houston to pay their respects to Barbara Bush. Despite her many roles, her son Jeb Bush said, the story of President and Mrs. Bush was first and foremost a love story. He quoted a 1994 love letter his father, former President George H.W. Bush, wrote on their wedding anniversary. "Will you marry me? Oops, I forgot, you did that 49 years ago today!" the elder Bush wrote. "I have climbed perhaps the highest mountain in the world, but even that cannot hold a candle to being Barbara's husband." Among the estimated 1,500 people attending were four former presidents — all living presidents except Jimmy Carter, who was traveling overseas — as well as first lady Melania Trump and former first ladies. Television cameras captured intimate moments among the first families, with former president Barack Obama sharing a word with Mrs. Trump.
For the history books: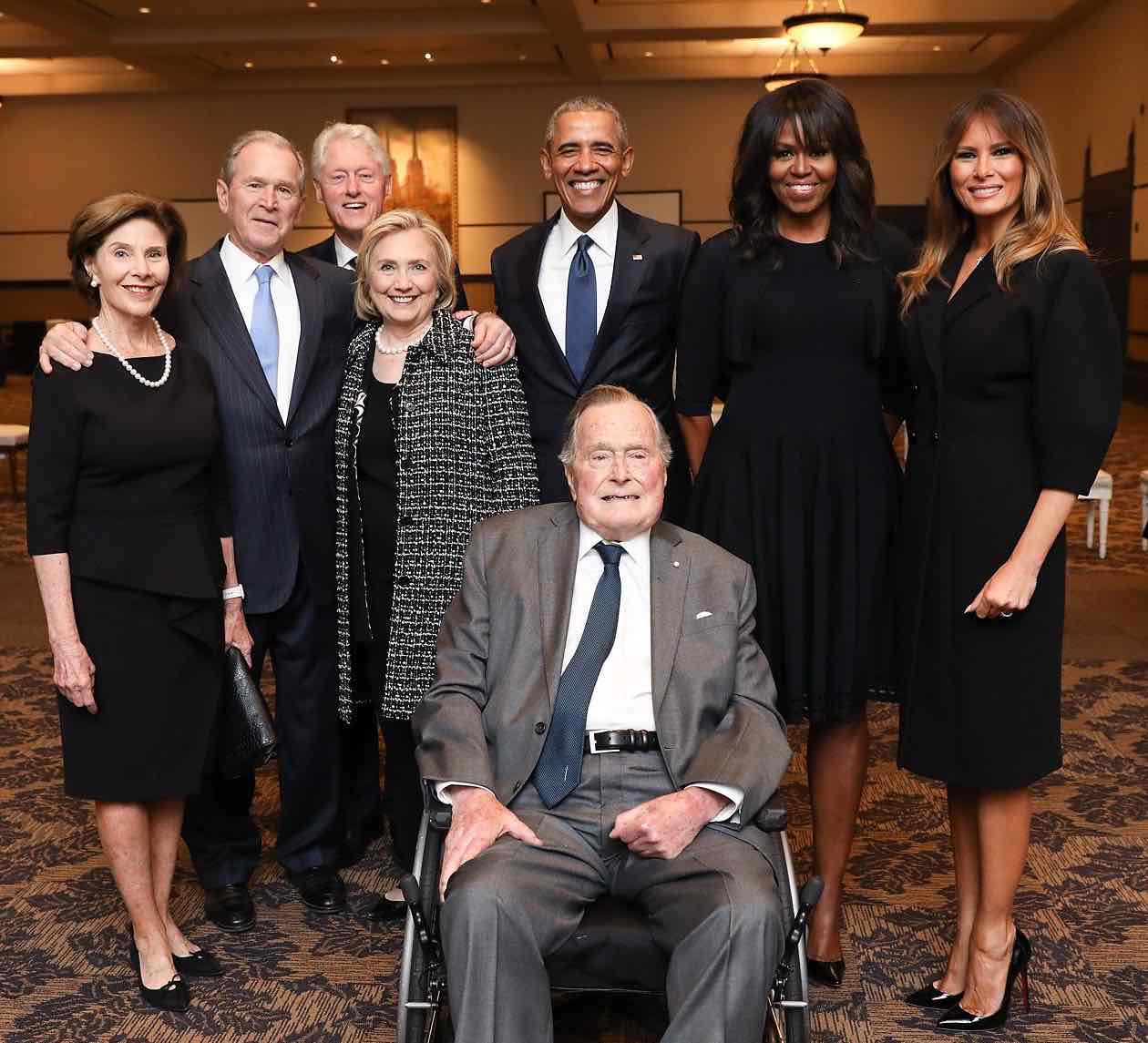 — NELSON V. SCOTT —
"How Marco Rubio could sway Senate race between Bill Nelson and Rick Scott" via Ledyard King of USA TODAY — Rubio declared last month that he would not campaign against Nelson adding "I could not ask for a better partner — especially from the other party." HIs comment drew murmurs among some Republicans that Florida's junior senator was not completely aboard the Scott train in a race that could determine which party controls the Senate next year. Rubio said people should not interpret his frequent partnership with Nelson on issues important to Florida, such as the space program, citrus aid and school safety, as a sign that he's ambivalent about Scott's candidacy. "The bottom line is I have a job to do and my job is to get things done for the people of Florida in the United States Senate," he said. "It's very difficult to achieve that if the other senator in that state is not working with you, whether it's confirming judges, marshals, things of that nature and issues like this."
"Nelson tapping national fundraising agreements to boost early haul" via Matt Dixon of POLITICO Florida — As it became clear in recent months that Scott was going to get in the race, Nelson's political team worked to build up the war chest needed for what some predict will be the most costly race in Florida history. During the first quarter of 2018, Nelson brought in $3.4 million, the biggest single quarter he has had since first being elected to the Senate in 2001. That money came from thousands of individual donors, but also through lucrative funding agreements he has with the Democratic Senatorial Campaign Committee and a host of Senate Democrats also facing tough election fights in states won in 2016 by Trump. Nelson inked a formal joint fundraising agreement with the DSCC a year ago; so far this election cycle it has netted his campaign nearly $35,000. Under the agreement, Nelson has helped raise over $200,000 for the DSCC.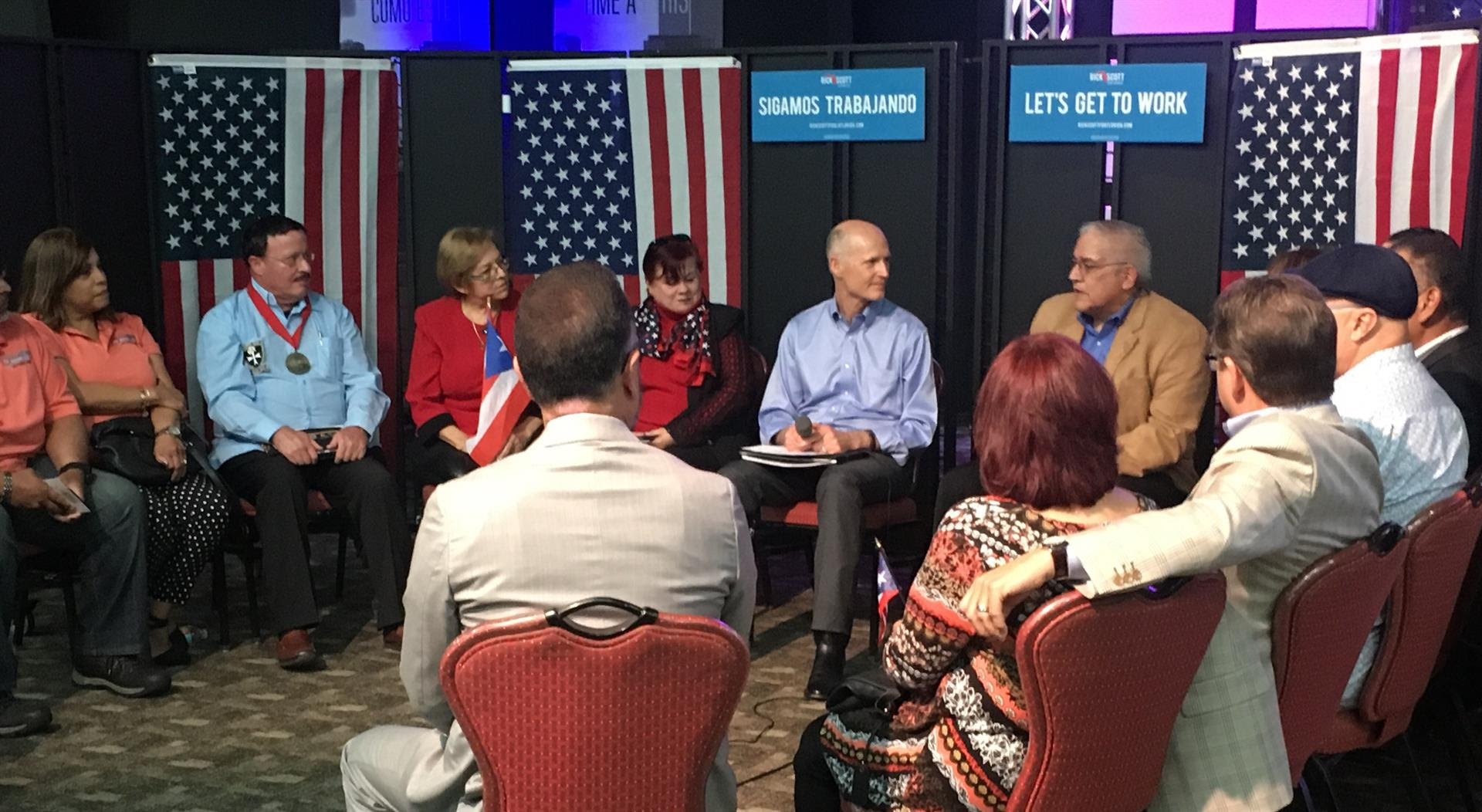 "Scott to headline gun raffle three months after Parkland shooting" via Florida Politics — With the Republican Party of Hillsborough, $20,000 goes a long way. First, it buys a spot at next month's Lincoln Day Dinner, seated at a table with Gov. Scott … those cutting the big checks also get a special prize: 20 chances to win a Colt 1911 A1 G.I. 45 ACP (valued at $949). And there is no small irony in an event that features Scott and a raffle of a handgun (particularly a Colt), considering the Florida Governor's history of mingling guns and jobs, two issues that served as cornerstones of his political career. In 2011, Scott pledged more than a million dollars to Colt Manufacturing to open an Osceola County plant to manufacture AR-15's — similar to the weapon used by Nikolas Cruz to kill 17 students and teachers in February's deadly Parkland high school shooting. With the Colt incentive deal in hand, Scott wanted show Florida was both open for business (especially the gun business) and welcoming to gun rights supporters — key factors in Florida's much-derided reputation as the "Gunshine State."
— NOTES FROM THE CAMPAIGN TRAIL —
"Ron DeSantis hit with ethics complaint after renting campaign donors' condo" via Jennifer Bendery of Huff Post — A Florida attorney has filed a House ethics complaint against DeSantis for previously renting a condo from campaign donors who are executives at a defense contractor that lobbies the federal government. The complaint also alleges that DeSantis paid "well below" fair market value to stay at the condo, though that appears inaccurate. Attorney Richard Ruben of Miami filed the complaint with the Office of Congressional Ethics on April 6. The complaint comes after Kent Stermon and Matt Connell, both executives at defense contractor Total Military Management, rented out a condo to DeSantis for five months in 2016. The two of them and a political action committee tied to their company have given more than $53,000 to DeSantis' congressional campaigns. It certainly doesn't seem appropriate for a member of Congress to rent a condo from top campaign donors who lobby the federal government. But it's not clear to HuffPost that DeSantis violated any House rules.
Tweet, tweet:
We live in a bizarro universe where HuffPo is defending Ron DeSantis against political smears. This is going to be a weird cycle. https://t.co/KLadVmqeqo

— Brad Herold (@bradherold) April 19, 2018
"Andrew Gillum gets the most cheers as the Democratic gubernatorial candidates speak in Tampa" via Mitch Perry of WMNF — That background noise seemed to energize all of the candidates speeches, with Gillum gathering the most applause from the crowd and further reinforced the notion that he is the by far the choice of the progressive wing of the FDP to become the party's nominee come this August. "I want you to know that the way that we're going to win in November is not by shrinking from who we are. It's not by pretending to be Republican. It is not by pretending that we don't need our very voters who are necessary in order for us," the Tallahassee Mayor said, adding that a winning coalition in November needed to include voters who are largely "blacker, browner, younger and poorer." While the 38-year-old Gillum was clearly the people's choice in the room, he's still a distant third among registered Democrats in recent polls, with Philip Levine and Gwen Graham both getting more than 20 percent of the vote.
Adam Smith's "Winner of the Week" in Florida politics: Chris King — "The rookie politician from Winter Park also had a strong debate performance, and is emerging as the most substantive and policy-oriented candidate in the primary."
"Philip Levine tops polls in Tampa Bay, South Florida" via Florida Politics — The Public Policy Polling surveys, commissioned by Levine senior adviser Christian Ulvert, show Levine with 32 percent support among Tampa Bay-area Democrats and 42 percent support among party faithful in South Florida. Former Congresswoman Gwen Graham took the No. 2 spot in both regions, scoring 18 percent support among Tampa Bay voters and 15 percent in South Florida, while Tallahassee Mayor Andrew Gillum and Orlando-area businessman Chris King scored in the single digits. The polls also include a hypothetical head-to-head between Graham and Levine, which Levine wins 36-23 in the Tampa Bay poll and 47-21 in the South Florida poll … the South Florida Democrat has the strongest name ID in the region at 48 percent, followed by Graham at 35 percent, Gillum at 27 percent and King at 15 percent. Among the voters who offered their opinions on the candidates, Levine's favorability was plus-32, Graham's was plus-13, Gillum's was plus-7 and King's was minus-3. In the South Florida poll, where 59 percent said they'd seen some Levine's ads, his name ID score shoots up to 57, Graham's fell to 33, Gillum's to 20, and King's edged up slightly to 17. Levine scored a plus-47 in favorability on his home turf, which put Graham at plus-21, Gillum at plus-8 and King at plus-3.
Personnel note – Levine's campaign has tapped longtime St. Petersburg Democratic operative Ella Coffee as Deputy Regional Director for Tampa Bay.
Assignment editors — Republican gubernatorial candidate Adam Putnam will tour the Tom P. Haney Technical Center in Panama City beginning 1:30 p.m. CDT, 3016 Highway 77 in Panama City.
"Jimmy Johns pulls out of race for DeSantis congressional seat" via Jake Martin of the St. Augustine Record — Johns has withdrawn from the crowded race for the open Congressional District 6 seat as of Friday afternoon … the deadline for Johns to commit to resigning from his current post in order to qualify to run for Congress, per a new state law being challenged in court by a South Florida official in roughly the same political boat as Johns. … "This decision was a difficult one," he said in his statement.
"Sanjay Patel, who is challenging Bill Posey in House race, 'thrilled' by fundraising tally, support" via Dave Berman of FLORIDA TODAY — But Patel still trails far behind Posey in overall fundraising, with Posey having the power of incumbency, more time to raise money in the current election cycle and money rolled over from his 2016 campaign. Patel has raised $91,205 since announcing his campaign at the end of January. He said this is the most any Democratic congressional candidate has raised in this Republican-leaning congressional district in a single quarter since former Florida Sen. Patsy Kurth ran for Congress in 2000. (The district formerly was District 15.) Patel, a resident of Satellite Beach, has spent $9,262 on the campaign and had $81,943 in cash on hand … In comparison, Posey, a Rockledge resident who is completing his fifth two-year term in the House, has raised $481,204 and spent $307,096 in the 2017-18 election cycle.
Happening tonight: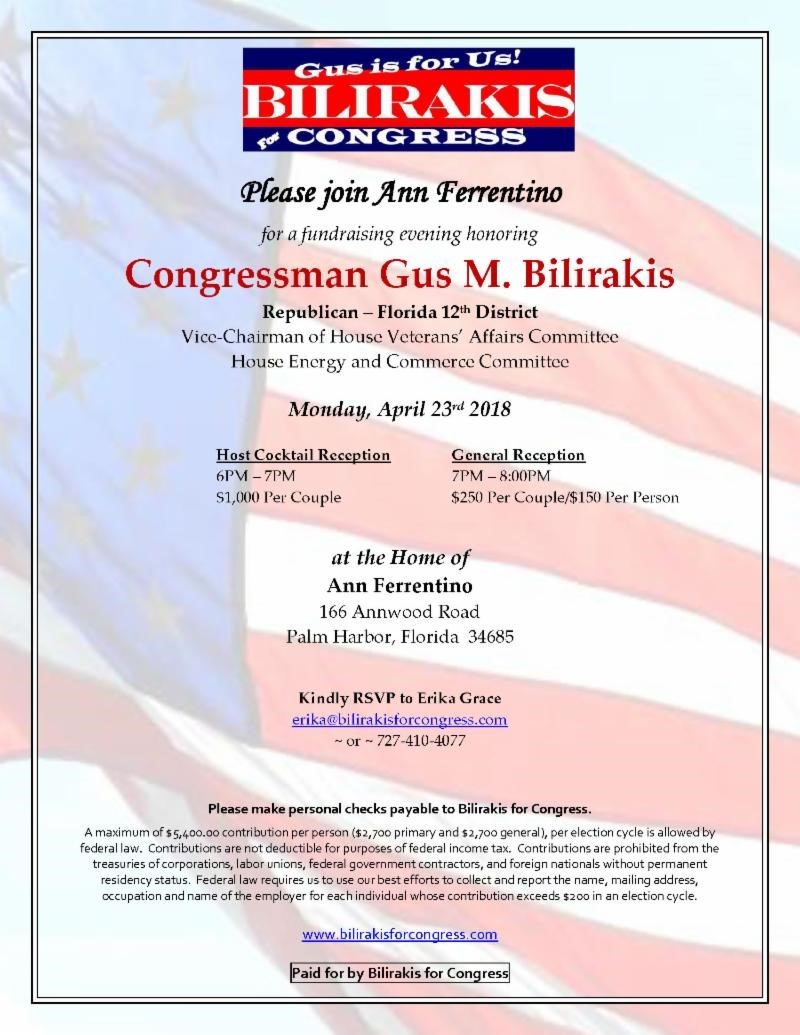 "CD 15 Democratic hopeful puts focus on fixing public education" via Bill Rufty of Florida Politics — Public-school teachers should not have to pay federal income taxes … "It will be the Rewarding American Educators Act, and I will file it when I get to Congress," said Gregory Pilkington of Indian Lakes Estate. "It will attract new teachers and keep those who then will be able to afford staying." Pilkington is one of six Democrats hoping to run to fill the CD 15 seat now held by U.S. Rep. Dennis Ross, who is not seeking re-election. The erosion of the education system and infrastructure have hit the nation particularly hard, but it is even worse in the 15th District which includes portions of Polk, Hillsborough and southern Lake counties, he said. He promised to bring relief to the district and blamed Republican predecessors for neglect causing the conditions. "We have problems that must be solved in our public education system. Tenoroc High School (in Lakeland) has a 50 percent graduation rate. And If you are an African-American male who drops out of school, you have a 90 percent chance of winding up in jail."
"Congressional candidate Carla Spalding piles up contributions — even more than Debbie Wasserman Schultz" via Anthony Man of the South Florida Sun-Sentinel — Spalding, who has styled herself as a passionate supporter of Trump and is supported by some controversial backers, raised more money than Wasserman Schultz — and more than all of the other challengers combined. Spalding raised $213,000 in the first quarter of 2018. Wasserman Schultz reported this week to the Federal Election Commission that she raised $208,000 in the three months that ended March 31. The Democratic incumbent still has a huge overall money advantage — more cash and no debt. Despite her fundraising strength in the most recent quarter, Spalding doesn't have the kind of cash she'd need to mount a serious advertising campaign in the expensive Miami-Fort Lauderdale television market. Neither does anyone else.
"Holly Raschein, Patrick Henry draw primary challenges" via the News Service of Florida — Jose Felix Peixoto, a Key Largo Republican, opened a campaign account this week to run against Raschein in House District 120, which includes Monroe County and part of Miami-Dade County … Also, in the race is Key Largo Democrat Pat Gessel. Raschein had raised $115,182 for her campaign as of March 31 and had more than $69,000 in cash on hand. Gessel raised $2,100 last month after opening an account March 5. Also this week, Daytona Beach Democrat Percy Lee Williamson opened an account to try to unseat Henry in Volusia County's House District 26 … Also, in the race are Daytona Beach Republican Michael Cantu and Daytona Beach Libertarian Kyle Baker. Henry had raised $14,800 for his re-election bid as of March 31. Baker had raised $267, and Cantu had raised $100.
"Why this cutthroat special election has managed to stay under the radar" via David Smiley of the Miami Herald — Voting is already underway in the battle to claim Miami-Dade's House District 114, made available when Democrat Daisy Baez resigned in disgrace last year. Lobbyist and land-use attorney Javier Fernandez is hoping to keep the seat in the fold for the state's minority party, while insurance attorney Andrew Vargas — the law partner of newly minted OAS Ambassador Carlos Trujillo — is scrapping to reclaim the seat for Republicans. Liz de las Cuevas, who switched out of the Republican primary last year and registered without party affiliation, is playing spoiler. Yet the race has been a sleeper, drawing none of the national attention and bellwether talk seen with other special Florida elections heading into the midterms. Some observers dismiss the importance of the election and the seat, given that the candidates aren't well-known and the race could very well be the first round of a fight decided by a November rematch. There's also a special election the same day in Central Florida, and some operatives suspect both parties are holding back resources.
— "Andrew Vargas is a 'no-show,' Javier Fernandez says" via Florida Politics
Scoop – "Head of Democratic-aligned Florida Alliance stepping down" via Florida Politics — Carlos Odio is stepping down as managing director of the Florida Alliance, a secretive group of high-value Democratic donors … Odio was a staff member in the Obama administration and is the son-in-law of embattled U.S. Sen. Robert Menendez of New Jersey. Chris Findlater, co-founder of online auto insurance business NetQuote and one of the Alliance's board members, is stepping in to replace him at least temporarily, sources said. The group, made of people alienated from the Florida Democratic Party, spends vast quantities in races through friendly nonprofit groups and political committees. Within the Alliance, there's also talk of the re-emergence of Stephen Bittel, the former state party chair who resigned late last year after accusations of inappropriate remarks and behavior toward women. Bittel was previously a member of the Alliance.

— STATEWIDE —
"Jacqui Thurlow-Lippisch defends CRC amendment bundling" via the News Service of Florida — Thurlow-Lippisch, an appointee of fellow Martin County resident Senate President Joe Negron to the Constitution Revision Commission, defended the bundling of topics in six of the eight amendments the 37-member panel agreed this week to put before voters in November. On her blog, the former Sewall's Point mayor called it "a good thing" to roll some topics — such as oil drilling and vaping, or death benefits for first responders and university student fees — into single-ballot proposals. "You may have read a plethora of articles on the completed work of the 2018 Constitution Revision Commission and thought to yourself, 'What!?'" Thurlow-Lippisch wrote. Six amendments "are grouped and related," she added.
— "The CRC's Brecht Heuchan defends 'grouping' in proposals sent to voters" via Michael Moline of Florida Politics
"Judge backs nursing home on death records" via Jim Saunders of the News Service of Florida — Leon County Circuit Judge Terry Lewis ruled that the death certificates are public records under a state open-government law. In doing so, he sided with arguments made by The Rehabilitation Center at Hollywood Hills, a Broward County nursing where residents died in sweltering conditions after the September hurricane. The Rehabilitation Center at Hollywood Hills filed the public-records lawsuit Jan. 31, alleging that the department had improperly refused to provide copies of death certificates for people across the state from Sept. 9 through Sept. 16 — a weeklong period that included Hurricane Irma and its immediate aftermath. The lawsuit said the Department of Health responded to the public-records request by requiring the nursing home to request each death certificate by the name of the person who had died and to use a department form. Attorneys for the nursing home alleged that such requirements violate the public-records law.
"State bans new patients from ALF associated with nursing home where 12 died after Irma" via Elizabeth Koh of the Miami Herald — Citing "an immediate serious danger to the public health, safety or welfare" and to residents at the facility, the Agency for Health Care Administration stopped Floridian Gardens Assisted Living Facility from admitting any new residents. The action came after a survey identified at least two deaths and multiple falls involving "deficient practices" in care, supervision and follow-up. The 180-bed facility at 17250 SW 137th Ave. is owned by Jack Michel and Larkin Community Hospital, the same entities that operated the Rehabilitation Center at Hollywood Hills. The Hollywood facility was shuttered after power to its air conditioning failed during Hurricane Irma, leading to 12 deaths and the evacuation of its remaining residents. But Floridian Gardens, which was also cited shortly after the post-Irma tragedy, has apparently still been caring for residents despite attempts by regulators to shut down the assisted living facility in late September.
"Sheriff's office: 'There will never be a reason' explaining fatal attack on Gilchrist deputies" via Darlena Cunha and Mark Berman of The Washington Post — The Gilchrist County Sheriff's Office, in a statement released about 24 hours after the shooting, said "there will never be a reason for what he did to Sgt. Noel Ramirez and Deputy Taylor Lindsey. Nor will it ever satisfy their families. They sat down to eat, and were here to serve." The slain deputies — 29-year-old Ramirez and 25-year-old Lindsey, both of whom were in uniform and on duty — were eating at the Ace China restaurant in Trenton, when the gunman went in and opened fire, the sheriff's office said. A day earlier, authorities had said the attacker fired from outside the restaurant. Police have identified the shooter as John Hubert Highnote, 59, of Bell, and they said he had shot and killed himself in his car parked outside the restaurant. "Our deputies were ambushed," the sheriff's office said in its statement. "They were unable to return fire."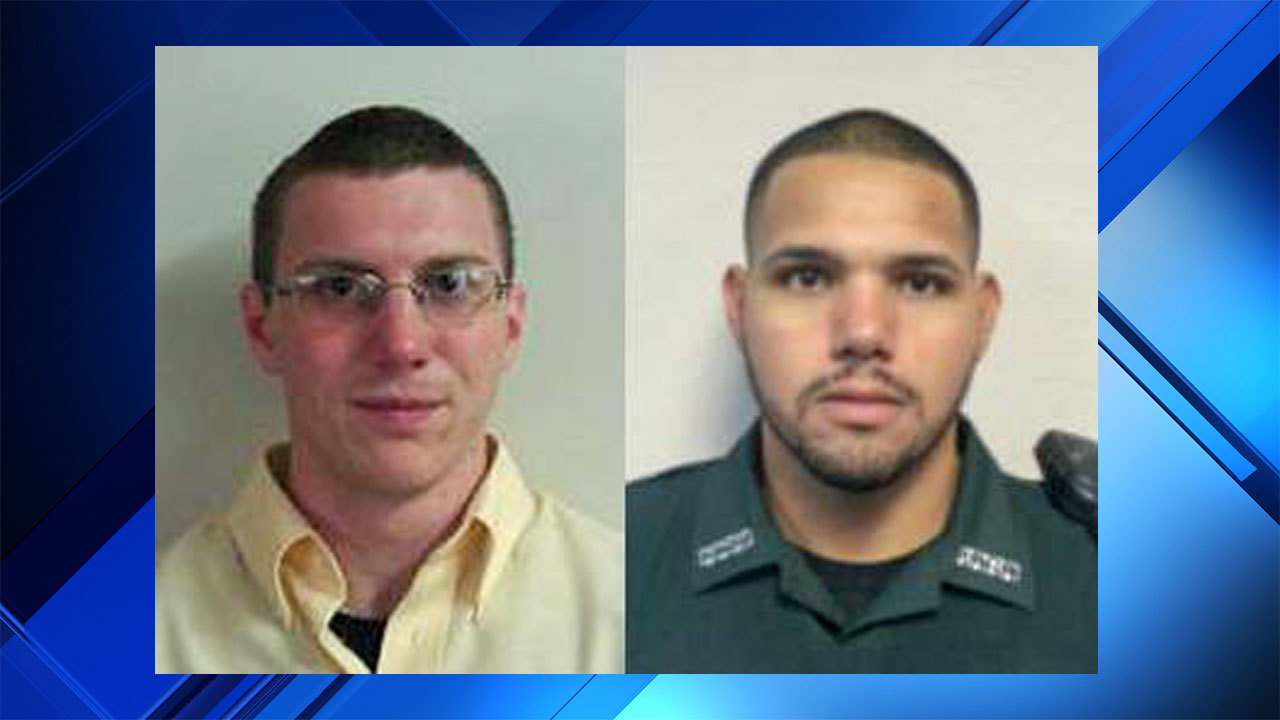 "Deputies hold vote on sheriff after Parkland" via Terry Spencer of The Associated Press — The Broward Sheriff's Office Deputies Association is conducting a poll of its members about their confidence in Sheriff Scott Israel, who strongly denounced the vote as a union tactic to get pay raises. The electronic poll ends Thursday night. President Jeff Bell said that Israel's handling of the Marjory Stoneman Douglas High shooting that killed 14 students and three staff members is a major component of the no-confidence campaign, saying he should not have put the full blame on Deputy Scot Peterson, the school's resource officer. Bell also has criticized Peterson, but said Israel should not have publicly singled the deputy and should have placed him on paid leave until an investigation into his conduct was completed. He said only deputies accused of crimes are placed on unpaid leave and Peterson has never been charged. Israel issued a statement Friday saying it is "unfortunate and appalling" that Bell is using the school shooting "as a bargaining tactic to extort a 6.5 percent pay raise" for the union's members.
"The cost of a cop in every school could mean no raises for teachers" via Andrew Marra of the Palm Beach Post — Leaders of the Palm Beach County school district said they could not set aside any money for employee raises in their tentative spending plan for the new school year, arguing that rising costs and a dearth of new money make substantial pay hikes virtually impossible. Teachers have received a 3.2 percent average increase in the current year. "The outlook is poor," said Mike Burke, the district's chief financial officer. However, he did not rule out raises entirely. The county's largest employer occasionally claims to have little to no money for employee raises, then finds money once union contract negotiations begin. But this year the district's refrain is being echoed around the state as school leaders assess the fallout from the state's decision to bolster school security in the wake of the Parkland school massacre in February. "To give some people raises we'd have to lay people off, given the funding we have," the chief financial officer of Broward County schools told the Sun-Sentinel this week.
"State laws don't stop private schools from hiring felons" via Annie Martin and Leslie Postal of the Orlando Sentinel — Shanqual Marshall-Gunn, banned from teaching in Florida public schools because of a Medicaid fraud conviction, was hired by a private school in Pine Hills a month after her release from prison in 2016. She's still teaching at Winners Primary School, where she was recently recognized at a "rising stars" reception for private school employees and students in Orange County. Florida lawmakers this spring made modest changes to the rules that govern the private schools that receive state scholarships, or vouchers. But the new rules still won't stop some felons from working in private schools, like Winners, that receive the money. Marshall-Gunn's conviction and prison sentence prompted a news release from Florida Attorney General Pam Bondi, but state law doesn't list Medicaid fraud as an offense that would prevent employment at private schools.
Incredible read – "A baby left all children's with a needle in her heart" via Kathleen McGrory of the Tampa Bay Times — Amara Le thought her newborn daughter's surgery had gone well. So, it came as a shock when, at a follow-up appointment, a doctor alerted her to a serious complication: The baby had been released from Johns Hopkins All Children's Hospital in St. Petersburg with a needle in her heart. Le and her fiance, Joshua Whipple, rushed their daughter back to All Children's and demanded the needle be removed. But the surgeon who had operated on Katelynn told them it didn't exist. They went home, Le recalled. "We had no choice." Ten days later, Katelynn needed emergency surgery, unrelated to the needle. Her parents took her to a different hospital. Within a half-hour, that surgeon had found the needle stuck in Katelynn's aorta. Asked by the Tampa Bay Times about Katelynn's case and broader issues with the hospital's Heart Institute, All Children's leaders acknowledged a series of problems that had not previously been made public. The mortality rate among heart surgery patients has increased, they said. At least one top surgeon has stopped operating. And surgeons from another hospital, brought in to evaluate the program, found what All Children's leaders would describe only as "challenges."
"Jacksonville Sheriff uses misleading data to defend pedestrian ticketing" via Topher Sanders of ProPublica, and Benjamin Conarck of The Florida Times-Union — Jacksonville Sheriff Mike Williams in recent months has repeatedly defended his department's enforcement of pedestrian violations. There is no policy targeting people of color, he has insisted. When making his case, Williams has relied on what he has said is a true accounting of pedestrian ticket data for recent years. That data, he claims, shows that 45 percent of tickets went to blacks. That figure is substantially less than the number reported … 55 percent of the tickets over the prior five years had been issued to blacks. The sheriff's data are misleading … included in his count are tickets written for "soliciting," which typically means panhandling. It is a criminal charge for which people are routinely arrested. The vast majority of the roughly 800 soliciting charges were issued to whites, often people seeking money or food at the entrances to freeways and other locations … the sheriff's decision to include them in his presentations on pedestrian ticketing accounts for his claim that only 45 percent of all pedestrian tickets in recent years were issued to blacks … in hundreds more instances, people were given tickets that didn't comply with state law. Black pedestrians were overrepresented in virtually every category of ticket.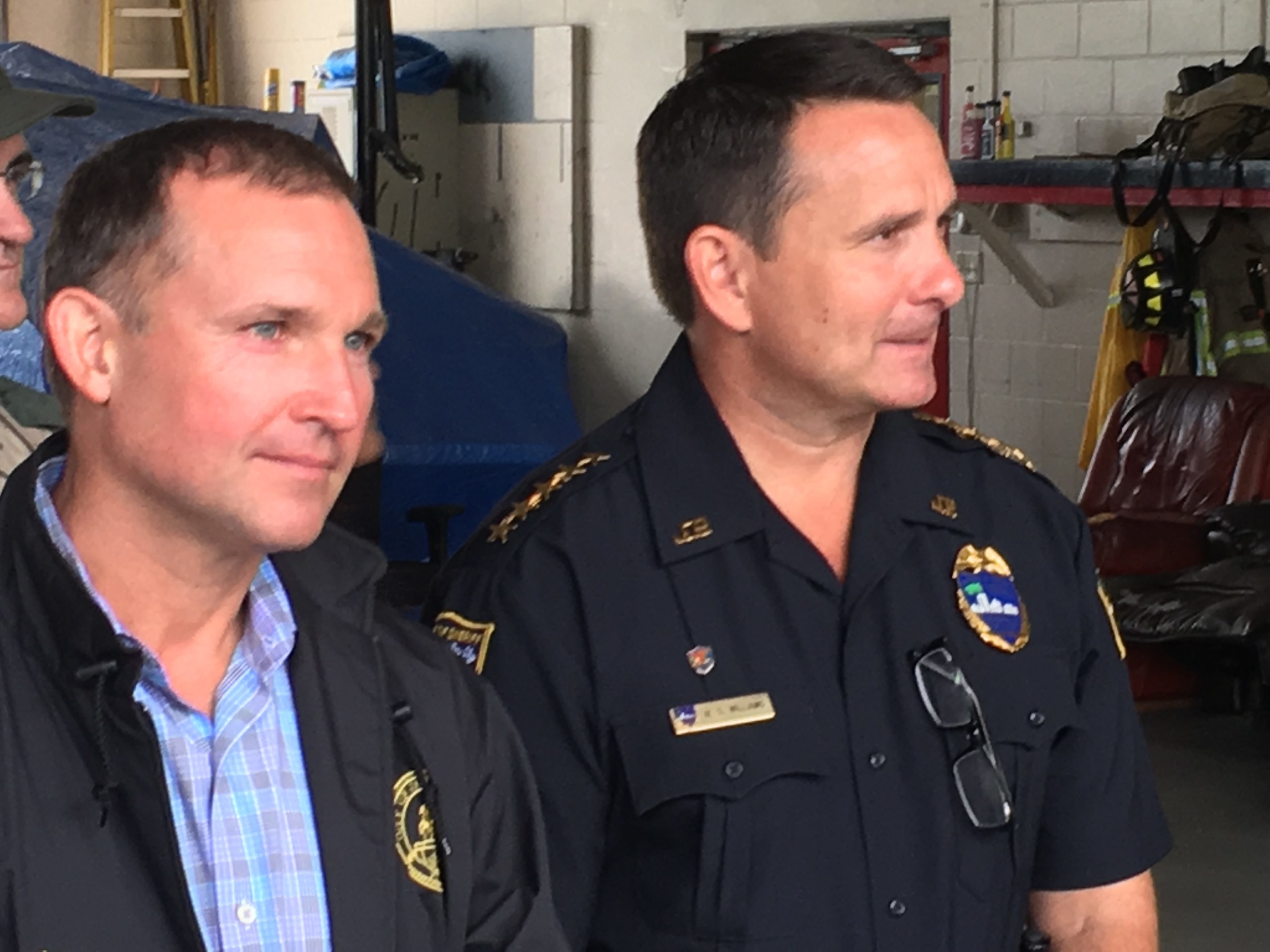 "Cops used dead man's finger in attempt to access his phone. It's legal, but is it OK?" via Kathryn Varn of the Tampa Bay Times — "I just felt so disrespected and violated," said Victoria Armstrong, whose fiancé, Linus F. Phillip, was shot and killed by a Largo police officer last month. Armstrong, 28, happened to be at Sylvan Abbey Funeral Home in Clearwater the day two detectives showed up with Phillip's phone, she said. They were taken to Phillip's corpse. Then, they tried to unlock the phone by holding the body's hands up to the phone's fingerprint sensor. Lt. Randall Chaney said it was an unsuccessful attempt to access and preserve data on the phone to aid in the investigation into Phillip's death and a separate inquiry into drugs that involved Phillip, 30. While Chaney said detectives didn't think they'd need a warrant because there is no expectation of privacy after death — an opinion several legal experts affirmed — the actions didn't sit right with Phillip's family. The account touches on issues ranging from the legal and ethical quandaries of data security in today's technology-saturated world to what protections remain when you die. Phone security via physical characteristics such as your fingerprint or your face has only been available to consumers for a few years, making it a new challenge for police, Chaney said.
What Christian Minor is reading – "Florida takes important step toward data-driven criminal justice policymaking" via Len Engel of The Hill — Championed by state Sen. Jeff Brandes and state Rep. Chris Sprowls, SB 1392 requires courts, jails, prisons, state attorneys, public defenders and others to collect, record and share data and, most importantly, use it to drive policy decisions. Experts are calling it the "gold standard" in data collection, allowing for informed decision-making at all levels of government. Florida's commitment to data-driven policy is blossoming just in time. Without changes to its outdated laws and practices, the state's prison population, already the third-largest, will experience a new burst of growth beginning in 2021. Florida has one of the nation's strictest sentencing codes and an expansive list of mandatory minimum offenses, along with enhancements that tack on additional time for repeat criminal behavior. On the back end, Florida's limited release mechanisms — the state abolished parole in 1983 and requires all inmates to serve at least 85 percent of their sentence — increase prison time beyond what is served in other states. These dynamics have led to steady increases in the length of sentences and inmates' prison stays.
Wait, what? — "Pensacola man accused in toddler's murder found not guilty" via Kevin Robinson of the Pensacola News Journal — Alonzo Thompkins, 28, was accused of severely beating his girlfriend's 2-year-old son, Cornelius Savage, in 2016. During three days of testimony, witnesses established the toddler's mother, Mary Riddle, had a history of abusing her children. Before Thompkins ever moved in, Florida child protective officials removed Cornelius from the home because the child suffered an unexplained skull fracture. The toddler was eventually returned to the home, where Thompkins had become Riddle's live-in boyfriend, and he was killed shortly after that. Thompkins' attorney, Marci McCoy, made the case to jurors in her closing arguments that there was no clear evidence indicating it was Thompkins who injured the toddler.
"Woman says Hernando County commissioner kept her as a 'sex slave'" via Barbara Behrendt and Megan Reeves of the Tampa Bay Times — A woman who answered the door at the home of Commissioner Nick Nicholson said she served for months as a "sex slave" to the elected official. Valerie Surette, who called herself a 30-year-old stripper with an on-and-off drug problem, was one of two women named in charging documents when Nicholson was arrested on prostitution-related charges. Nicholson, 71, preyed on her "vulnerability" and that of other women like her, Surette said. She had sex with Nicholson in exchange for a place to live and cash for groceries, drugs and drug rehabilitation, she said. "I had originally agreed to the arrangement," Surette said. "I did work at a strip club, but that's different. Here, I was a sex slave … Whatever he wanted, I had to do." The commissioner faces charges of operating a location for prostitution and two counts of purchasing services from a person engaged in prostitution, according to the Hernando County Sheriff's Office.
"Roger Stone 'uninvited' to local GOP dinner after nasty remarks about Barbara Bush" via Wendy Victora of the NWF Daily News — The Okaloosa Republican Executive Committee has "uninvited" former Trump adviser Stone from its annual dinner … Among other remarks, Stone called Bush a "nasty drunk." He also said she "drank so much booze, if they cremated her … her body would burn for three days," according to national news accounts. Stone had been the touted keynote speaker for OREC's May 12 Lincoln Reagan Day Dinner. Committee chairman Mark Franks said in a prepared statement that the organization takes "strong objection" to the comments and has "ended our contract." "It's tough to lose a speaker when you're three weeks out, but this is what I felt needed to be done out of respect for Barbara Bush," Franks said. "I thought he'd be entertaining, but for me, this went over the line." Stone, when reached by email, said he was the one who ended the contract. "I canceled my appearance as the sponsors wanted to censor my public comments, which is unacceptable," he said in the email.
"You say marijuana, I say tomato: Joe Redner keeps fighting for 'home grow'" via Jim Rosica of Florida Politics — In a 49-page filing attorney Luke Lirot told the 1st District Court of Appeal to leave in place a lower court's decision that Redner, a 77-year-old lung cancer survivor, has an immediate right to "home grow." The state's Department of Health appealed both Circuit Judge Karen Gievers' decision earlier this week for Redner and her order to lift an automatic 'stay' of the ruling while it's under appeal. His doctors say juiced marijuana is the "optimal" way to keep Redner's cancer in remission. The owner of the Mons Venus strip club also is a vegan. Lirot argued Gievers didn't "abuse (her) discretion" by making the effect of her ruling immediate, and that the state wouldn't be harmed by Redner starting to grow his own medicinal cannabis. He also said Redner has a "substantial likelihood" of winning the underlying appeal.
— HAMMER TIME —
"Now Marion Hammer's set her sights on YETI" via Dara Kam of the News Service of Florida — The National Rifle Association is targeting YETI after the Texas-based maker of high-dollar cups and coolers dropped its sponsorship of the Friends of NRA Foundation Banquet and Auction events around the country, according to an alert issued by NRA Florida lobbyist Hammer … The YETI coolers "have been a hot item for sportsmen" at the events for years, according to Hammer's alert. "Suddenly, without prior notice, YETI has declined to do business with The NRA Foundation saying they no longer wish to be an NRA vendor, and refused to say why. They will only say they will no longer sell products to The NRA Foundation. That certainly isn't sportsmanlike. In fact, YETI should be ashamed. They have declined to continue helping America's young people enjoy outdoor recreational activities. These activities enable them to appreciate America and enjoy our natural resources with wholesome and healthy outdoor recreational and educational programs," the alert reads. "In this day and age, information is power. We thought you needed this information."
"John Romano: OK, now who sounds like a hysterical teen talking about guns?" via the Tampa Bay Times — In an open letter directed to Second Amendment enthusiasts, and posted on Ammoland.com, the 78-year-old Hammer sounds more like an emotional teenager than the actual emotional teenagers who survived the Parkland school shooting in February. She directs her ire at Republican legislators who "lacked the courage to uphold their oath of office'' and "no longer deserve your trust.'' She talks of a "selfish betrayal'' and a "breach of trust.'' She lambastes a lawmaker that she claims "caved to threats.'' She lists the names of all the Republican senators and representatives who voted for the gun control measures in SB 7026 and ominously suggests some may never again get an "A'' grade from the NRA. Well, thank goodness. If you are seeking a sliver of hope from an inexplicable tragedy, you may find it in Hammer's list of legislators. They did not betray or abandon anyone or anything. Except, maybe, Marion Hammer. For the first time in recent memory, a large bloc of conservative legislators openly defied the most powerful lobbyist in Tallahassee. Maybe they were truly moved by the pleas of Parkland families. Or maybe they just decided this was their best political gambit. Either way, they stepped out from under her oppressive and threatening ways. And that can only be a good thing for residents of Florida moving forward.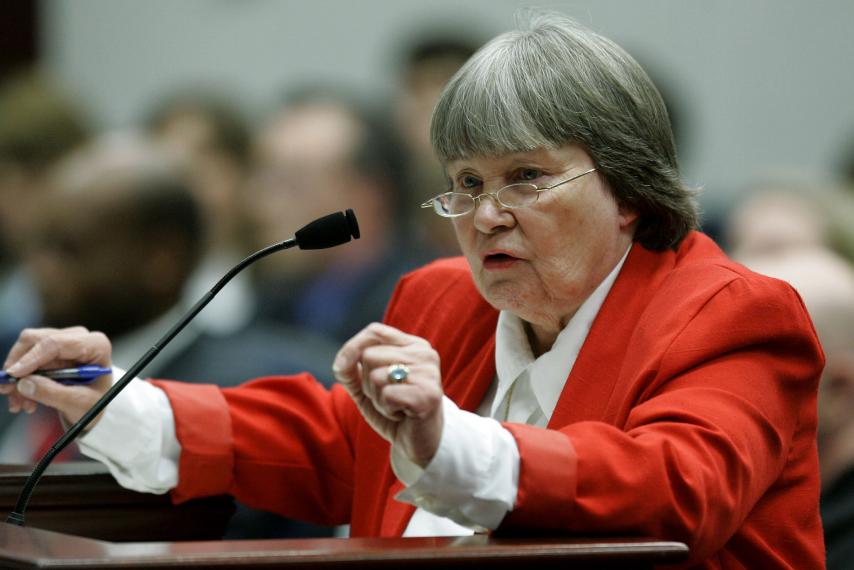 Meanwhile … "Brevard becomes focus of gun issues: In schools, at work and even at churches" via Caroline Glenn, Wayne Price and Dave Berman of FLORIDA TODAY — Even before the Parkland school shooting, the topic of carrying guns in public places to thwart terrorists and mass killers has been near and dear to Brevard County leaders' hearts and politics. Sheriff Wayne Ivey has long encouraged in videos and in person local citizens getting concealed weapons permits and training. In recent weeks, however, calls from elected officials have grown even louder and more sweeping in their scope of how to put armed civilians in places once off-limits for guns. The Brevard County Commission is now considering allowing county employees with concealed-carry permits to bring guns to work, while the Brevard School Board appears poised to approve a controversial marshal program that would train principals, deans and custodians as special deputies and allow them to carry guns into the schools. Christopher Muro, an assistant professor of political science at Eastern Florida State College, said gun policy had become one of the five biggest issues among voters, both nationally and in Florida, along with the economy, health care, immigration and foreign policy.
— D.C. MATTERS —
"Why Rubio believes America's new tax laws will be good for Overtown" via David Smiley of the Miami Herald — U.S. Sen. Tim Scott joined Rubio in Miami to talk about how the country's new tax code includes a provision that is intended to steer corporate money into struggling neighborhoods. The South Florida tour by the two senators is part of an effort by the Republican Party to explain the complicated legislation and to convince the public that the tax bill will put more money in their bank accounts and expand the economy. Slammed as a corporate bailout by Democrats, the legislation is a chief talking point for America's governing party as it heads into the midterm elections. "What we've been able to do with tax reform is employ for distressed communities strategies that other countries have been able to use to take jobs away," said Rubio, who also visited Homestead and West Little River. "Today, you're better off investing here in Overtown — theoretically, if we can get this done — than you would be taking your jobs to another country, thereby creating opportunities for dignified work for thousands of people that live within walking distance."
"Vern Buchanan criticizes Trump's rollback of offshore drilling regulation" via Zac Anderson of the Sarasota Herald-Tribune — Buchanan tweeted that "The Administration's plan to weaken safety rules put in place after the fatal explosion must be withdrawn." The comment came on the eighth anniversary of the blown BP oil well, which was being drilled by the Deepwater Horizon oil rig. A series of safety failures led to the deaths of 11 rig workers and allowed more than 200 million gallons of oil to gush into the Gulf of Mexico. After the disaster, a federal commission recommended a number of new drilling safety rules. But in recent months "the administration has been quietly rolling back the regulations that were adopted in the wake of the disaster," according to Terry Garcia, who served on the National Commission on the BP Deepwater Horizon Oil Spill. This is not the first time Buchanan has criticized Trump's approach to environmental issues. He disagreed with the president when Trump announced his intention to pull the United States out of the Paris Climate Accord. "Climate change is a serious threat," Buchanan said at the time.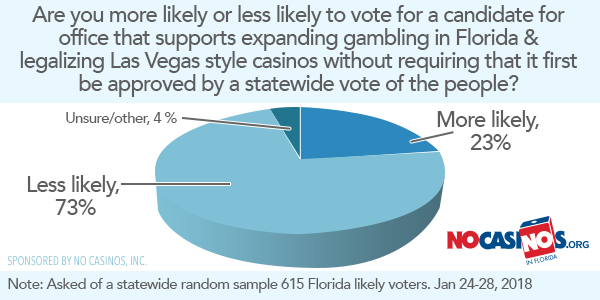 — OPINIONS —
"Amy Mercado: A representative democracy for all" via Florida Politics — Florida is home to over 5 million residents of Hispanic or Latino origin, making up almost 25 percent of the state's population. Just this year we welcomed 300,000 Puerto Rican evacuees who fled their homes behind in search of new beginnings in Florida in the wake of a devastating natural disaster. Infringing on the ability of thousands to exercise their constitutional right to vote is unacceptable. These 13 counties are knowingly discouraging Spanish-speaking Floridians from participation in civic discourse and the democratic process. They are robbing Americans of their fundamental right to exercise their voices. When a state carrying the weight of over 20 million voters knowingly ignores the consistent interpretations of the Voting Rights Act to require bilingual material and poll workers at voting sites, one can only determine that this is a malicious political calculation designed to undermine and undercut the rights of Floridians.
"Ben Pollara: Donna Shalala's not honest about marijuana" via Florida Politics — I was shocked when I got an email from Donna Shalala, on 4/20 of all days, saying she supported significant reforms to our marijuana laws (but not legalization). That simply doesn't jive with Ms. Shalala's record. In 1996, California and Arizona passed the first two medical marijuana laws in the country. At the time, Shalala was Secretary of Health and Human Services in the Clinton administration. She endorsed the long-discredited "gateway drug" theory in an article she wrote titled, "Just Say 'No' to the Legalization of Marijuana." In her own words, Shalala believed (believes?) that legalizing marijuana, "would cause more young people to use — and become addicted to — marijuana, as well as other drugs." While at the helm of UM, Shalala instituted draconian policies regarding the use of marijuana by students — one which included no provision for sick and suffering students who needed medical marijuana. And when the Miami-Dade Democratic Party endorsed the 2014 medical marijuana amendment — which got 58% of the vote but still failed to meet Florida's 60% requirement for approval — Donna chastised the head of the Party, saying they shouldn't get involved in "public health" issues. Donna isn't being honest about marijuana.
— MOVEMENTS —
"Carlton Fields COO takes on new role at Equality Florida" via Frances McMorris of the Tampa Bay Business Journal — Equality Florida Institute Inc. has elected Carlton Fields COO Anastasia Hiotis chair of its board of directors. A board member for the past nine months, Hiotis was elected on April 7 in Tallahassee as chair of the fundraising charitable arm of Equality Florida, the largest civil rights organization for Florida's lesbian, gay, bisexual and transgender community. Hiotis stepped into her new fundraising role immediately upon election. Her first priority is "to make sure that Equality Florida continues to run like a top," she said. "My goal is to make sure we stay on that track." More than 88 percent of the money raised for the organization goes to its mission of fighting for equal rights for LGBTQ individuals.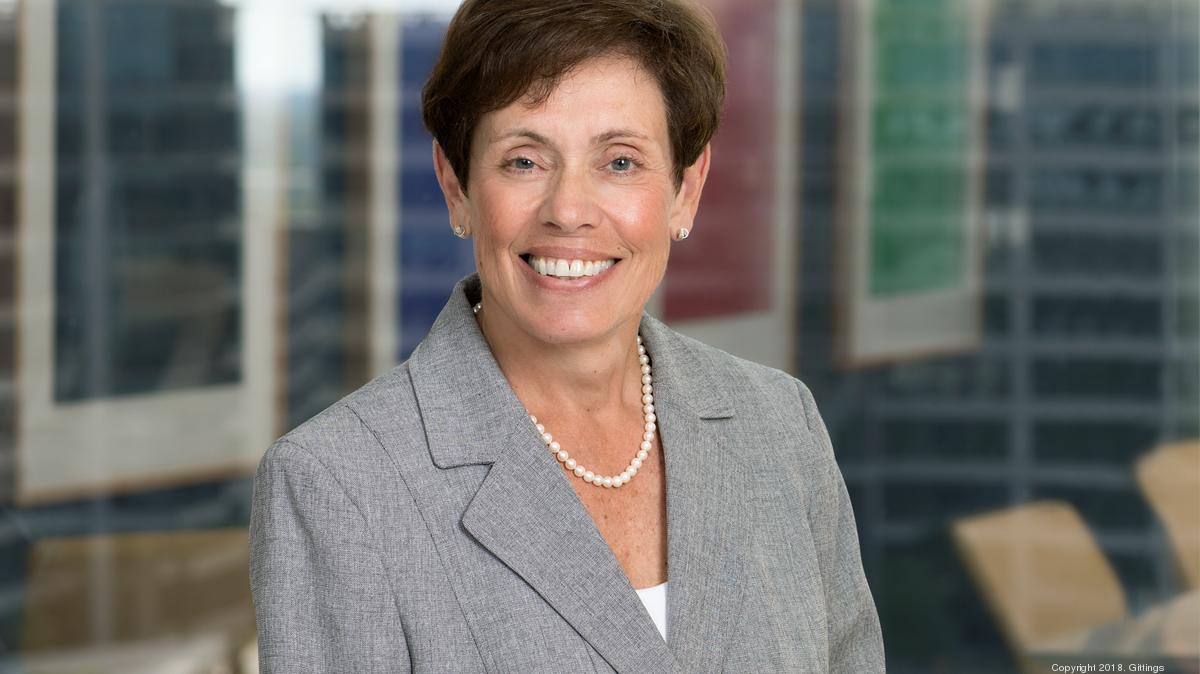 "Personnel note: Patti Brigham takes over League of Women Voters of Florida" via Florida Politics — Brigham joined the League of Women Voters of Orange County in 2013, the League's state board in 2015 and moved into the position of first vice president in 2016 … "In 2016, in the days following the mass shooting at the Pulse Nightclub in Orlando, Patti partnered with Goodman to form the Florida Coalition to Prevent Gun Violence which now includes more than 100 organizational partners" … "This is an exciting time for the League with the growth we're experiencing and so many young people eager to be ready to vote," Brigham said. "I hope to carry forward Pam's many accomplishments and build on them." The League says it experienced an 80 percent growth in membership in the last three years and is now the second largest league in the country.
"Personnel note: Lydia Claire Brooks heading to North Carolina" via Florida Politics — Brooks is closing up shop as a Tallahassee-based fundraising consultant and heading to Raleigh … There, she'll be Finance Director for the North Carolina House Democratic Caucus. "North Carolina Democrats have a lot of opportunities this election cycle, and I'm excited to join Leader (Darren) Jackson and his team," she said. "I will miss Tallahassee, which has been my home for almost 10 years." With more than a decade of experience, Brooks has worked for a variety of candidates, including Democratic gubernatorial candidate Rod Smith, where she got her start as a scheduler for his 2005 campaign. More recently, she briefly worked for state Rep. Loranne Ausley of Tallahassee, elected again in 2016 after first serving in the House 2000-08.
Appointed — Steve Spradley to the Taylor County Board of County Commissioners; James Surrency to the Florida Gateway College District Board of Trustees.
New and renewed lobbying registrations:
Aimee Diaz Lyon, Metz Husband & Daughton: ISF, Inc.
Greg Parks, Parks Advocacy Group: CloseWatch Technologies; Digital Outcomes, Inc.
Herschel Vinyard: Foley & Lardner: Dewberry Engineering
— ALOE —
"A moment of reckoning for baseball in Florida" via Jared Diamond of The Wall Street Journal — The 25-year baseball experiment in Florida has not gone according to plan. The Marlins have ranked among the bottom five teams in average attendance in 18 of the last 19 seasons and haven't reached the playoffs since 2003. The Rays — they dropped the "Devil" in 2008 — have ranked last at the box office in six consecutive seasons. Now the two organizations are at a moment of reckoning, as both teams face scrutiny after a winter in which they traded away talent to cut costs and rebuild. In February, the MLB Players Association filed a grievance against four teams accusing them of failing to spend revenue-sharing money appropriately. This included both Florida clubs. "Let's call it for what it is," said one person familiar with the union's thinking. "Baseball in Florida has been a disaster for Major League Baseball." The Rays have faced problems since Day One. Their ballpark, Tropicana Field, "was outdated before the Rays even started playing," team President Matt Silverman said. (It was built eight years before the creation of the Rays to entice an existing team to relocate there.) They also had a string of missteps in the early-going that alienated some fans and business partners.
"ESPN picks NFL teams to win 289 of a possible 256 games" via Michael David Smith of NBC Sports — When ESPN's team of NFL writers compiled their predictions, it was amusing to see that they picked 289 wins and only 223 losses. Yes, leaguewide the Worldwide Leader thinks NFL teams are going to go 289-223, a .564 winning percentage in a world where the only certainty is a .500 winning percentage. The problem isn't that ESPN's staffers went overboard with the best teams. In fact, the best record assigned to any team was 12-4, for the Rams. If anything, the folks at ESPN might have understated the number of teams that will have particularly strong records. Overall, ESPN's writers predict that the NFL standings will finish with one 12-4 team, seven 11-5 teams, six 10-6 teams, five 9-7 teams, seven 8-8 teams, four 7-9 teams, one 6-10 team and one 5-11 team. That's not just overly optimistic, it's mathematically impossible.
What Ron Sachs is reading — "Standing up at your desk could make you smarter" via Richard Friedman of The New York Times — We've known for a while that sitting for long stretches of every day has myriad health consequences, like a higher risk of heart disease and diabetes, that culminate in a higher mortality rate. But now a new study has found that sitting is also bad for your brain. And it might be the case that lots of exercise is not enough to save you if you're a couch potato the rest of the time. A study published last week showed that sedentary behavior is associated with reduced thickness of the medial temporal lobe, which contains the hippocampus, a brain region that is critical to learning and memory. The researchers asked a group of 35 healthy people, ages 45 to 70, about their activity levels and the average number of hours each day spent sitting and then scanned their brains with MRI. They found that the thickness of their medial temporal lobe was inversely correlated with how sedentary they were; the subjects who reported sitting for longer periods had the thinnest medial temporal lobes.
Happy birthday belatedly to the great News Service of Florida's Lloyd Dunkelberger, Andrew Hall, St. Petersburg Councilmember Brandi Kunard, Bert Ralston, state Rep. Randy Fine, the Tampa Bay Business Journal's Janelle Taylor, our friend Mary Ellen Upton, Doug Wheeler, and Brian Willis. Celebrating today is state Sen. Randolph Bracy, Laura Lenhart and Florida Politics' Drew Wilson.