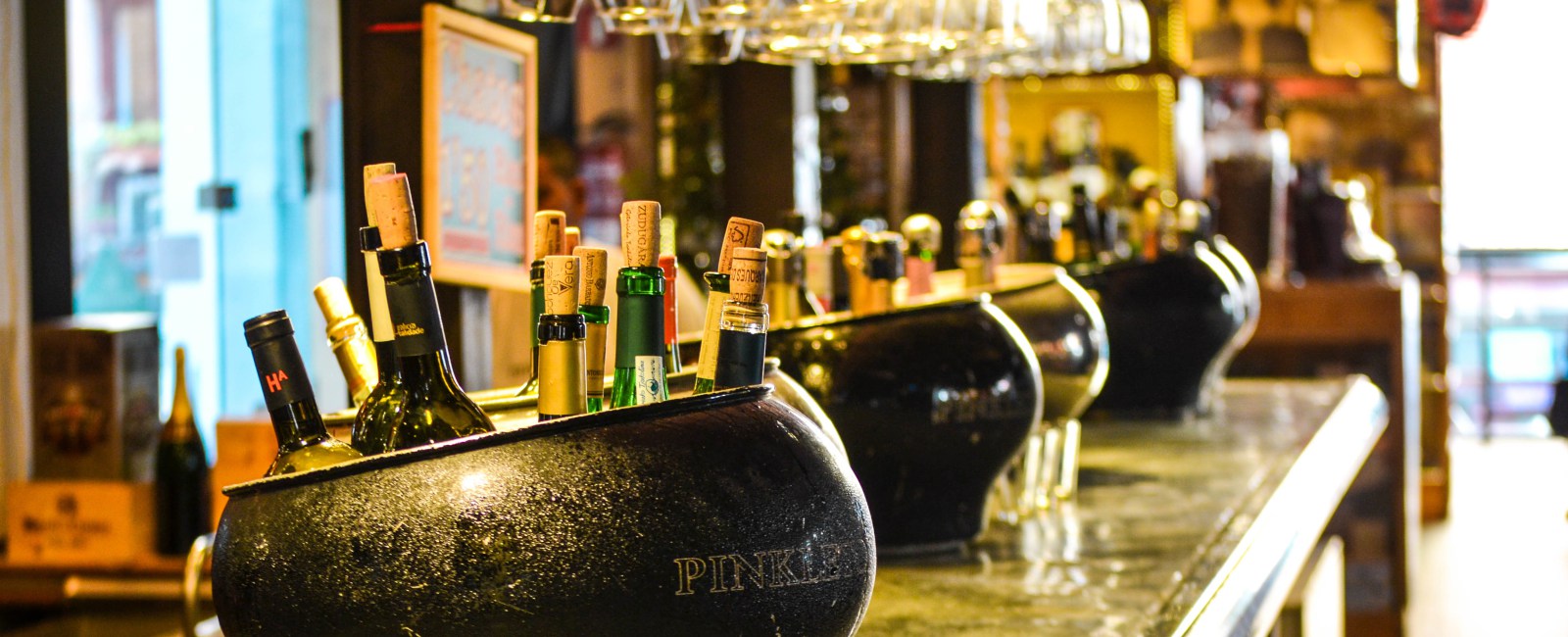 It was the boughiest of First World problems.
All I wanted for my birthday was to splurge on some caviar. The delicious memory of a pre-theatre dinner at New York City's Caviar Russe, enjoyed weeks earlier, still lingered in my senses.
But, this being St. Petersburg (and not Midtown Manhattan), the chances of finding a restaurant that served the delicacy were slim.
Turns out, there were none. At least none that could be easily found. Bern's Steakhouse in Tampa offers a robust selection of the fine black pearls, but there wasn't a place in St. Petersburg proper which did.
So my wife, Michelle, turned to Goldbely, the online marketplace of artisanal foods, to save the day. She ordered a selection from Russ & Daughters, which delivered a hand-packed tin of the finest American Transmontanus. It even included traditional blinis and crème fraîche.
Happy birthday to me, indeed.
Now you can understand my excitement when reading that a bar specializing in Champagne and decadent food — including caviar — was to open on Beach Drive in St. Petersburg.
No more mail-order caviar for this guy.
Greg Haddad, the owner of Central Cigars and Ruby's Elixir, and Gratzzi Italian Grille head chef and co-owner Tony Mangiafico were going into together to re-imagine a space once home to a frozen yogurt shop as an upscale bar.
A year ago, Haddad and Mangiafico's project was envisioned as just "Flûte." They told Creative Loafing they were inspired by a trip to New York City (perhaps to the real-deal Flûte Bar and Lounge in Midtown).
"Flûte is set to carry some non-bubbly, ports and a few beers, plus spotlight high-end Champagne by the glass and flight — not just by the bottle," CL previewed in February 2017.
With a wife whose only real indulgence is Champagne, I eagerly anticipated the opening of St. Petersburg's version of Flûte.
Somewhere along the way, however, Flûte became Flûte & Dram. In addition to bubbly offerings, the bar has made 75 to 100 brown spirits available, including such rare bourbons as Pappy Van Winkle.
Hmmm, so its now a Champagne and whiskey bar. Obviously, the owners can do whatever they want, but the new vision is not the same as a Flute-inspired Champagne bar.
But still … great bottles of Champagne … hard-to-find caviar … and right on St. Pete's tony Beach Drive. What could be better to the discerning connoisseur?
A better question is: how did such a promising concept turn out so wrong?
Flûte & Dram has only been open for two weekends, so it's probably unfair to render a final judgment. But the problems with the restaurant feel like they go to the core and will be difficult to resolve.
Why? Because the entire project feels like a money-grab.
It feels like two longtime local restaurateurs, perhaps a little tired of grinding it out away from Beach Drive, want their piece of the action.
And so they've shoehorned an upscale bar right next to Tryst, an upscale bar (sans caviar) that's paid its dues this past decade and deserves to reap the rewards.
(The staff at Tryst and other nearby restaurants are none too pleased that Haddad's new venture encourages guests to light up cigars in the patio along the sidewalk. The pungency of the cigars has ruined more than one meal, we're told.)
It begs the question: how many Euro-ish bars can you fit on one half-block?
Flûte & Dram is as narrow as a subway car and almost as uninviting.
Haddad had promised that the bar's "front-of-house staff (would) be well-versed in sparkling wine's many forms and price points, ready to educate patrons as much, or as little, as they please on what's in the glass." Instead, Flûte & Dram is populated with a shaky staff that looked unfamiliar with even pouring Champagne, much less understanding it.
There were a couple of veteran waiters milling about, but we saw one serve his friends before addressing three other couples (including us) who were still waiting for service.
The Champagne selections, at least those by the glass, are the usual midscale picks found at several restaurants within an exploded cork's distance from Flûte & Dram. Moët, Veuve, Taittinger. Good stuff, but standard fare. There's no "we found this while in …" or "we just got this in" sense to anything on the menu.
Never mind that the bubbly is served in the kind of cheap glassware you'd probably find at Rental City. Is that a big deal? It is if you are trying to emulate a Manhattan Champagne bar where everything flows into Riedel stemware.
Corners seem as if they've been cut throughout Flûte & Dram. Cheap faux-candles on the table (why have anything on such small tables?) Blacked-out items on the menu (after just two weeks?)
Then again, Flûte & Dram wants to extract as much money as it can for the good stuff. One example: it marked up a bottle of hard-to-find Salon $200 over what other restaurants charge. Tsk, tsk.
And what about the caviar? Isn't that what first drew my interest to Flûte/Flûte & Dram.
I'm not sure why it took thirty minutes to prepare twenty-five millimeters of the roe. Then again, you do get a creeping suspicion what appears on the plate is not the Osetra you ordered.
But finally, it arrived.
With crackers.
Michelle said they were Keebler crackers, like the ones we give our daughter. I am not a cracker aficionado, so I was not sure.
The roe had an appropriately nutty twang and deep swirls of color, so it was impossible to be disappointed with the roe (although the accouterments — chopped eggs, etc. — were limp).
Piling crackers probably purchased at GFS next to what we believed to be some decent Osetra caviar was, if nothing else, disrespectful to everything Flûte — not Flûte & Dram — promised to deliver.
That's what this screed is all about: Flûte & Dram's disrespect. Not to us as guests. But to the neighborhood and city writ large.
Its owners have wedged the restaurant into Beach Drive, in the hopes of printing money. It will cannibalize the success of the surrounding bars and restaurants, some of which, like Cassis and Parkshore Grill, endured the Great Recession. Flûte & Dram will both underwhelm and annoy, because it isn't what it was first promised to be.
The same problems can be found in Jannus Live and along the First Avenue South side of the Sundial garage. There's one too many bars. One too many restaurants. Less would be more.
There are silly food and dining enthusiasts, like the jesters at St. Petersburg Foodies, who write ridiculous things like, St. Pete "is certainly trending and holding its own with cities like San Francisco, Chicago, and dare we even say, New York?"
No, it's not. Not in the least. And I say that as one of the loudest boosters of the 'burg. People who hold themselves out as "foodies" should know better.
Instead, as St. Petersburg continues to mature as a dining and entertainment destination, it is increasingly important for protectors of its brand, of food and dining critics, of Yelp reviewers, to not simply gush over EVERY. SINGLE. OPENING.
We must resist the efforts of some from bastardizing what made Beach Drive and Central Avenue and the rest of St. Petersburg unique in the first place.