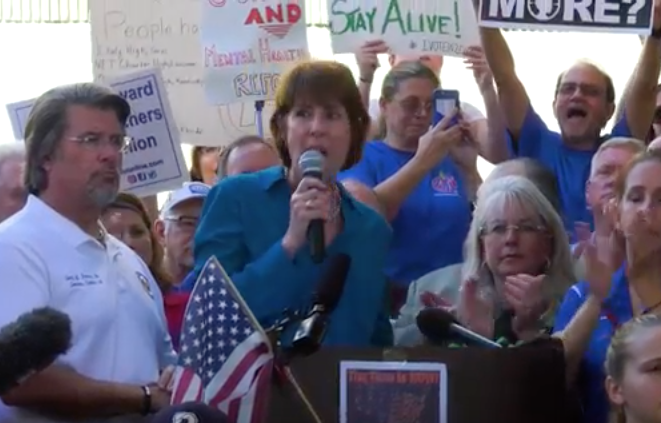 Democratic gubernatorial candidate Gwen Graham has launched a new digital advertisement in which she says she thinks about the Marjory Stoneman Douglas High School massacre as a mother, and about gun laws as someone who wants to be Governor
The minute, 41-second video, "It's Time," released Monday shows Graham getting emotional talking about how the Parkland shooting affected her. It then shows her appearing at post-Parkland memorials and rallies, and concludes with her talking about how she defeated an NRA-backed congressman.
Graham faces Winter Park businessman Chris King, former Miami Beach Mayor Philip Levine and Tallahassee Mayor Andrew Gillum in the battle for the August 28 Democratic primary to run for governor. The leading Republican candidates are U.S. Rep. Ron DeSantis, and Agriculture Commissioner Adam Putnam.
"What happened at Marjory Stoneman Douglas is every parent's worst nightmare. I can't even imagine what it would be like to lose a child. My heart breaks as a mom. That's how this issue resonates with me," she says, her voice cracking, in the video's first section.
Then, as the visuals turn to the rallies that occurred statewide in the weeks after the Feb. 14 massacre, Graham's says, "Time after time after time we have done nothing in the face of these horrific tragedies. This time will be different. This time must be different."
And as the commercial fades, she declares that the gun lobby, "will lose again when I'm governor."