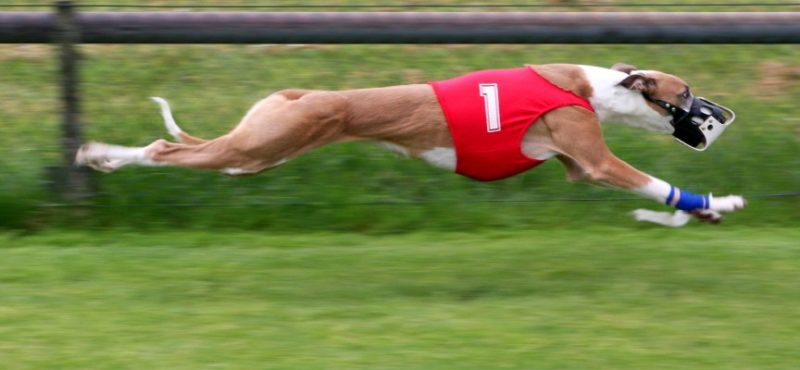 Florida voters will decide whether to outlaw greyhound racing under a proposed constitutional amendment approved Monday.
The proposal (P6012) was passed by the Constitution Revision Commission (CRC) on a 27-10 vote; it needed at least 22 votes.
It will go directly to November's statewide ballot, where it needs at least 60 percent approval to be added to the constitution.
Commissioner Tom Lee, the amendment's sponsor, tweeted: "My proposal to end dog racing just passed the @FloridaCRC! The amendment will now appear on the November ballot and voters will decide whether our state ends this archaic tradition."
The measure goes into effect Dec. 31, 2020, if passed, and bans dog racing itself and betting on dog races. It doesn't, however, affect any other gambling now going on at dog tracks, such as card games.
Lee, a Republican state Senator from Thonotosassa and possible candidate for state CFO this year, left the fiery rhetoric to Attorney General Pam Bondi, an ex officio member of the CRC.
Bondi, a Tampa Republican, regularly brings shelter dogs to state Cabinet meetings to get them adopted.
"This is a black eye on our state," Bondi said in an often emotional speech on the floor of the Senate, where the commission meets.
She recited a litany of alleged incidents of abused racing dogs, showing photos. Bondi said 419 greyhounds have tested positive for illegal drugs, including cocaine, over the last decade. 
"The entire country is watching us," she said. Dog racing "is cruel and inhumane (and) horrible … This is not who we are as a state."
Commissioner Chris Smith, a former Senate Democratic leader, asked whether banning racing would be an unconstitutional 'taking' of private property. 
Former Lt. Gov. Jeff Kottkamp and former appellate judge Paul Hawkes, who represent the Florida Greyhound Association (FGA), have said the amendment's passage would subject the state to lawsuits worth hundreds of millions of dollars.
"It is not a taking," Bondi answered bluntly. As to to the hundreds of dogs that could be out of work, she added: "These dogs will be spoken for … if I have to take 1,000 of them, I will." 
Smith later brought up a much-maligned 'pregnant pigs' amendment, as another example of what not to put in the state constitution: "This is why we have a Legislature," he said. "Let's not 'one up' the pigs by adding dogs."
He was backed up by Commissioner Arthenia Joyner, another former Senate Democratic leader, who said dog racing "is how people make their living." As one person told her, "Close this down and you close me down."
"We're seeking to take away an opportunity from hard working people," Joyner added, saying the Legislature should provide a solution. 
But Commissioner Don Gaetz, a Republican and former Senate President, countered the Legislature could deal with it, but hasn't and won't. The issue is too fraught with peril because it implicates the state's gambling laws, he said. Gaetz co-sponsored the proposal. 
"The industry won't reform itself," he added, mentioning "reasonable" past attempts to regulate dog racing. "Let the people of Florida decide whether to continue this as part of our culture."
Updated 7 p.m. — Carey M. Theil, executive director of GREY2K USA Worldwide, emailed the following statement:
"… This is a major victory for everyone in the state who cares about dogs. Commercial greyhound racing is cruel and inhumane. Every three days, a greyhound dies at a Florida dog track. Greyhounds endure lives of confinement, and many suffer serious injuries. Over the past decade, there have been more than 400 greyhound drug positives in Florida including dogs that tested positive for cocaine, opiates, and other serious drugs.
"The animal protection community is united in its support for this humane proposal. We are prepared to run a formidable campaign, and are confident Floridians will vote 'yes' for the dogs this November."