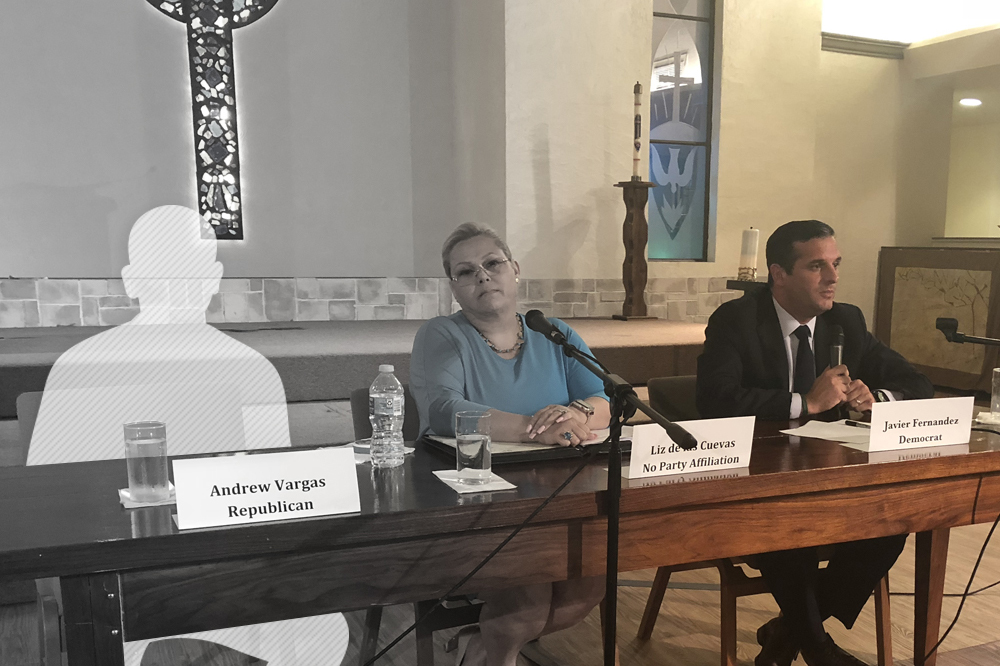 Democratic House District 114 candidate Javier Fernandez called Republican opponent Andrew Vargas a "no-show" Wednesday after he "dodged" a Tuesday debate.
"It's disappointing but not surprising that our opponent continues to hide from the voters and play cheap political games instead of standing up and voicing his opinions," Fernandez said. "Given that his party's leadership is in lock-step with Donald Trump and destructive state policies that have put South Florida at risk, I can see why he turns and runs from the public."
Fernandez' press release said the missed debate comes after Vargas declined a meeting with the Miami Herald's editorial board all the while "littering the airwaves in Miami with misleading, negative advertisements paid for by unaccountable dark-money political committees."
The editorial board meeting could have something to do with the paper endorsing Jose Pazos over Vargas in the special primary, citing Pazos' passion and knowledge of the issues while criticizing Vargas for speaking "in too many generalities."
When it comes to the debate, however, Fernandez thinks he knows why Vargas is staying out of the limelight in the final stretch before Election Day.
"Vargas is ducking the voters and the people of District 114 because he is in the position of defending the indefensible. On issue after issue – education, climate change, immigration, and so much else – Vargas and Florida Republicans are on the wrong side of history.
"Vargas is running scared because he is running on the typical Tallahassee Republican playbook. No accountability, no thoughtful public policy discussion, just dirty campaign ads paid for by big-money special interests."
The campaign has indeed been nasty, with both candidates being the target of multiple attack ads.
The hits on Fernandez began early. In February, a mailer and email sent out by People for a Progressive Florida, a political committee chaired by chaired by Jonathan Paul, attacked Fernandez for his past work as a lobbyist – one of the ads dubbed him "Javi Lobby."
Fernandez hit back with a couple direct mailers of his own earlier this month, attacking Vargas for getting support from lobbyists and filing what it calls "scam lawsuits" that raise insurance rates.
Fernandez and Vargas are competing to replace former Democratic Rep. Daisy Baez, who resigned the Miami-Dade seat when she pleaded guilty to perjury in a case related to her residency. Joining them on the ballot is no-party candidate Liz de las Cuevas.
Election Day is May 1.