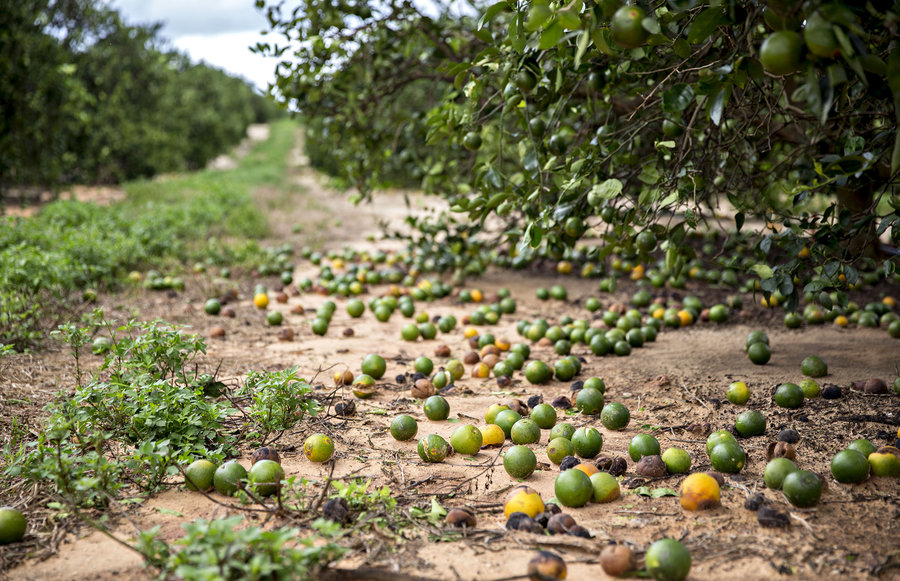 A bit more money is on the way for Florida citrus growers affected by Hurricane Irma.
U.S. Department of Agriculture Secretary Sonny Perdue announced on Monday that his agency will provide a $340 million block grant to the state to cater to Irma-affected farmers during the 2018-2020 crop year — that's in addition to the $2.36 billion worth of farm disaster funding authorized by Congress and signed by President Donald Trump in February.
According to USDA, the money from the grant will cover the buying and replanting of trees, grove rehabilitation, and repairs to irrigation systems.
"The Florida citrus industry was likely hit the hardest, and with such a high-value crop, they face a steeper financial burden and as a whole, have less coverage through our traditional insurance options," Perdue said in a prepared statement.
Perdue said he was directed by President Trump to work "directly with Governor [Rick] Scott and [Agriculture] Commissioner [Adam] Putnam in Florida to put a process in place that will ensure the Florida citrus industry maintains its infrastructure and can continue to be the signature crop for the state."
"Since Hurricane Irma hit our state, I have been fighting for Florida's citrus growers to get the relief they need to rebuild their livelihoods, including taking immediate steps to provide relief from the state," Scott said.
Added Putnam: "While no amount of relief can make the farmers who suffered damages from Hurricane Irma whole, this much-needed disaster relief will help Florida agriculture get back on its feet."
The $2.36 billion, separate from the block grant, will be distributed by the USDA's Farm Service Agency through the 2017 Wildfires and Hurricanes Indemnity Program.
Earlier in April, Florida leadership — Scott, Sens. Marco Rubio and Bill Nelson, and Putnam — increased the pressure on the USDA to disperse the funds, the News Service of Florida reported.  
Since then, the USDA's offered a few details and a rough timeline.
Per the agency, here's what we know: "Eligibility will be limited to producers in counties that experienced hurricanes or wildfires designated as presidentially-declared disasters in 2017; Compensation determined by a producer's individual losses rather than an average of losses for a particular area (where data is available); Producers who purchased higher levels of risk protection, such as crop insurance and noninsured crop disaster assistance program, will receive higher payments; Advance payments up to 50 percent; and a requirement that payment recipients obtain future risk protection."
A sign-up period to determine eligibility will begin no later than July 16.
Last updated on May 1, 2018