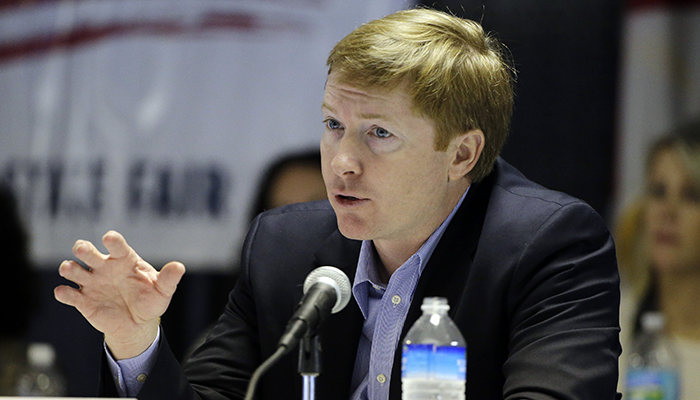 The Florida Chamber of Commerce on Thursday endorsed Republican Agriculture Commissioner Adam Putnam to be the state's next governor.
Putnam joined Chamber leaders Thursday morning at a press conference at the Rosen Plaza Hotel in Orlando, billed as a "special announcement." The news came amidst a Chamber conference on poverty and prosperity. 
"I am proud to have the support of the Florida Chamber of Commerce," Putnam said. "The Florida Chamber has a long and proven history of supporting businesses across the state, and I look forward to working alongside the Florida Chamber to ensure Florida continues to build on its legacy as the most business-friendly state in the nation.
Putnam promised "as governor" to focus on vocational, career and technical education in middle and high schools to better prepare students for the workforce.
"Together, we will continue to strengthen our workforce and provide opportunities for our young people to ensure Florida remains as the best place to do businesses," Putnam said.
Among those with Putnam were former Florida House Speaker Will Weatherford, chair of the Florida Chamber Political Council; Tracy Duda Chapman, chair of the Florida Chamber Board of Directors; and Mark Wilson, president and chief executive officer of the Florida Chamber of Commerce.
From Wilson: "Adam Putnam is the leader Florida needs to keep Florida's momentum going. Adam Putnam knows Florida best, and I know without a doubt he believes in free enterprise and economic opportunity for every single Floridian."
Putnam faces U.S. Rep. Ron DeSantis in the Republican primary fight, with Florida House Speaker Richard Corcoran waiting in the wings to possibly enter the fray.
The leading Democrats are former U.S. Rep. Gwen Graham, Tallahassee Mayor Andrew Gillum, former Miami Beach Mayor Philip Levine, and Winter Park businessman Chris King.
Last week, the Florida Chamber endorsed Gov. Rick Scott in his Republican bid for the U.S. Senate.