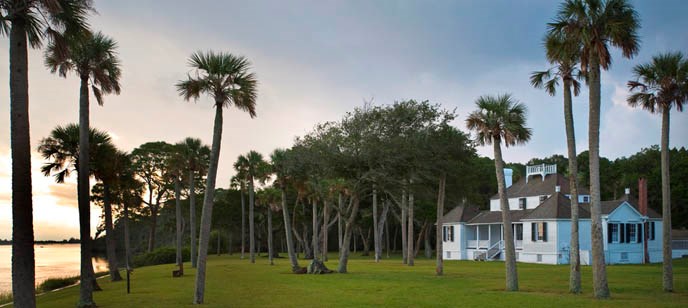 Florida Congressional cosponsors abound for the National Park Service Legacy Act, a bill that would fund solutions to $11.6 billion in deferred maintenance at national parks.
The bill has had a subcommittee hearing on the House side, and a committee referral on the Senate side, so there's still a long way to go for the legislation.
Yet needs persist and grow nationwide.
Florida is not immune to these needs: $262 million of repairs are needed at Sunshine State national parks, with the Everglades' $90M, Gulf Islands $62M, and Dry Tortugs $60M topping the list
To that end, interested groups — National Parks Conservation Association, The Pew Charitable Trusts, and Timucuan Parks Foundation among them — spotlighted the issue Friday with a tour of Kingsley Plantation in the Timucuan Ecological and Historical Preserve.
Congress was represented: Rep. John Rutherford, a co-sponsor of the legislation, was on the tour.
The Pew Charitable Trusts contend that if the federal government were fully to commit to resolving deferred maintenance, 110,000 jobs could be created nationally, with almost 2,500 of them in Florida.
Issues at the Kingsley Plantation are myriad and mounting, with cabins and the Plantation House mired in disrepair resulting from $3.8 million of deferred maintenance at Kingsley, posing a threat to the historical record, asserted multiple stakeholders.
The goal, for Kingsley and other parks, is to create a guaranteed federal fund to resolve the backlog over time, while imposing entry and vendor fees to help defray costs going forward. Public-private partnerships and highway funding are also sought.
After the tour of the plantation, the group went to Jacksonville, for a lunchtime discussion covering some of the same ground.
Mark Middlebrooks, Executive Director of the Timucuan Parks Foundation, noted that community engagement, including volunteer work, is key. But it can't stand alone.
"Obviously, we can't do a quarter billion dollars of work in Florida, so we need the support [from the bill]," Middlebrooks said, saying the National Parks Service is "critical" in maintaining these parks.
Bill Prescott, CEO of Visit Jacksonville, noted that the parks system, including national parks, is a unique value add in Jacksonville's tourist marketing — especially for extended vacations.
"They're going to experience it, they're going to come back," Prescott said, noting that could even extend to business leaders wanting to relocate to Jacksonville.
"The new generation coming in, it's all about experiences," Prescott added, saying that national park maintenance is important to attracting talent for companies and driving tourist growth.
Representatives of Sen. Bill Nelson, Sen. Marco Rubio and Rep. Al Lawson were on hand in support.
Nelson is already a co-sponsor.