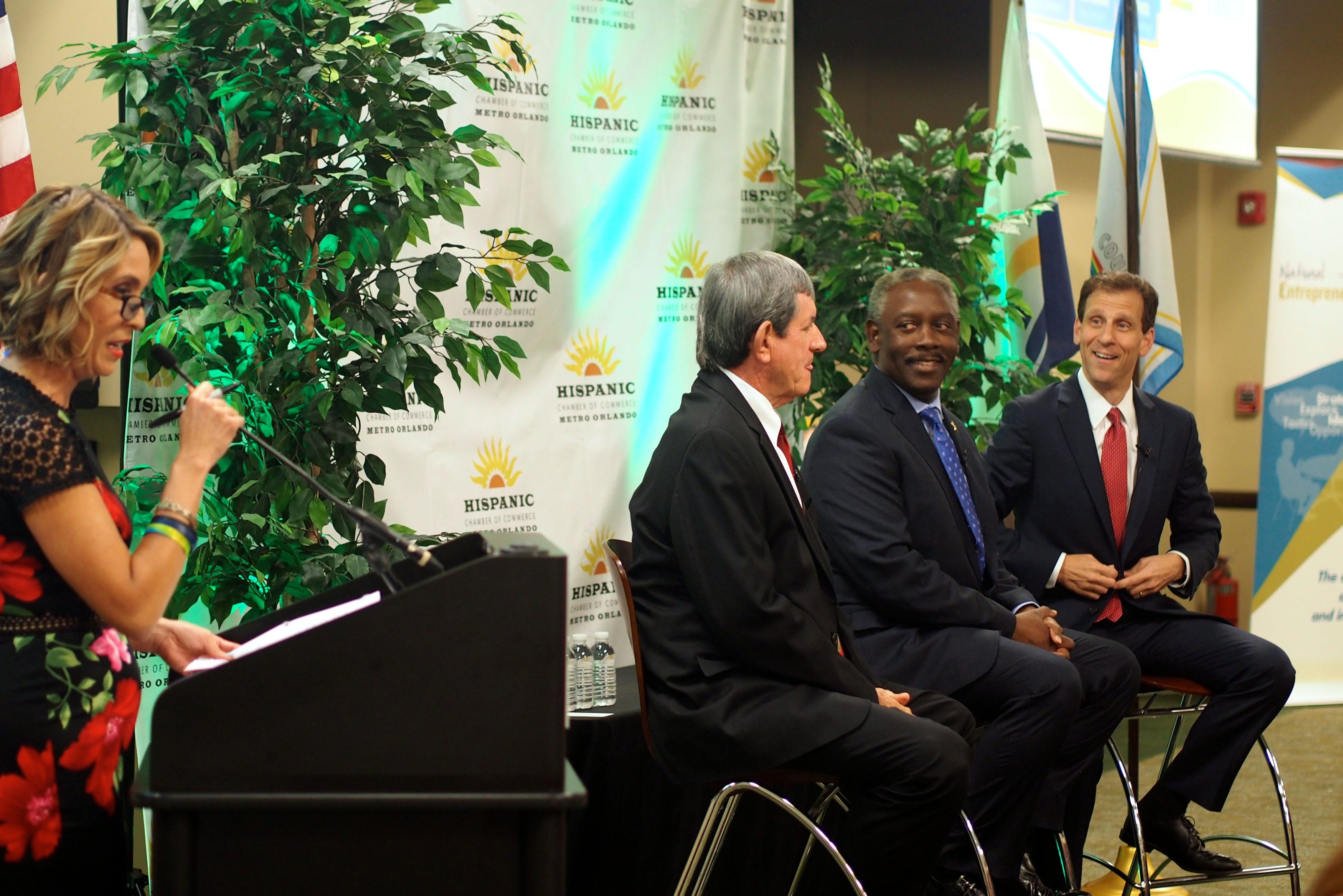 Orange County can expect the next mayor to create more outreach to the Hispanic community, more efforts on   developing affordable housing, simplifying licensing, and focus more on coordinating public transportation, though to varying degrees.
At a debate Friday morning at the Hispanic Chamber of Commerce of Metro Orlando, Orange County Commissioner Pete Clarke, Orange County Sheriff Jerry Demings, and Winter Park entrepreneur Rob Panepinto all could do more, particularly in offering assistance to the burgeoning influx of Puerto Rican migrants.
They are all vying for Orange County's most powerful elected job, mayor of Orange County, seeking to succeed Teresa Jacobs.
Much of Friday's debate found general agreement among the trio, yet still highlighted the different themes each of the candidates has built his campaign around: Clarke's push to provide services through partnerships with non-profit organizations, Demings experience with decades in public service and reputation for bringing people together, and Panepinto's pledge to  bring new, entrepreneurial ideas to the office.
Clarke proposed several reforms seeking to streamline government, particularly across independent agencies, such as creating reciprocity in licensing and registration efforts between Orange County and such agencies as the Greater Orlando Aviation Authority and the Central Florida Expressway Authority.
He also vowed to create an Orange county "welcome wagon" office specifically focusing on Hispanic newcomers and businesses relocating to Orange County from Puerto Rico or Latin America. Both Panepinto and Demings also showed interest or support for a Hispanic outreach office in the county.
That led to a bolder proposal from Panepinto, who proposed that the coordination and money problems facing the bus service, Lynx, the commuter train railroad, SunRail, and the toll road agency, the Central Florida Expressway Authority.
He talked about the critical need to get SunRail extended to the airport and to have later hours and weekend service, and to get Lynx better connected. But they don't have money. The expressway authority has money.
"I think there is an opportunity to have the expressway authority, Lynx and SunRail work much closer together," Panepinto offered. "There's been some talk about how toll money can be used to feed Lynx. It is a strategic conversation. It is going to involve the state and a lot of jurisdictions. But I actually think there is the opportunity to have the organizations come closer together…. I think may be a better move for us in the longterm to solve this issue."
Clarke also called for some conversation about  consolidation – but between Lynx and SunRail for a possible dedicated source of tax dollar funding, possibly as a sales tax or property tax, particularly to build some east-west rail service.
He did not commit to supporting such a dedicated tax himself, but said it would have to be a community decision.
Demings agreed that there should be a conversation on finding a funding source, adding, "and we have to look at public-private partnerships."
Demings, with a career in law enforcement including as sheriff and Orlando chief of police, took a deep view of the concerns and funding challenges the county faces in having to provide school resource officers – armed security – required at Orange County Public Schools.
"We're going to see a public safety paradigm shift now because we are going to have to put law enforcement officers more on the campuses. There's not enough money by the way from what the governor brought forward. So the county is going to have to fill that gap. It is going to be millions of dollars," Demings said. "Unfortunately, we do live in a world now where we see individuals carrying assault rifles, so it's going to be costly to now arm our law enforcement officers with better firepower and other protections to deal with those issues.
"And it's also a challenge for our children. I have a granddaughter in the public schools, and even she sometimes is concerned about what happens in our schools," Demings said.
For much of the campaign, Panepinto has been the one most focusing on the income inequality in Central Florida, calling for the county to be more aggressive in preparing for and seeking higher-wage jobs, as the starting point for all other issues.
"There is so much positive here, so much potential, it is easy to see, the growth, the jobs, the inclusiveness, the diversity, downtown. But we are also a community that is continually at the lowest end in terms of average wage," he said, also adding concerns about housing, transportation and children living in poverty. "And so I feel at this point in time we need people who have other skill sets to solve some of these issues than those who spent their entire lives in government and in politics."
Demings offered the line of the day, after arguing that "there is no substitute for training and experience:"
"I assure you there will be drama-free leadership from Mayor Jerry Demings," he said.