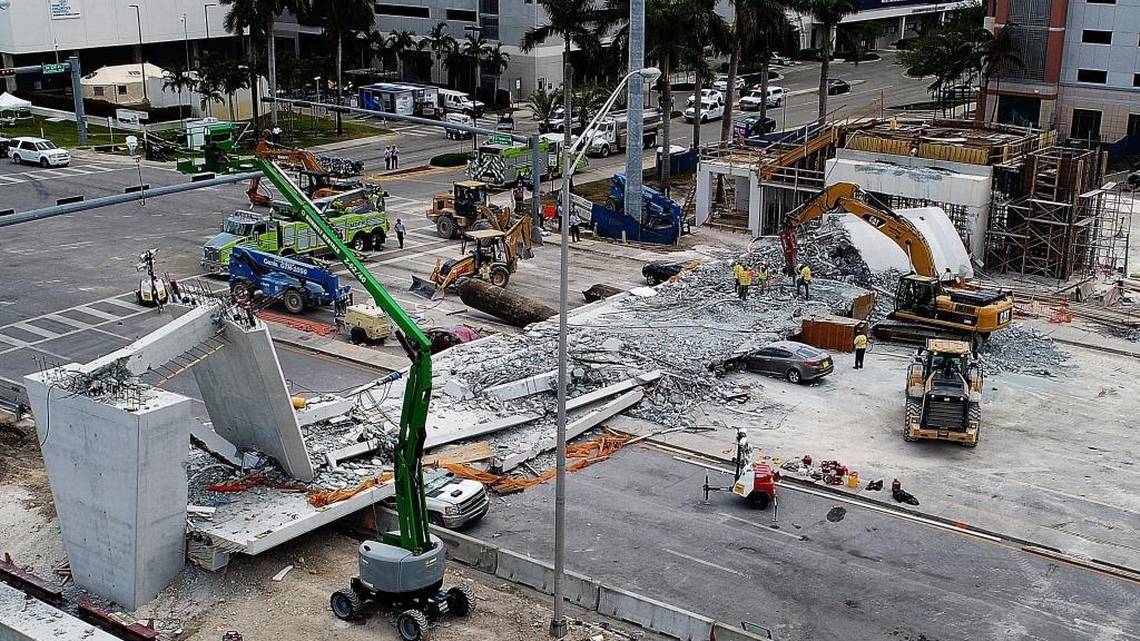 A lawyer for the National Transportation Safety Board (NTSB) has told a Tallahassee judge that "at least two federal agencies" and Miami-Dade police are pursuing criminal investigations into March's collapse of a pedestrian bridge at the Florida International University campus.
The disclosure came in a letter sent this week to Circuit Judge John Cooper, who's presiding over a public-records lawsuit filed Wednesday against the state Department of Transportation (FDOT) by The Miami Herald newspaper, Tallahassee bureau chief Mary Ellen Klas and capital reporter Elizabeth Koh.
The March 15 collapse of the recently-erected bridge, spanning Tamiami Trail and meant to connect the campus to student housing in Sweetwater, killed six midday motorists or passengers, and injured nine others.
In the letter, NTSB assistant general counsel Benjamin T. Allen explained to Cooper that his agency has "prohibited" FDOT from releasing certain investigative information "absent NTSB approval."
"The bridge collapse is also the subject of multiple other ongoing investigations," Allen wrote, including "federal criminal investigations … by at least two federal agencies, several federal regulatory investigations, and a criminal investigation … by the Miami-Dade Police Department."
The letter did not name the federal agencies involved.
Allen further said he spoke with the Herald's attorney, Scott D. Ponce, a partner in the Holland & Knight law firm's Miami office, to explain that "restrictions" on information about the collapse are "temporary" and will be lifted once the investigations are completed.
Ponce did not respond immediately to a request for comment.
"The agency would not be serving the families affected by this investigation … if it failed to follow its mandate to complete a thorough investigation," Allen wrote.
An NTSB regulation, which Allen referred to in his letter, bans "parties … from releasing information obtained during an investigation at any time prior to the NTSB's public release of information."
He added: "If investigative information is released prematurely, it can lead to witnesses refusing to talk to us, changing their stories, or potentially destroying evidence.
"We have also found that premature public disclosure results in reduced cooperation by parties to the investigation because suddenly they are focused on public relations concerns and responding to erroneous information in the press, rather than diligently assisting our investigation to understand the causes of the accident.
"Based upon experience," Allen wrote, "the Board's message is delivered best when it is delivered first and with the completed investigation supporting it."
Requests for comment to FDOT and NTSB spokesmen were pending late Friday.