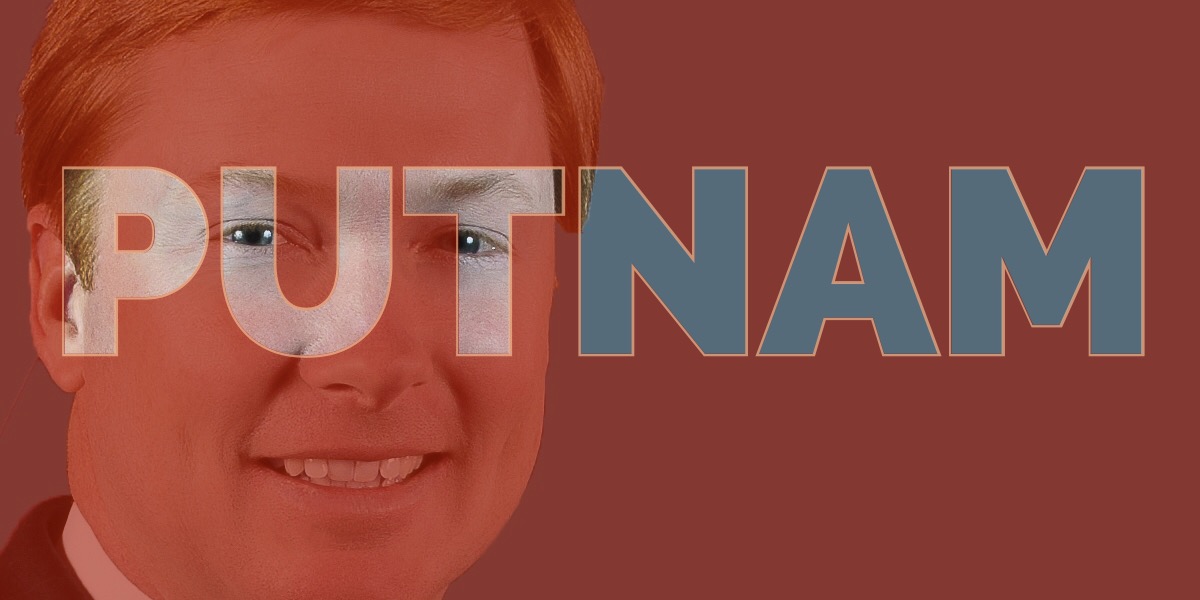 Adam Putnam was stumped.
Asked if he knew when was National Orange Juice Day, the proud scion of a citrus farming family drew a blank. It was last Friday, May 4th, he was reminded and immediately the term-limited Agriculture Commissioner realized he should have remembered such a fun fact about an industry he holds dear.
Putnam would quickly make up for forgetting a made-up day on the calendar by putting his knowledge of Florida, its history and the issues confronting the state on display during a policy-rich speech at the Florida Chamber of Commerce's Summit on Prosperity and Economic Opportunity, held last Thursday at the Rosen Plaza in Orlando.
In a room full of civic activists, data geeks, and think tank officials, Putnam more than held his own, discussing back-burner but critical issues like child obesity and summer nutrition programs.
"Now is the time to focus on generational poverty," Putnam said. "Now is the time to focus on prosperity to make Florida better, stronger, inside and out through interconnectedness of our faith partners, private sector and non-profit leaders."
If the election for Florida governor was to be decided by the candidates taking a pop-quiz about the Sunshine State's history, people, and geography, it's very likely Putnam would not only win, he might just ace the test.
Footage of Putnam charming a Democratic protestor in northeast Florida with his knowledge of the backwoods of the state has been making the rounds and, as the Tampa Bay Times suggests, is a reminder of why Putnam's opponents should still fear him.
Unfortunately for Putnam, whichever candidate can give the best directions through Florida's agriculture belt is not how the Republican nominee for Governor will be decided. Instead, it will be fought in the dens of of Florida television viewers who seemingly must make a choice between the candidate they see on all the commercials on Fox News (Putnam) and the candidate they actually see on Fox News (Ron DeSantis).
It is verboten within Putnam's circle of influence to describe the Polk County Republican's gubernatorial campaign as the 2.0 version of Jeb Bush's failed bid for The White House. This circle is the rear guard of Florida's establishment, which has been forced to kowtow for the last seven-and-a-half years to Rick Scott and saw its hopes of invading Washington D.C. flummoxed by Donald Trump's filleting of not just Bush, but Florida's other favorite son, Marco Rubio.
In 2018, the establishment — scarred by a decade of political water-treading, but flush with a booming influence economy — is determined not to let another interloper defy its well-laid plans.
The plan for Adam Putnam to eventually occupy the Governor's Mansion began long before Trump and long before Scott. In fact, it was before Putnam was elected Agriculture Commissioner that a small group of key advisers began to meet in Boca Grande to plot out the then-Congressman's path to the Governor's Office.
Last week, this unofficial kitchen cabinet, made up of some but not all of the faces who have been with Putnam since before he arrived in Tallahassee gathered at Disney's Contemporary Resort in Orlando the night before Putnam gave his speech to the Chamber.
According to eight sources who took part in the confab, the mood among Putnam's key donors and supporters was increasingly upbeat, but deeply fearful of the possible role Trump might play in the gubernatorial primary.
"We can raise Adam another thirty million dollars, but if Trump sets up camp at the Florida Fairgrounds, the race is over," said one of those who in attendance who asked to remain anonymous so that they could remain inside Putnam's circle of advisers.
Among those in attendance were Former House Speakers Dean Cannon, Steve Crisafulli and Will Weatherford, former Senate President Mike Haridopolos, Disney lobbyist Adam Babington, Miami real estate developer Rodney Barretto, Ballard Partners' Brad Burleson, U.S. Sugar executive Robert Coker, The Rubin Group's Chris Finkbeiner, Florida Chamber board member Sonya Deen Hartley,  Smith Bryan & Myers' Jeff Hartley, Anheuser-Busch exec Jose Gonzalez, Publix's Clayton and Beverly Hollis, Greenberg Traurig lobbyist Fred Karlinsky, insurance lobbyist Robert Hawken, Justice Reform Institute president William Large, lobbyist and former state Rep. Seth McKeel, Comcast government affairs VP Brian Musselwhite, Mosaic government affairs VP Eileen Stuart, and AT&T Florida president Joe York.
Those gathered were given briefs by campaign chief Bret Prater, who has impressed many inside and outside of the campaign for his righting of a campaign they believed was adrift earlier this year.
Pollster Dave Sackett of The Tarrance Group also downloaded to the group, although those who spoke to Florida Politics said there was nothing particularly new in the numbers.
If there was one defining takeaway several of the Putnam supporters wanted to share it is that they are surprised by DeSantis' less-than-spectacular fundraising efforts.
"It doesn't look like the cavalry is coming," said one lobbyist supporting Putnam.
In April, DeSantis political committee raised less than $500,000. What the Ponte Vedra Republican raised in hard dollars during April won't be known until later this week. Whatever it is, he will have not kept pace with Putnam, whose Florida Grown political committee had another $2 million month in April. Overall, Putnam has raised $28.88 million between his campaign and committee.
But "when Putnam's campaign talks about money," said one top Republican lobbyist who is neutral in the race, "they couldn't sound more like Jeb Bush circa 2016. All that's missing is the 'shock and awe.' "
"We never expected to keep pace with Adam Putnam's fundraising," said DeSantis campaign manager Brad Herold. When pressed if there had been an expectation that DeSantis would, in fact, be competitive with Putnam, especially after DeSantis announced the backing of a list of nationally-known Republican donors that included casino magnate Sheldon Adelson and hedge fund manager Robert Mercer, Herold insisted that "never campaign from the campaign."
Herold points to an internal poll, shared exclusively with Florida Politics, that shows DeSantis leading Putnam 30 to 26 percent in a two-man ballot test and 30 to 23 percent (with House Speaker Richard Corcoran receiving 7 percent) in a three-way race.
Florida Statewide Republican Primary Toplines by Peter Schorsch on Scribd
What's problematic for Putnam about these numbers is that they come after the National Liberty Foundation spent over $1 million on cable TV and radio trashing DeSantis. Herold points out that while DeSantis' unfavorable numbers went up, his lead over Putnam also increased.
What all sides acknowledge is that what is buoying DeSantis is the endorsement of Trump and his presence on Fox News.
Some back-of-the-envelope math reveals that since Trump endorsed DeSantis, he has done 78 hits on Fox News. A separate source inside DeSantis' campaign estimates that to be worth more than $5 million in earned media in Florida.
Despite the tightness of the race, Putnam's supporters are increasingly optimistic. They say whatever Corcoran decides is a win for them.
"If he's in the race, he forces DeSantis to protect his flank and probably keeps the Koch brothers out of the race," said one of the attendees at Putnam's gathering last week. "But if he doesn't run, that's alright too, because Richard knows Adam's weaknesses better and would be better at exposing them."
The wildcard is the president of the United States.
While his tweet last year was just 140 characters of support, Trump has gone on to identify DeSantis as one of his "absolute warriors."
Along with three other House Republicans (including Florida's Matt Gaetz), whom Trump singled out by name in late April, DeSantis now enjoys direct lines to the Trump White House and flights on Air Force One, notes Kyle Cheney of POLITICO.
It's hard to imagine Trump not barnstorming for one of his "warriors" come July and August.
DeSantis' support for Trump is not where the differences between he and Putnam end. In fact, Herold thinks Putnam is in worse position than Bush was in 2016.
To that end, he points to a ballot test of the messaging the DeSantis campaign plans to continue to use against Putnam. In it, DeSantis is described as "Navy veteran  … endorsed by President Trump …." If you're expecting this ballot test to be a push poll that makes fun of Putnam for his entire congressional record and the fact that he has red hair, you're wrong. The poll describes him in almost the exact terms Putnam's own campaign is using, such as him being a "Florida First conservative leader his entire life" and that he's "running for Governor to continue his fight for liberty and conservative values."
The results? It's not even close.
Candidate A (DeSantis) nearly doubles up the support of Candidate B (Putnam). Among Trump supporters, Candidate A laps Candidate B nearly three times.
Whether DeSantis will have the resources to define himself and Putnam in those terms remains to be seen. Putnam's television ads, with their six-figure production values, are ubiquitous not just on Fox News, but on major sporting events, such as the Kentucky Derby and the NFL Draft. They cannot be avoided online, either.
But if he is to win — and fulfill the ambitions of his dedicated supporters — it would appear that Putnam's best bet is not to raise more money or expound on the history of Florida, but to make sure the only place Donald Trump visits in Florida is his home at Mar-a-Lago.
Generic Ballot test in Florida GOP primary by Peter Schorsch on Scribd