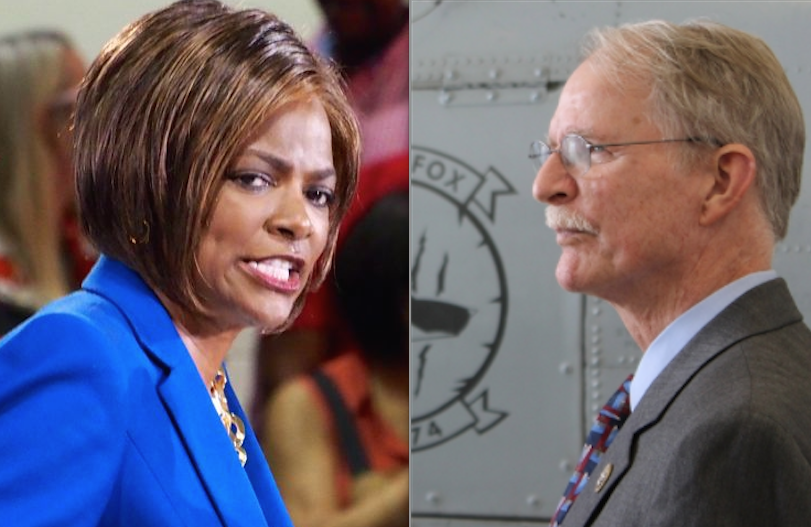 Two Florida former top cops now in Congress — Republican U.S. Rep. John Rutherford of Jacksonville and Democratic U.S. Rep. Val Demings of Orlando — are teaming up to make it an additional federal crime for criminals to attack law enforcement officers.
Rutherford sponsored and Demings co-sponsored House Resolution 5698, which they dubbed the "Protect and Serve Act of 2018," to create federal penalties for people who deliberately target local, state, or federal law enforcement officers with violence. In addition to any sentences culprits may receive for the standard crimes, the fact the crime was committed against a law enforcement officer could add 10 years, or a life sentence if the officer dies or the perpetrator kidnapped the officer during the course of the crime.
Their bill was introduced Tuesday, the day after Highland County Deputy Sheriff William Gentry was killed, and three weeks after Sgt. Noel Ramiriez and Deputy Taylor Lindsey of the Gilchrist County Sheriff's office were killed.
The bill appears to be on a fast-track toward approval, as it was quickly marked up and approved Wednesday by the House Judiciary Committee.
Rutherford is the former sheriff of Jacksonville. Demings is the former chief of police of Orlando.

"As a career law enforcement officer and sheriff of Jacksonville for 12 years, I know what officers go through every day when they put on their uniform, say goodbye to their families, and go out on the streets doing the important work of protecting our communities," Rutherford stated in a news release from his office. "With an uptick in ambush attacks on law enforcement, like we saw last month in Trenton, Florida, we must ensure that there are steep consequences for anyone who targets our law enforcement officers. The Protect and Serve Act will serve as a significant deterrent for anyone who deliberately targets officers with violence. I want to thank my friend, Congresswoman Val Demings for her leadership on this bill and for her support of law enforcement officers across the country."
This year alone, 87 officers have been shot in the line of duty; 28 of them died, the release states. The trend this year represents a 75 percent increase over last year.
"After 27 years in law enforcement, I believe that officers must hold themselves to the highest standards, be accountable to their communities, and perform their duties with honor and integrity. There has been a 75 percent increase in officers shot and killed this year. Ambush-style killings have taken numerous officers' lives. Last month, two sheriff's deputies here in Florida were assassinated while eating lunch," Demings stated in the release. "We must give our officers the tools, training, and protections needed to be safe on the job. I call on my colleagues in Congress to do our job so our officers can do theirs."
The National Association of Police Organizations, Major County Sheriffs, Sergeants Benevolent Association, and the National Fraternal Order of Police are endorsing the bill.
"These troubling numbers show a significant, growing trend of armed attacks on law enforcement officers, and steps need to be taken to deter these actions," the release states.
The bill now heads to the House floor for consideration of passage.