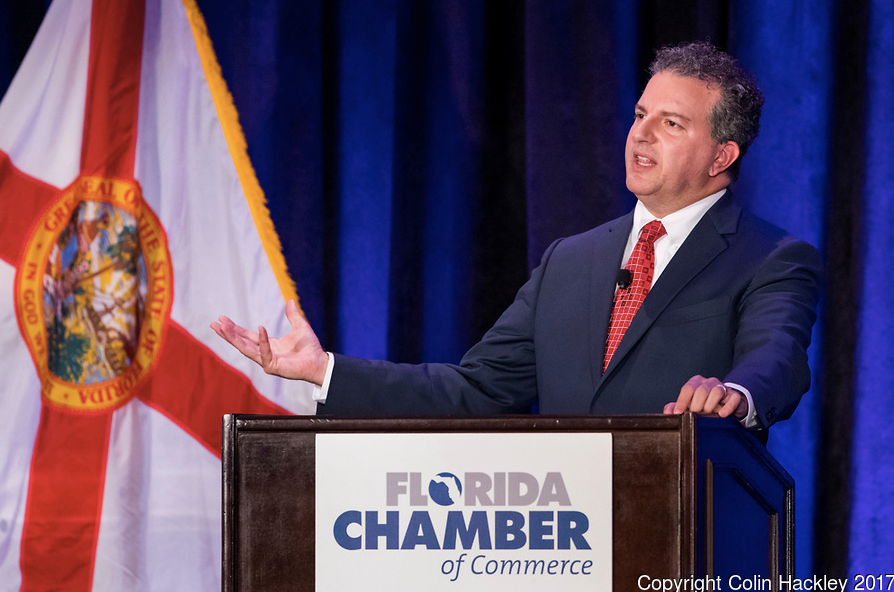 The Florida Chamber of Commerce announced Wednesday that it's backing sitting CFO Jimmy Patronis' bid for a full term in the Cabinet post.
Florida Chamber CEO Mark Wilson, Mike Sheely of Allstate Insurance, and Tampa Republican Rep. Jackie Toledo made the announcement La Segunda Bakery in Ybor City.
"From ensuring that Floridians have the tools they need to make smart financial decisions to promoting an environment where businesses in Florida can continue to grow, Jimmy Patronis is on the front lines ensuring Florida continues to prosper," Wilson said. "We are proud to endorse Jimmy Patronis as Florida's next Chief Financial Officer."
The Chamber said Patronis' experience as a partner in his family's business, Captain Anderson's Restaurant, gives him the requisite experience to use his office "keep Floridians protected during times of need" and ensure businesses continue to grow.
"CFO Patronis is especially concerned about protecting Floridians, and that's a priority we can all support," Sheely said. "I am proud to stand by the Florida Chamber's endorsement of Jimmy Patronis as Florida's Chief Financial Officer."
Toledo, who was elected to HD 60 in 2016, added that as a native Floridian, Patronis "understands the needs of Florida's families. He is the leader that Florida needs to move forward for the next eight years."
Patronis has been in the state CFO since last summer, when he was appointed by Gov. Rick Scott to serve out the remainder of Jeff Atwater's term after he left the job to take a position at Florida Atlantic University. The Panama City Republican had previously served in the Florida House from 2006 through 2014, in 2015 Scott appointed him to the Public Service Commission, the state body charged with regulating commercial utilities.
"I am so grateful for the support of the Florida Chamber of Commerce in my bid for another term as Chief Financial Officer," Patronis said. "I look forward to continuing to work with the Florida Chamber to further Gov. Scott's legacy of tax cuts and job creation. This will ensure all businesses, both large and small, have a friendly climate to grow our economy. Together, we must keep fighting for Florida businesses and the opportunities job creators provide for the families in our state."
The Chamber endorsement comes one day after Patronis got the nod from incoming Senate President Bill Galvano, who represents southern Hillsborough and Manatee Counties. Galvano backing is merely the latest in a string of endorsements from high-profile Florida Republicans.
Early this year former Gov. Jeb Bush offered his endorsement, as did former House Speakers Steve Crisafulli, Will Weatherford, Dean Cannon, Larry Cretul and Allan Bense, who are the five most recent House Speakers outside of now-U.S. Sen. Marco Rubio. Last year, Scott gave Patronis his unwavering support, telling reporters "I'll do everything I can to make sure he wins."
After Thonotosassa Sen. Tom Lee's announcement that he won't run for CFO, Patronis has a clear path to the Republican nomination for the Cabinet post, though he does face nominal opposition from Antoanet Iotova, who lost handily to Democratic Sen. Gary Farmer in the 2016 SD 34 race and is surely outmatched in a statewide race – especially considering she was arrested last fall and charged with two counts of grand theft.
Patronis' real challenge will come from former Margate Democratic Sen. Jeremy Ring, who is so far unopposed in the Democratic Primary.
Ring, a former Yahoo! executive, has been touting some endorsements of his own in recent weeks, the most recent ones coming from the Florida Police Benevolent Association and former U.S. Rep. Patrick Murphy.
Patronis has a major advantage when it comes to fundraising, however.
Through the end of March he had raised more than $771,493 for his campaign account and had about $672,000 on hand. That alone gives him a nearly two-to-one lead over Ring, who had $375,000 banked in his most recent tally. When committee cash is taken into account the gulf grows even wider – heading into April, Treasure Florida had raised nearly $2 million and had just shy of $1.8 million on hand.