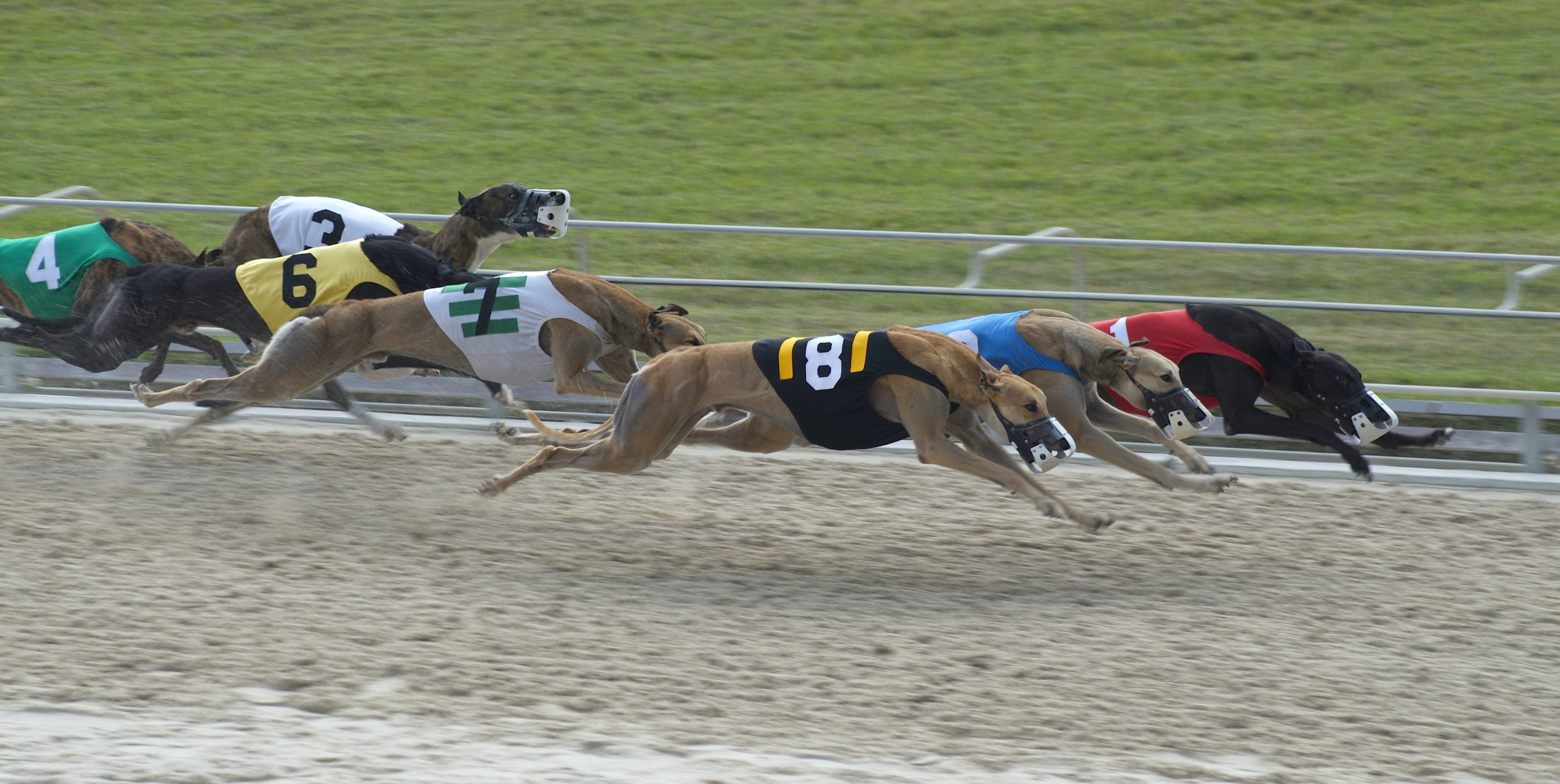 Photo above: Greyhounds racing on the track in Bonita Springs. Credit: Van Abernathy.
As promised, the group that represents Florida's greyhound owners and breeders is suing to keep a proposed constitutional amendment to rid the state of dog racing off the November ballot.
But a top greyhound racing opponent quickly called the suit "dead on arrival."
The Florida Greyhound Association and its president, James Blanchard, filed suit Thursday in Leon County Circuit Civil court against the Department of State, which include the Division of Elections, and Secretary of State Ken Detzner.
Among other claims, the suit says the ballot title and summary "… fail to inform voters that its passage would essentially expand gambling by allowing pari-mutuel facilities in Florida to convert to mini-casinos." 
The amendment, one of eight by the Constitution Revision Commission, would allow other gambling activities such as card games to continue at tracks after dog racing ends.
The suit asks for a court order preventing the division "from placing Amendment No. 13 on the ballot for the November 2018 General Election."
The group first raised the possibility of a legal challenge last month. In Florida, live dog racing is still conducted at 12 tracks.
In general, the complaint says the measure's "ballot title and summary language are inaccurate, misleading, and fail to inform voters of the true effect of the proposed amendment."
Amendment 13 "would not end dog racing," according to the suit, but would rather only prohibit betting on dog races. "A voter might well be misled into approving Amendment 13 based on the belief that the effect of the amendment is to end all dog racing," the complaint says.
The association also takes issue with the ballot summary's saying the measure "phases out commercial dog racing in connection with wagering by 2020."
"First, the phrase 'commercial dog racing' is not defined, nor is the phrase contained anywhere in the text of the amendment," the complaint says. 
" 'Commercial dog racing' is far broader than the scope of the ballot title or the proposed amendment itself. This phrase is not only vague and ambiguous, but makes it impossible for voters to know exactly what they are voting on."
And the proposal doesn't make clear that it "does not prohibit persons in Florida from betting on dog races being conducted in other states."
"Providing voters with false statements such as that the amendment 'ENDS DOG RACING' is the very essence of a misleading ballot summary," the complaint says.
Kate MacFall, co-chair of the "Protect Dogs-Yes on 13 Campaign," later Thursday called the suit "dead on arrival (and) a desperate attempt to prevent voters from having a voice on whether greyhound confinement and deaths should continue."
MacFall, also the Florida State Director of The Humane Society of the United States, said in a statement the language doesn't run afoul of a legal standard for removal of "clearly and conclusively defective."
"Asking voters to approve a question entitled 'Ends Greyhound Racing' says what it does and does what it says," MacFall said. "As the text reads, 'The humane treatment of animals is a fundamental value of the people of Florida.' If the members of the Florida Greyhound Association disagree with this premise, they are free to vote 'no' in November."