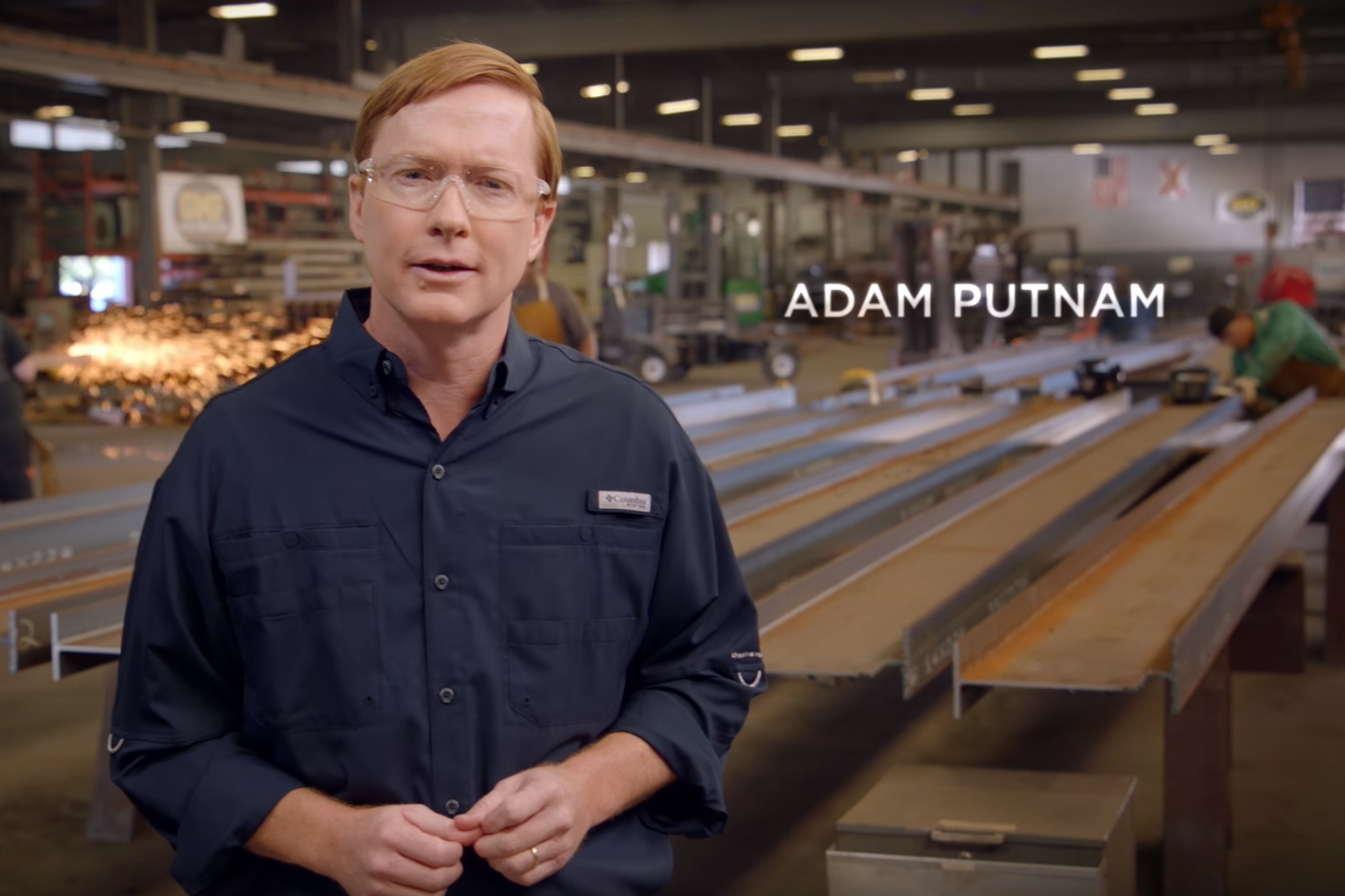 Republican gubernatorial candidate Adam Putnam put out a new ad Thursday promising to strengthen vocational education in the Sunshine State and bashing so-called "liberal elites" who don't respect trade workers.
"As a fifth generation Florida farmer, I know what it's like to sweat for your paycheck," Putnam said in the 30-second ad, which features shots of him walking through a factory and shaking hands with workers.
"Today, liberal elites look down on people who work with their hands, pressuring too many kids into student loan debt, leaving them with degrees they can't use and bills they can't pay. We need to get back to honoring and respecting experts of a trade," he said in the ad. "I'll make vocational training a top priority. Our kids should be career-ready, not debt ridden. College is not the only path to success, and it's okay to say it."
A campaign release said the ad will begin running on cable and broadcast statewide beginning tomorrow. The closing frames of the TV spot indicate it was paid for by Florida Grown, Putnam's affiliated political committee.
The ad follows the campaigns recent release of its "Florida Jobs First Agenda," which includes a plan to boost vocational and technical education in middle and high schools. When it was released, Putnam said if Florida is going to continue job growth, it needs to better prepare students who don't pursue a four-year college degree to get jobs in trades.
"As Governor, Putnam's top priority will be to build a robust education pipeline that puts vocational and technical education back into middle schools and high schools, providing Florida's students with the tools and practice necessary to find their piece of the American Dream here in Florida," a Monday press release announced.
Democrats aren't buying the rhetoric.
"Adam Putnam is a multi-millionaire career politician who spent ten years in Congress voting to make it more expensive for students to go to college and against vocational education. Putnam's latest ad is another absurd election year attempt to hide his long record of hurting Florida students and working families," Florida Democratic Party spokesperson Kevin Donohoe said in a Thursday press release.
The FDP release included more than a dozen clippings on past votes Putnam made during his decade in Congress, including his vote against interest rate reductions for federal student loans in 2007. A Lakeland Ledger article from the time said the bill was supported by "all but the staunchest of White House lapdogs."
Putnam, currently in his second term as Agriculture Commissioner, faces Northeast Florida U.S. Rep. Ron DeSantis in the Republican Primary to succeed termed-out Gov. Rick Scott. Four major Democrats are also running.
Putnam sits atop the field in fundraising, with $28.88 million raised including $2 million in April.
The ad is below.