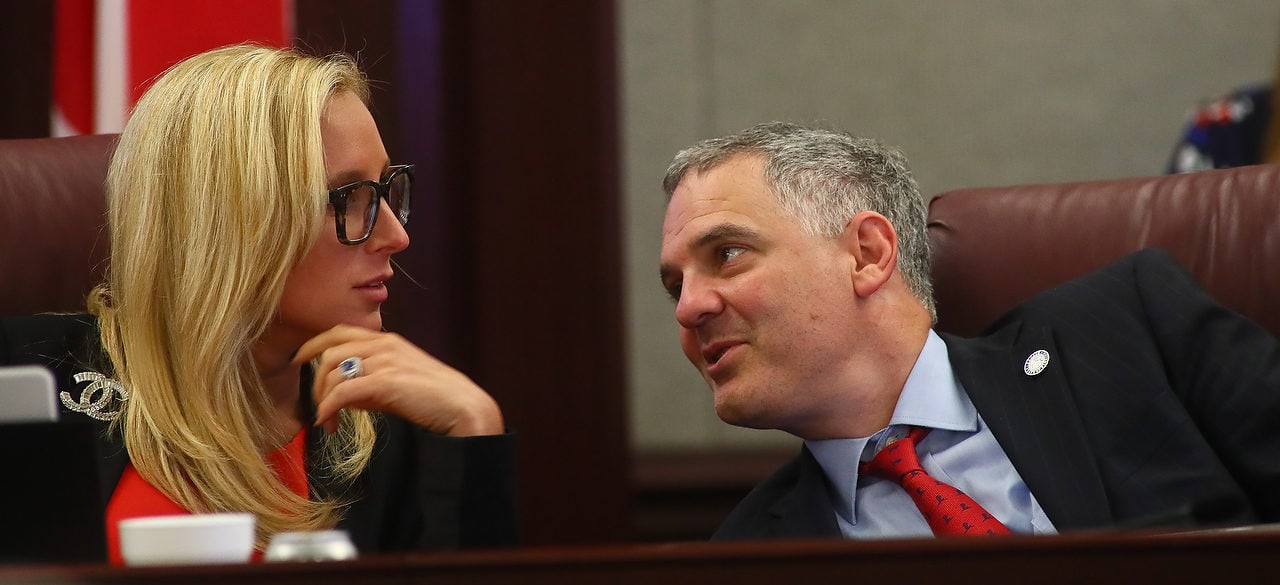 The recent formation of two political committees by a handful of Senate Democrats is the latest, most indelible sign of a growing rift within the caucus — and yet the divide may be improving the minority party's chances of retaking the chamber.
In late April, Friends of Kevin Rader PC was established by David Ramba, a prominent Tallahassee lobbyist who administers dozens of political committees on behalf of a broad range of political clients.
Also recently formed was Future Democratic Majority PC. In addition to Rader, it involves Sens. Randolph Bracy from Ocoee, Lauren Book from Plantation, Linda Stewart from Orlando, Bobby Powell from West Palm Beach, and Darryl Rouson from St. Petersburg.
Ostensibly, the purpose of the two committees is to raise funds and provide resource support for Rader, the incumbent Senators listed above, and the Democratic challengers in as many as seven Senate districts who are running in 2018.
But Democratic campaign consultants and other insiders see the creation of the two PCs — and the active fundraising efforts of Rader and his allies — as an indirect challenge to the leadership of incoming Senate Democratic Leader Audrey Gibson, who was only this year designated for the position after Lake Worth Democrat Jeff Clemens, himself to succeed current Senate Democratic Leader Oscar Braynon, was forced to resign from the Senate after being hamstrung by a sex scandal.
Their issues with Gibson aside, the coalition of Senators is also diametrically opposed to the ascendancy of Broward's Gary Farmer, who has made no secret of his desire to follow (if not replace) Gibson.
"What Kevin is doing is about two things," said one Democratic consultant who has clients in both factions. "It's about a crisis of confidence in Audrey (Gibson) and a fear of what the caucus might become if Gary is eventually given the reins."
Exacerbating the schism — or at least helping to underwrite it — is the fact that Gibson, Farmer and their allies are backed by two of the most important interest groups within Democratic Party politics: The trial lawyers and the teachers union.
Jonathan Ducote of Resonance Campaigns and a former political director for the Florida Justice Association is Gibson's de facto field general, overseeing the effort to net the at least four battleground races that would wrest control of the Senate from the Republicans.
And therein lies the irony.
Florida Senate Democrats believe this cycle offers their best opportunity in years to win back the Senate President's gavel, which they have not held since 1994. As reported previously by Florida Politics, there could be as many as seven seats in play this November.
State Rep. Janet Cruz has entered the race for SD 18, where she will try to pick off incumbent Dana Young, and trial lawyer Carrie Pilon is challenging Jeff Brandes in SD 24. The party likes its chances with the campaigns of Kayser Enneking and Bob Doyel, two first-time candidates challenging Republican incumbents Keith Perry and Kelli Stargel, respectively.
Democrats scored a recruiting win when former Rep. Amanda Murphy joined the race for the open seat in Senate District 16, once held by Clearwater Republican Jack Latvala. Now the party is waiting to see if Alex Penelas, the former mayor of Miami-Dade County, will run for SD 36, where Republican Rene Garcia is term-limited.
Last month, Democrats were relieved when Jose Javier Rodriguez decided to remain in SD 37, giving the party a better shot of funding other campaigns.
Fundraising has been and is a concern for Gibson and Co. And while she may not like dissension in the ranks, having two groups of Senators pitted against each other is expected to benefit the caucuses' coffers.
The vote on who will succeed Gibson has been postponed until after the November elections, giving both Farmer and those opposed to him the opportunity to demonstrate their fundraising prowess.
"If Gary was the Leader-designate, or if he was out of contention, half of the caucus would stop raising money for the group and just raise it for themselves," observed a Democratic lobbyist, a member of a firm that recently met with Rader.
Said another Democratic campaign consultant, "The people who are benefitting the most from this civil war are Janet Cruz, Amanda Murphy, and anybody else running against a Republican."
It's not clear who Cruz, Murphy, or most of the other Democratic challengers would support, but if the Democrats to net the four seats necessary to force a power-sharing arrangement with the Republicans, it's not even a lock that Gibson would serve as Senate President, suggested a Democratic consultant aligned with Rader's faction.
Same goes if the Dems fall a seat short of their goal. All eyes would then turn to 2020, but the race for Leader-designate would probably blow up into a knock-down, drag-out fight between Farmer and Rader or Book.
A preview of what that fight would like was revealed earlier this year when Farmer was shamed into apologizing to Book after he made misogynistic remarks about Book's ability to lead her colleagues and balance her responsibilities as a new parent.
One Senate Democrat who sees all of these machinations as a positive for the caucus is outgoing leader Oscar Braynon, who says it's a "good thing that all of the committees are being formed."
Braynon says that lobbyists who would like to donate to Democrats are under pressure from Republican leaders Bill Galvano and Wilton Simpson not to give to the Democrats' Senate Victory fund. Establishing individual political committees like "Friends of Kevin Rader PC" gives these potential donors the opportunity to support some Democrats without incurring the wrath of the GOP leadership.
Braynon was insistent that what is playing out is not about Gibson ("if she takes back the majority, good luck trying to tell her she can't be Senate President") but about the leadership race to succeed her.
It boils down to "really seven people who think one way and seven people who think the opposite."