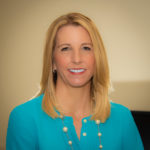 Heather DiGiacomo will be the Department of Juvenile Justice's new chief of staff, effective July 2, Secretary Christina Daly announced in an internal email Monday.
"Heather has also been a valuable member of the leadership team and was an instrumental part of the development and rollout of the Department's 'Roadmap to System Excellence,' prior to her appointment as communications director in 2014 and then her dual role of deputy chief of staff in 2016," Daly said.
"I have the utmost confidence in Heather's continued dedication in her new role as chief of staff," Daly added.
DiGiacomo replaces Fred Schuknecht, who decided to step down after more than 40 years in government work. His last reported salary was $111,999.
"Fred has been an important member of my leadership team, and I want to thank him for his dedication and many contributions to DJJ's success," Daly said.
"I am also grateful that he has agreed to stay on with DJJ in a part-time capacity to continue to work with us as we reform our juvenile justice system," she said. "After his years of service to our great state, I very much appreciate his desire to spend more personal time with family.
"Over the next month and half, Fred and Heather will be working closely together to ensure a seamless transition, and I am extremely appreciative of their commitment to Florida's youth and their families," Daly said.
Prior to joining DJJ, DiGiancomo worked as the executive director of the Florida Juvenile Justice Association from 2011 through 2013 and as the assistant to the executive director at the Florida Association of Counties from 2006 through 2011. She is an alumna of Florida State University.