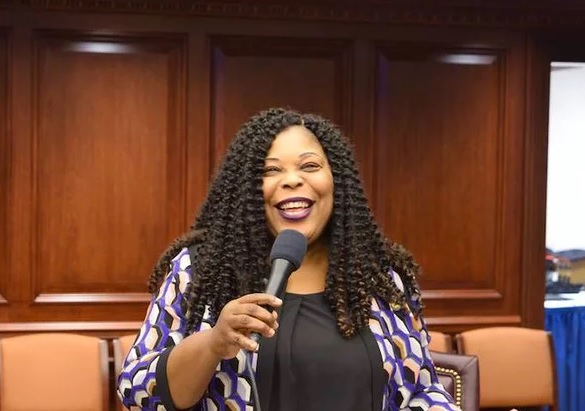 Democratic Sen. Daphne Campbell picked up 11 endorsements from her colleagues in the Florida Legislature ahead of her contested primary for another term in Senate District 38.
Incoming House Minority Leader Kionne McGhee and Senate Minority Leader Pro-Tempore Lauren Book topped the list, which also included Democratic Sens. Gary Farmer, Perry Thurston, Darryl Rouson, Kevin Rader, Victor Torres, Lori Berman and Democratic Reps. Bobby Dubose, Ramon Alexander and Wengay Newton.
"I am proud to support my good friend Senator Daphne Campbell in here Re-election campaign. Daphne has been a tireless advocate for the people of Miami Dade county and I look forward to continue working with her in fighting for Democratic principles in the legislature," McGhee said.
The bulk endorsement comes a week after incoming Senate Minority Leader Audrey Gibson threw her support behind Campbell's campaign for a second term.
"I am honored to have the support of my Democratic Colleagues in the Florida Senate and House in my Re-Election Campaign. My colleagues clearly recognize the experience that I bring to the Florida Senate and I am happy to have their support in this race," Campbell said. "I look forward to working with my Democratic colleagues in supporting issues like expanding Medicaid, banning assault weapons, supporting increased funding for public schools and increasing our states minimum the wage to $15 dollars an hour."
The Miami lawmaker faces former prosecutor Jason Pizzo in the Democratic Primary. Pizzo was the second-place finisher in the six-way primary for the seat two years ago and around the start of the year he began gearing up to challenge Campbell in the South Florida Senate district.
Pizzo currently has a cash advantage in the race thanks to $75,000 worth of loans. As of April 30, he had raised $152,000 including loans and had $78,200 banked. He also recently announced a half-dozen endorsements from mayors within the district.
Campbell has raised about $79,700 so far, none of it from loans, and had $32,500 in the bank heading into May.
No other candidates are challenging Campbell, though a GOP or other party candidate jumping in the race would pose little threat to the eventual Democratic nominee. SD 38 is a blue stronghold that Campbell — and Hillary Clinton — won with 75 percent of the vote in 2016.