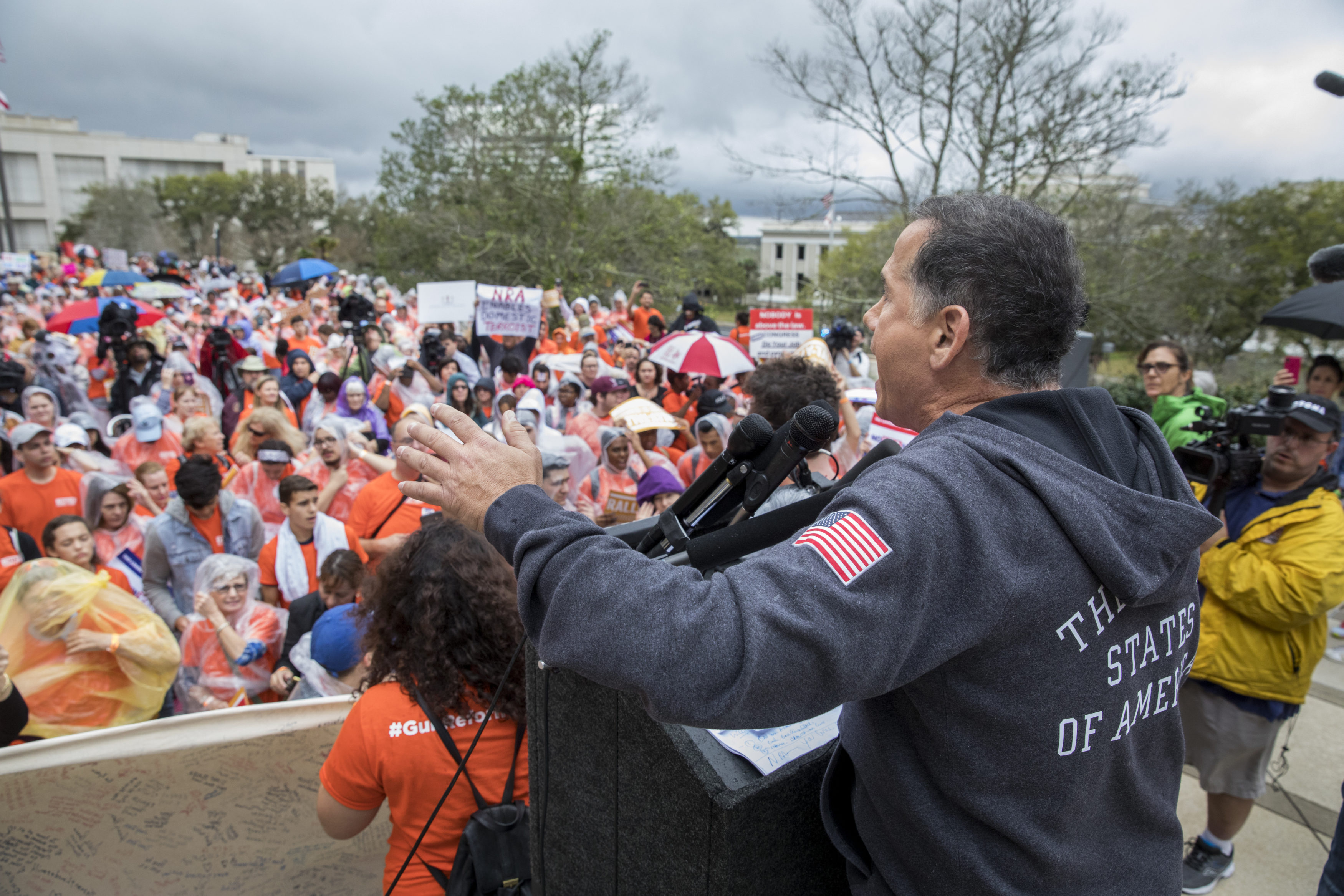 Some Democrats are making a fuss over a questionnaire vetting Florida politicians on their gun-related ideologies, but only one of the party's candidates for Governor has gone as far as making an ad to mock it.
Former Miami Beach Mayor and Democratic candidate for Governor Philip Levine released a digital ad on Wednesday titled "Final Exam," in which he provides his responses to questions on the survey distributed by the National Rifle Association and Unified Sportsmen of Florida.
Hitting social media just a day after prospective candidates received the questionnaire, the ad is timely and demonstrative of Levine's ability to quickly churn out campaign content. Although Democratic Florida House District 47 candidate Anna Eskamani was one of the first to highlight the questionnaire. On Tuesday Eskamani wrote on Facebook, "It's crafted to provide a myopic view of gun access. To use the questionnaire's own language, you are either "pro-gun" or "anti-gun." Orlando businessman Chris King, another Democratic candidate for Governor, said he thought the survey was "somewhat comical" Wednesday at a gun violence prevention roundtable in Orlando.  
"The Mayor's direct response to Floridians underscores his commitment to take action, pass common-sense gun reform, and do the right thing to make Florida's gun laws the safest in the nation," said Christian Ulvert, Senior Advisor to the campaign.
In the minute-long short, the former mayor approaches a whiteboard with the NRA's stances on one side juxtaposed with an open column for Levine's input. He then methodically goes through each, showing his beliefs are antithetical to the organization's through checks made with a whiteboard marker. 
As Scott Powers of Florida Politics reported on Tuesday, the questionnaire offers polarizing options for candidates, and notably focuses on the gun control provisions in the Marjory Stoneman Douglas High School Public Safety passed by the Legislature following the Parkland tragedy and signed into law by Republican Gov. Rick Scott. The NRA is suing the state over the legislation. 
"The 2018 'Gun Control/School Safety' bill contained gun control provisions that we believe are un-constitutional," reads the questionnaire. Among those provisions: a ban on bump stocks, a mandatory three-day waiting period to purchase any gun, and a new firearm-purchase age requirement, raised from 18 to 21.
In the ad, Levine says, "School safety law? Well the NRA said it's not constitutional, I think it's a step in the right direction." He then marks the board, signifying his approval.
The former mayor also expresses support for banning assault rifles, keeping guns off college campuses, and returning power to local officials so they can enact stricter gun control measures than the state. For each concern, the NRA stands opposite Levine.
"I know one thing," Levine says at the end of the ad. "The NRA may not be happy be happy with my answers, but the people of Florida certainly will be."
Scott Powers of Florida Politics contributed reporting.