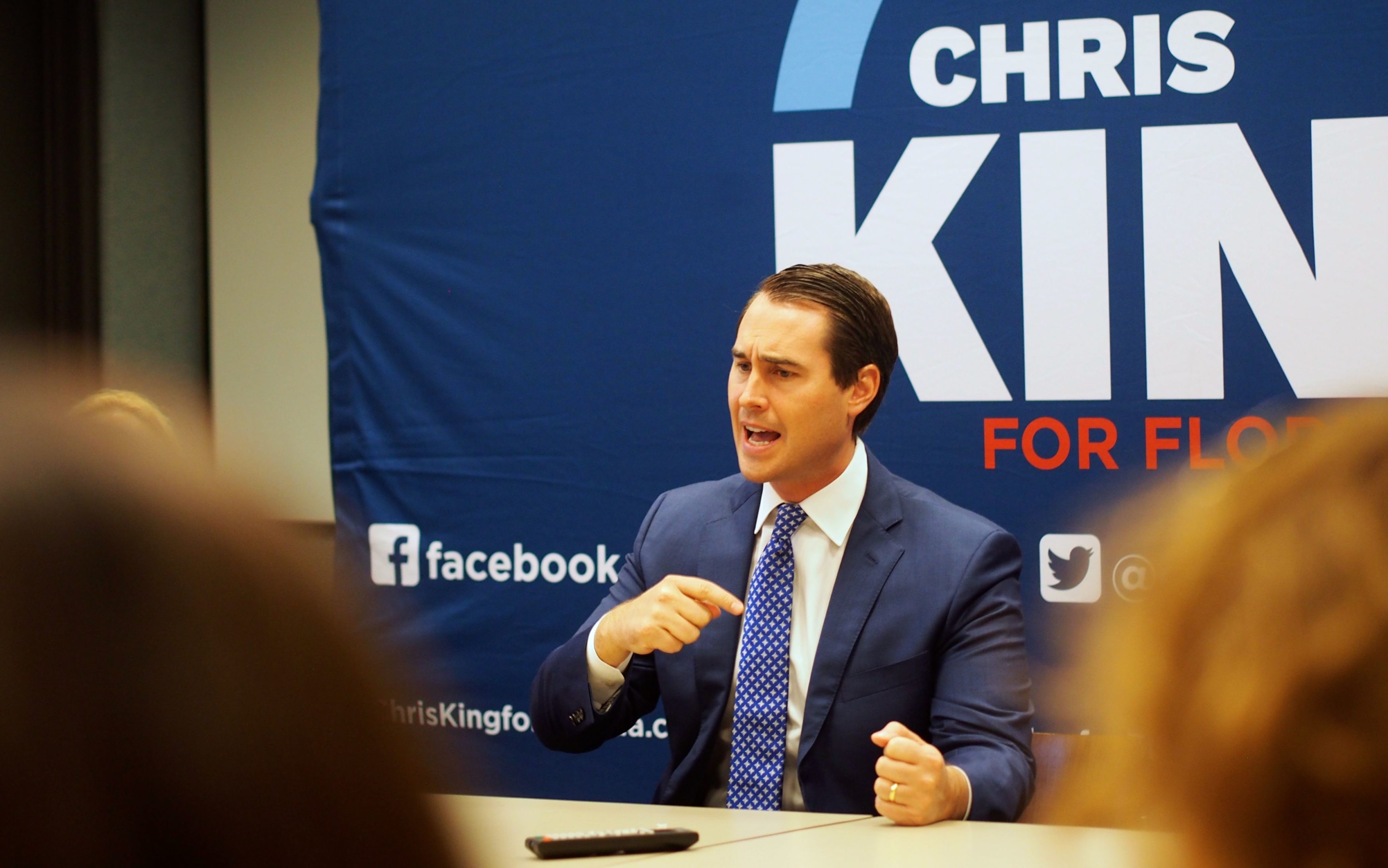 Democratic gubernatorial candidate Chris King told a room full of gun-control activists Wednesday that he's carrying a big agenda for them if he's elected governor but that he's got some doubts about how much of it could be enacted, short of a Constitutional Amendment.
King, the Winter Park entrepreneur, has embraced the full Democratic platform led by banning assault weapons and high-capacity magazines, and tightening background checks, and has added a few items of his own, such as a bullet tax to help pay for gun-violence prevention programs.
In downtown Orlando Wednesday, a gathering of about 30 activists, which included members of Moms Demand Action, March For Our Lives, the Youth Coalition to End Gun Violence, and some unaffiliated individuals, welcomed much of King's agenda, and cheered and applauded him more than once, allowing him to declare them and himself to be "soul mates."
But in anticipation of working with a Republican-controlled Florida Legislature, King also tapped the brakes.
"All of those things that you've talked about are going to be, if I win and I have two houses against me, are going to be very hard to pass," King said.
"We've been to Tallahassee. We know all about that," agreed one of the members of Moms Demand Action, a group that emerged from the 2012 Sandy Hook Elementary School massacre in Newtown, Ct.
"I want to be very honest about that. I'm even feeling there is a flexing of muscle by the NRA. They feel they've survived the first blitz," King picked up. "They're courage is coming back. You see it in Republican nominees. They're feeling like the students will dissipate. … And so the way this works in my view is we have to keep the heat on.
"But likely the way it would work is some combination of things would be on the ballot, led by citizens, championed by a Democratic governor, in 2020, a presidential year. I think that's when could make the strike. That's how it would happen," King added. "It certainly would be nice to see it earlier, but that's probably how it's going to happen."
King faces former U.S. Rep. Gwen Graham, former Miami Beach Mayor Philip Levine, Tallahassee Mayor Andrew Gillum, and Palm Beach billionaire Jeff Greene for the August 28 Democratic primary. All of them except Greene, who still is in the dead-silence phase of his campaign since filing last Friday, has made gun control big parts of their campaigns, especially since the Feb. 14 massacre of students and teachers at Marjory Stoneman Douglas High School in Parkland.
King has stepped up the agenda with his proposal last week to use sales taxes from guns and bullets, plus an additional "safety fee" tax on bullets, and a couple other sources, to finance statewide gun violence prevention and study programs.
Wednesday's roundtable discussion also veered often into other areas such as criminal justice reform, mental health funding, and education, allowing King to tout his proposals in those areas, especially his criminal justice reform platform reducing the housing of nonviolent offenders in prisons.