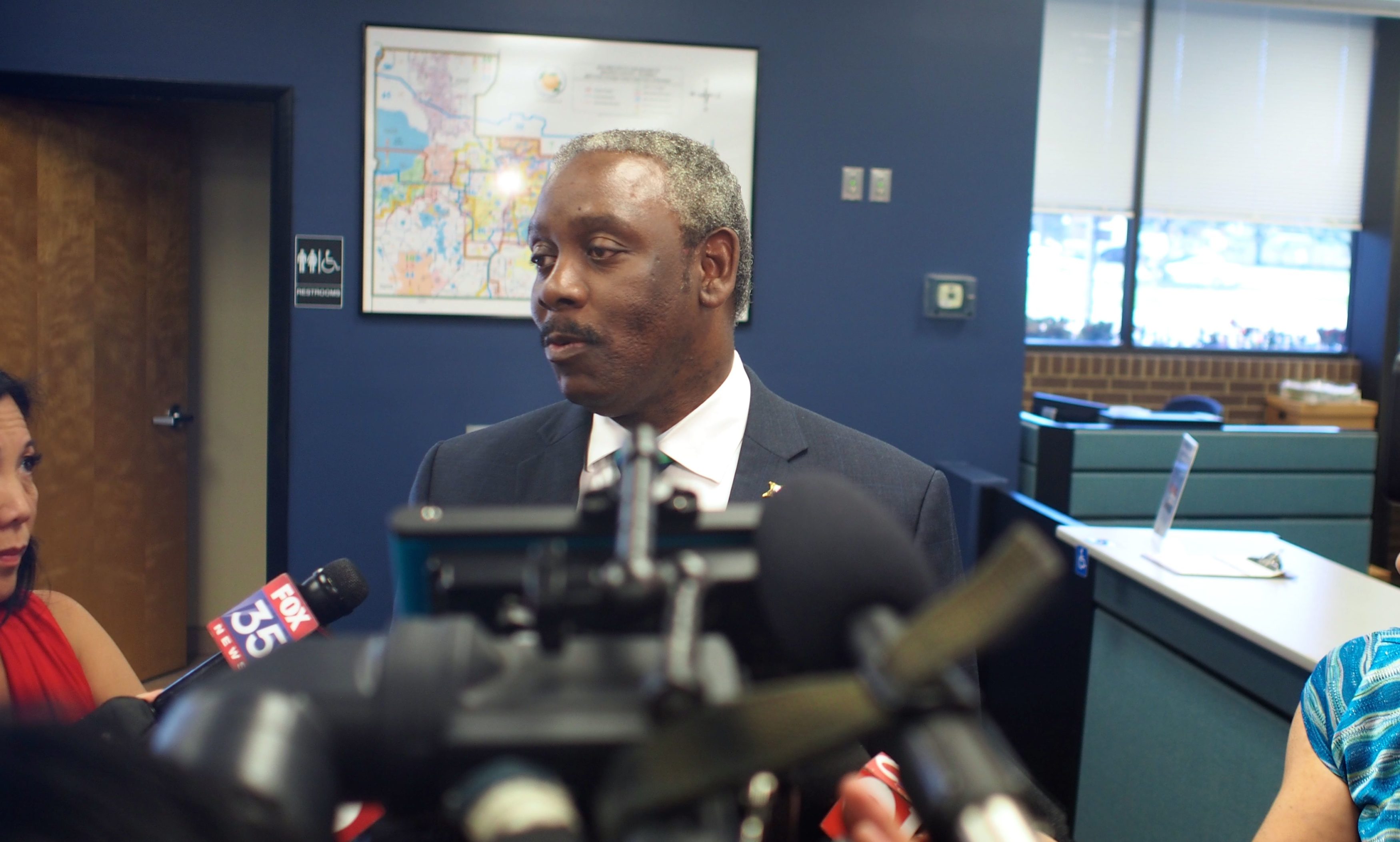 Orange County Sheriff Jerry Demings said Thursday that his campaign's internal polling suggests he could win the Orange County mayor's office in the August preliminary election, a prospect that would indicate an impressive base in a contest with three major candidates.
Demings made the statement as he was preparing to file his notice of resignation from the office of Orange County sheriff, a move he must make to qualify for the August 28 ballot in the mayoral election. His notice indicates he would leave the sheriff's post December 4, the day the next mayor of Orange County is to be sworn in. That effectively ends his 37-year career in law enforcement whether he wins or loses the mayoral race.
That action also formally opens a new election this year to be held for a new sheriff.
Yet Demings' comments about the mayor's race are the first indication that his campaign is confident about a big lead in a race that also includes Winter Park entrepreneur Rob Panepinto and Orange County Commissioner Pete Clarke, plus three minor candidates. Someone would have to come out of the six-way split with more than 50 percent of the vote, or the top two finishers on August 28 would go on to a runoff in November.
Demings' fundraising and endorsement lists would indicate he's a formidable front-runner. Through the end of April his funds had raised nearly $1 million; while Panepinto had raised about $600,000; and Clarke, about $300,000.
Yet there have been no publicly-released polls on the race.
"I had to do my own polling to get some verification. That polling shows that we can win this race, and we can win this race in August," Demings said at a press availability as he turned in his sheriff letter of resignation at the Orange County Supervisor of Elections Office. "I say that to you very humbly today. We still have to prove and earn the vote of the electorate here in Orange County, and I'm going to do that."
Though the mayoral race is non-partisan, Demings, a Democrat, can expect backing from the Orange County Democratic Party while, in the August 28 election, the Orange County Republican Party would have to campaign against Demings while hoping Republicans Clarke and Panepinto could keep him from winning outright that day. Demings could be the first Democrat to hold the county's top executive post since 1998. Outgoing Mayor Teresa Jacobs is term-limited, and running for the Orange County School Board chair's position.
Clarke cautioned Demings against any overconfidence.
"The last person who thought the polls were going to give a victory is unemployed at the moment, and she's doing a book tour," Clarke said. "We've had access to polls that tell a little bit different story. You know, he's got good name recognition, but we're closing the gap."
In a written response, Panepinto stated, "I am proud of the momentum we are building and look forward to a spirited race with Sheriff Demmings. The hardworking people of Orange County deserve a real debate about the issues and I hope the sheriff is willing to give them one."
At his resignation event, Demings also touted his 10-year career as sheriff as essentially a mission accomplished.
"We've accomplished all those things that I told the public we were going to do. Overall crime in Orange County is down, 30 percent over the period of time I have been sheriff. I have said we'd be fiscally conservative. We've saved millions of dollars for the taxpayers and returned it to them. We said that we would reduce the number of complaints on our deputy sheriffs. We've done that. I said that we would reduce the level of use of force in this community. We have done that now. I said that the Orange County Sheriff's Office would put more deputy sheriffs out on patrol. We've done that," he said. "And so all of the things I have promised in 2008 when I ran for sheriff, we have done.
"And so I'm saying to the public, as we're moving forward, as I'm running for mayor, all of those things I've said we would accomplish as mayor, we will do. Trust me on that," he concluded.
Recognizing the end of his career in law enforcement, Demings speculated that he might seek some sort of reserve officer status, if it's legally allowed.
"It's bittersweet," Demings said. "After being in law enforcement for 37 years I've seen this city in the best of times and I've also seen it in the worst of times."