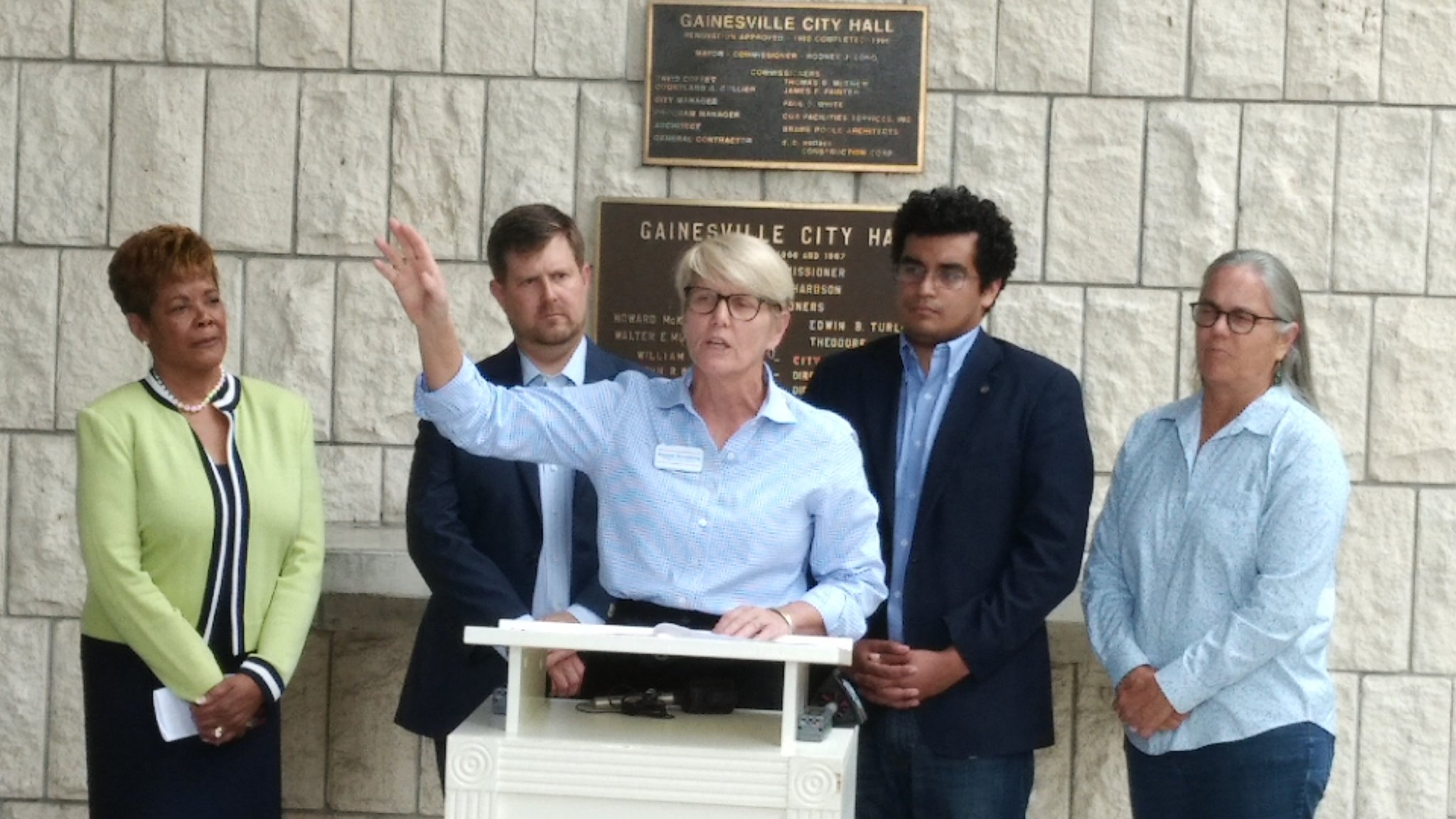 Florida Democrats held the first in a series of planned stops in a statewide "Medicaid Expansion Tour" at Gainesville City Hall Monday afternoon.
The Florida Democratic Party event drew Gainesville Mayor Lauren Poe, City Commissioner David Arreola, Alachua County Democratic Party Executive Committee Chair Cynthia Chestnut and Senate District 8 candidate Kayser Enneking to expound on what the party believes will be a defining issue of the 2018 election cycle.
Chestnut said Medicaid expansion will play a role up and down the 2018 ballot including in the U.S. Senate race where incumbent Democrat Bill Nelson is up against Republican Gov. Rick Scott, whom Chestnut said "lied" and "turned his back on Floridians" when he announced he said he was in favor of expansion in 2013.
The former lawmaker also slammed Republican gubernatorial candidates Adam Putnam and Ron DeSantis as offering little more than a continuation of Scott administration policies at a time when Floridians are ready to "move forward."
Enneking made similar comments regarding her bid to unseat incumbent Republican Sen. Keith Perry in SD 8, noting Perry's vote against Medicaid expansion during his time in the Florida House.
"States that have expanded Medicaid have seen their health care outcomes rise to the top," she said. "The argument that we can't afford to expand Medicaid is a false argument."
Arreola, the youngest commissioner ever elected in Gainesville, said Florida's decision not to expand the federal-state health insurance program for the poor wasn't just affecting their medical bills but creating a "dangerous set of circumstances for our people and our economy."
"What else does that prevent them from accessing? Better jobs?" he asked.
The tour, which will continue Monday in West Palm Beach, signals Florida Democrats' intent to make health care access the keystone of their efforts to take back the Governor's Mansion and state Legislature after two decades of Republican rule.
As Poe put it: "Medicaid expansion is on the ballot in 2018."