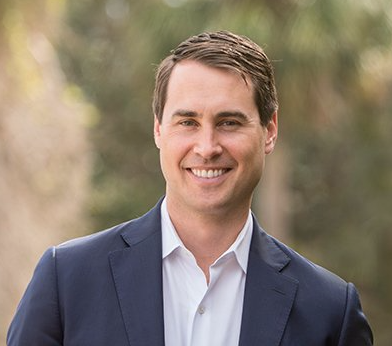 The old adage says everything a candidate has ever said, written, or done, and everything he has ever been becomes fair game once he's running for public office.
Democratic gubernatorial candidate Chris King is wrestling with that now, wrestling with a single quote that could be read with anti-Semitic overtones, attributed to him back when he had been a 20-year-old Harvard University sophomore, bitter over losing a close and contentious 1998 campus election for Undergraduate Student Council president. The newspaper article containing the quote is making the rounds today in Florida.
"I was nailed to the cross," King was quoted in a Newhouse News Service story published on Feb. 28, 1999, in the Times-Picayune of New Orleans and perhaps elsewhere. "And most of the editorial staff that was so hard on me, the vast majority were Jewish."
Today King does not specifically recall making the statement quoted in the Newhouse News Service story, but he is not disputing it. He apologized for it on Thursday and disavowed any anti-Semitic overtones as not of his beliefs.
That story and a number of others were published after a fall, 1998, election at Harvard that had been so controversial that it drew the attention of numerous outside media, including the Orlando Sentinel from King's hometown.
The comment attributed to him about the editorial staff had been a reference to the staff of the campus newspaper, the Harvard Crimson, which had editorialized against King's candidacy, in part because he was well-known as an evangelical Christian.
"This quote from when I was 20 years old is completely at odds with my beliefs. It was a hurtful and stupid comment and I apologize," King stated in a written response issued by his campaign Thursday.
He and his gubernatorial campaign now are accusing one of his opponents, former Miami Beach Mayor Philip Levine, of digging up and circulating the 19-year-old newspaper story, including to Jewish supporters, as payback for King's charges in Saturday's debate that Levine is a bully.
Ironic, King's campaign suggested.
But that doesn't entirely dismiss the problems of a newspaper story that seems to have King blaming Jews for his election defeat.
In speaking to Florida Politics Wednesday evening, the reporter who wrote that story, Jonathan Tilove, recalled not being bothered at all by King's quote, and not thinking it was anti-Semitic. Tilove now is a political reporter for the Austin American-Statesman. He is Jewish.
Tilove included the quote in a package of two stories that he wrote about issues of reverse diversity in America's top universities. The main story was headlined, "Diversity Dilemma: In the Ivy League, White Christians More Underrepresented Than Blacks." The King quote was included in the sidebar story, headlined "Issue More Than Skin Deep at Harvard: Religion Plays Role in Recent Election." That story began with this sentence: "If Jewish students are overrepresented at Harvard University, they are way overrepresented at the Harvard Crimson." King's episode and quote were used as an illustration.
In no way in the article does Tilove treat King's comment as anti-Semitic.
"The whole point of that story – I wrote about race and diversity – the point of that story was that the least diverse thing about Harvard was the lack of evangelical Christians," Tilove said. "So the whole point was: that he might have a point."
Reporter Mark Pinsky also covered the episode in 1999, for the Orlando Sentinel, and subsequently interviewed King in-depth for a book that Pinsky published in 2006, A Jew Among Evangelicals. That book includes a whole chapter on King and what happened at Harvard. Pinsky covered politics and religion for many years, and has written several books exploring the intersection of religion and modern American culture. He also is Jewish.
"When I interviewed him, he said nothing like that to me," Pinsky recalled Wednesday. "My first reaction is, it is out of character to what I know he [King] believes. But who is to say? I wasn't there."
Pinsky added, "Speaking as a journalist and a Jew, I don't find the quote all that offensive."
King's 1998 campaign for Undergraduate Student Council president, which was vaguely "values based" according to reports at the time, had exploded into a controversy about potential Christianity in student government affairs: reportedly through little or no fault of King's. Harvard was then, as now, a liberal university where the institutions were fiercely secular. But times were changing. Tilove and Pinsky both reported at the time, and other articles in the Crimson and the Wall Street Journal in late 1998 and early 1999 concurred, that Christian student groups were growing and tensions were building on campus.
There had been rumors during the 1998 campaign – denied by King at that time, in interviews since, and today – that he might be planning to make his presidency a Christian administration, to preach to other students. The Crimson warned voters about the possibility.
Tilove, Pinsky, and the Crimson all reported at the time, and Pinsky expanded in his 2006 book, that King not only did not campaign on religion, but that he had made efforts to keep his religion out of the campaign. Others brought it up though. Before anyone knew it, anonymous leaflets were distributed on campus accusing King of secretly planning a theocracy at Harvard. The Crimson mentioned the prospect in its endorsement of his opponent, but the paper also had other, unrelated, criticisms of King.
King lost by 100 votes, out of about 3,000 cast.
The Wall Street Journal, and some other national conservative voices sought in 1999 to cast King's experience as a case study of liberal elites persecuting Christians. King actually ran in the 1998 election as a liberal Democrat who admired former U.S. Sen. Bill Bradley [who was then running for president,] and King lost to a conservative Republican. Pinsky quoted him as saying in 1999, "I don't want to be a poster boy for the Christian Coalition."
In his written statement issued Thursday, King said the whole episode helped shape who he is today.
"Then, as now, I was a committed progressive Democrat and committed to my Christian faith. Some people have found that combination unusual. In the closing days of that student election, anonymous fliers charged that I was motivated to take over institutions to promote my religious views. A series of other accusations about my faith followed.
"As a young person I was hurt by the personal nature of these attacks," he wrote.
"Following the election, some national news outlets, including the Wall Street Journal, picked up on the story and there was a flurry of interest. Several other publications wrote stories. Back then, I thought I was the subject of religious intolerance. I spent time in college and since then learning and thinking about things that divide us. We see so much of this in the world today. People feel isolated by divisions in an increasingly factionalized world – whether by their faith, their race, or their identity.
"Too often, the reaction is to retreat further into our tribes, rather than reaching out across the divides to find our common humanity. We have to reach out. It's the only way we move forward. More than that, we lose out on so much of what makes us strong and great if we don't," King's statement continued. "That's the philosophy that's underpinned my life since then and will define the kind of leadership I'll provide for Florida."
King's campaign manager Zach Learner and campaign spokesman Avery Jaffe released a joint statement Thursday that read in part:
"As proud Jewish Americans, we object to the Levine campaign's political use of our faith to try and squeeze our campaign into silence as we shed light on the mayor's record as a Trump-like bully.
"Hours after Chris called out Mayor Levine's long and well-known record of bullying at a recent debate, a Levine staffer approached allies of our campaign to scare them out of supporting Chris."
Levine's campaign responded with a statement from Christian Ulvert:
"Our campaign is squarely focused on the mayor's progressive record of championing, and passing, the first city-wide living wage ordinance in Florida, fighting for LGBT rights, reforming the city's police department and taking on sea level rise and climate change with real action."