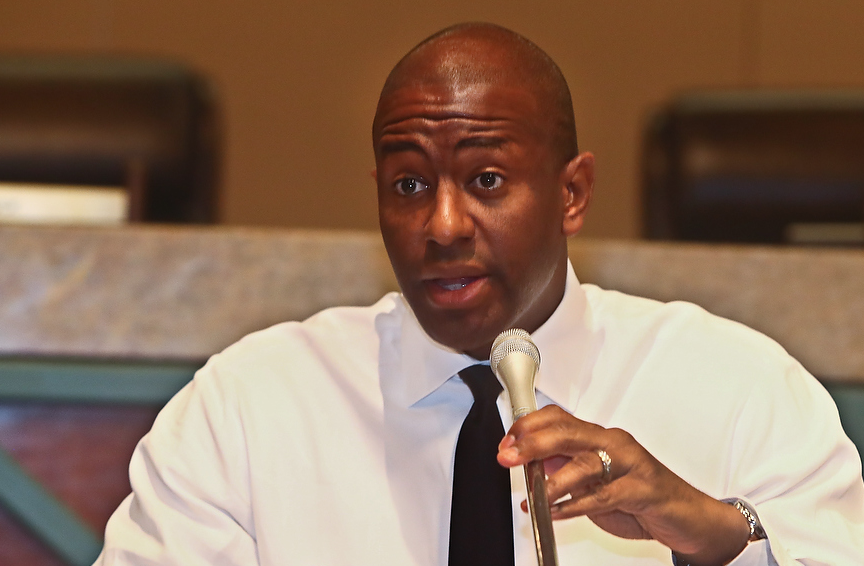 St. Petersburg Mayor Rick Kriseman slammed Democratic gubernatorial candidate Andrew Gillum in an email Friday for "using dirty Republican tricks and tactics" to smear primary rival Gwen Graham.
The email, sent out by Graham's campaign, is the latest round of drama relating to Collective SuperPAC. It's connected to The Collective, a national group that supports African-American political candidates.
The so-called "dark money" super PAC has been running ads for weeks across the state slamming the former Congresswoman for being a moderate, or even a Republican sympathizer.
Now that a new round of ads is rolling out in the Tampa Bay area, Kriseman said he'd had enough.
"It is disappointing to see an out-of-state secret money super PAC come into our city and attack a fellow progressive Democrat," Kriseman said. "After 20 years of one-party Republican rule in Tallahassee and with Donald Trump in the White House, Democrats must stand as a united front to win back our state in November.
"St. Petersburg Democrats will reject smear campaigns. They want something to vote for — not against. We have many strong candidates running in this Democratic primary and we won't win back our state by using dirty Republican tricks and tactics. We must be better than them and show Florida voters a new path forward to end the status quo in Tallahassee."
The second-term St. Pete mayor joins a chorus of Democrats who have blasted Gillum over The Collective's targeting of Graham, including Jacksonville Democrats, Ruth's List and three former Florida Democratic Party chairs, among others.
Gillum, for the most part, has remained silent on the third-party group's smears. He also was slow in issuing a denouncement — from his campaign, not himself — after Sunshine State News writer and Gillum supporter Leslie Wimes called Graham a "skank."
Gillum and Graham are running for the Democratic nomination alongside Palm Beach billionaire Jeff Greene, Winter Park businessman Chris King and former Miami Beach Mayor Philip Levine. The primary election is Aug. 28.
Update: More Tampa Bay-area Democrats are standing in Graham's corner.
On Friday afternoon state Sen. Darryl Rouson, St. Petersburg City Councilor Darden Rice and Tampa City Councilor Mike Suarez joined Kriseman in admonishing Gillum for the third-party ads.
"I strongly condemn all ad hominem attacks against Gwen Graham or any of our Democratic candidates for Governor. I urge all candidates to refrain from hiding behind dark money committees that hide their donors and expenditures. We don't need this type of politics in Pinellas or Hillsborough Counties or anywhere in Florida," Rouson said.
Rice said she was "outraged to see Andrew Gillum's negative Super PAC ad try to smear Gwen Graham's progressive record. On the first day of her campaign for Congress, in conservative Panama City, Gwen Graham stood up for LGBTQ Floridians and supported marriage equality."
Suarez, who is running to succeed Bob Buckhorn as Tampa Mayor, added that "the same day Gwen Graham was uniting Democrats against Donald Trump's anti-refugee policies, Andrew Gillum's Super PAC was purchasing ad time to attack her. That says everything Florida Democrats need to know about this race."
In addition to more quotes from Tampa Bay pols, the Graham campaign cited a PolitiFact post debunking The Collective's claim that voted "against President Obama 52 percent of the time" during her one term in the U.S. House