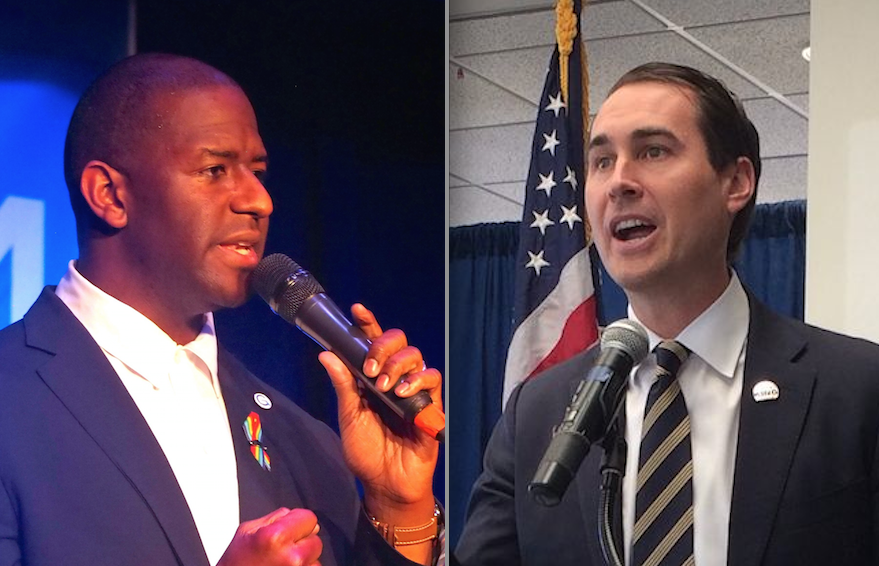 The Orange County Democratic Party has canceled efforts to have a gubernatorial debate in Orlando next Tuesday because Philip Levine and Gwen Graham would not agree to participate.
Orange County Democratic Chair Wes Hodge expressed regret over the last-week cancellation he announced Friday and that voters in Orange County "will not have the opportunity to hear from the candidates seeking to be their governor in one open, public forum."
Hodge said Tallahassee Mayor Andrew Gillum and Winter Park entrepreneur Chris King had committed weeks ago, but not former U.S. Rep. Graham nor former Miami Beach Mayor Levine. The fifth candidate, newly-entered Palm Beach businessman Jeff Greene, also had recently committed, his campaign said.
"Regrettably the Orange County Democratic Party has been forced to cancel the planned Democratic gubernatorial debate scheduled for next Tuesday, June 26th, due to an inability to secure all of the candidates for the event," Hodge said in a statement. "We have been working hard over the past six weeks to make this event a success, and I would like to thank all of our volunteers who worked to make this happen. It is unfortunate that the voters of Orange County will not have an opportunity to hear from the candidates seeking to be their Governor directly in one open, public forum."
The debate was being planned for Barnett Park on Orlando's west side, for a 7 p.m. forum.
"The Democratic Executive Committee will be working to find another way to connect our voters directly with our five candidates seeking the governor's office, and hope to announce another event in the near future," Hodge added.
Gillum and King blasted their rivals for not being willing to join them. The first four Democratic gubernatorial candidates have debated three times, and Gillum and King have done well, getting strong reviews for their performances. But now Levine and Graham are showing signs of pulling ahead in polls heading toward the August 28 primary.
Gillum said he's going to come anyway.
"It's critical that Orange County voters hear about our priorities for this state, and since my opponents refuse to join me for a debate, I'm looking forward to hosting a town hall in its place on Tuesday night," Gillum said in a statement. "Floridians need to know where we stand, and who we stand for."
King said it was too bad that neither Orlando nor Jacksonville are getting to see the Democrats go head-to-head.
"Politics and politicians, as usual, have failed progressive values and ordinary Floridians for too long and Democrats deserve to judge for themselves whether the other candidates for governor offer a fresh vision and a break from the past. That's why I'm disappointed that some candidates in this race have refused invitations to debate in Orlando and Jacksonville," King said in a statement. "We must compete in every corner of our state and take no one for granted, and that means making sure Spanish language, African American, Caribbean and other diverse media outlets are included as well."
Levine's campaign responded with a reminder that the Democrats initially had agreed to five debates, even though that included none in Orlando or Jacksonville.
"Our campaign worked successfully with the Florida Democratic Party on a number of agreed-upon debates and forums. After weeks of negotiations, all campaigns agreed to five debates, including a statewide televised debate that will air in Orange County," Christian Ulvert, senior advisor to the campaign, said in a statement. "The Mayor is excited and proud to continue to share his vision for Florida and his progressive record of accomplishments directly with voters in the upcoming three debates and town halls."