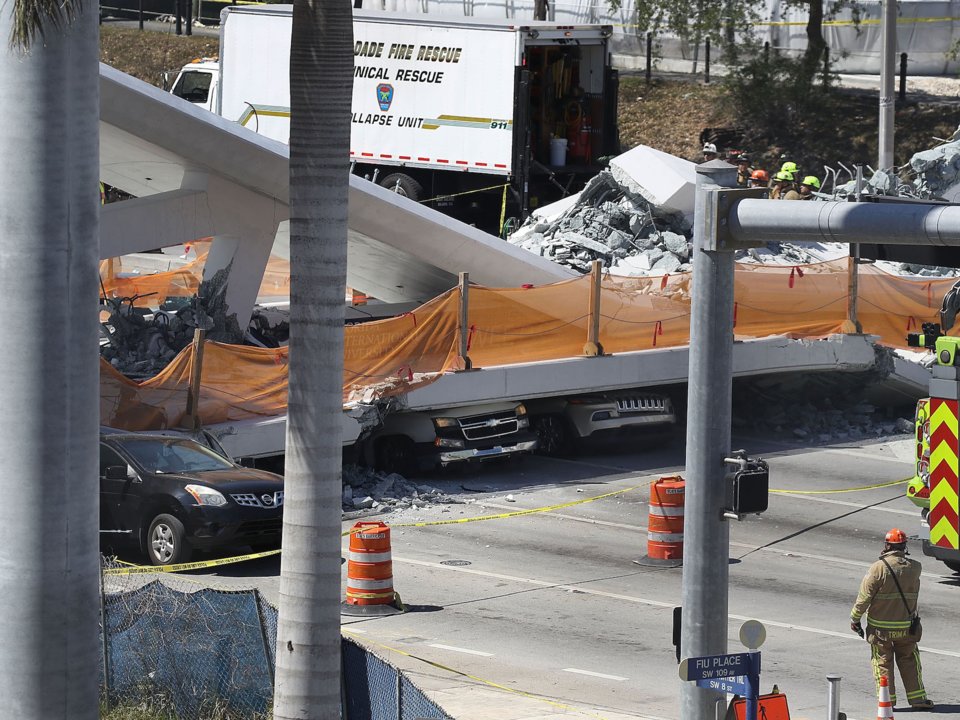 The federal government is asking a Tallahassee judge to delay any rulings while it decides whether to get involved in a lawsuit over records on March's pedestrian bridge collapse at Florida International University that killed six people.
U.S. Attorney Christopher P. Canova of north Florida had first sent a notice on June 15 to Circuit Judge John Cooper, saying federal law authorized him to "attend to the interests of the United States in (any state) lawsuit," records show.
The Miami Herald; its Capital bureau chief, Mary Ellen Klas; and Tallahassee correspondent Elizabeth Koh sued the state's Department of Transportation in Leon County Circuit Civil court last month, seeking "emails, meeting minutes and other records relating to the bridge's design and construction."
Some of those records "are the subject of a pending accident investigation by the National Transportation Safety Board (NTSB)," Canova previously said, expecting to decide by this Wednesday whether to enter the case.
In a new notice filed late Thursday, Canova said he needs approval from "the Assistant Attorney General for the Civil Division of the U.S. Department of Justice" to get involved, and "that process is still ongoing." (The department's website shows Chad A. Readler is now acting in that role.)
"The government will provide a further status update on or before July 11, and respectfully requests that the court continue to defer its ruling," Canova wrote.
The March 15 collapse of the then-recently erected bridge killed six midday motorists or passengers, and injured nine others. The bridge, spanning Tamiami Trail, was meant to connect the campus to student housing in Sweetwater.
It happened "just days after cracks had been observed in the $14.3 million structure," The Herald has reported.
In another letter reported last month, NTSB assistant general counsel Benjamin T. Allen explained to Cooper that his agency has "prohibited" FDOT from releasing certain investigative information "absent NTSB approval."
At a hearing in the suit earlier this month, Cooper called the NTSB an "indispensable party" and declined to dismiss the lawsuit.
"He … ordered FDOT to send (a) letter asking NTSB to join the lawsuit as a party or file an amicus brief to defend its legal reasoning," The Herald reported. If NTSB declines, Cooper added, the state will tell it "we're going to continue the party without you."
The Herald is represented by Sandy Bohrer, a partner in the Holland & Knight law firm in Miami and co-chair of the firm's National Media Team.