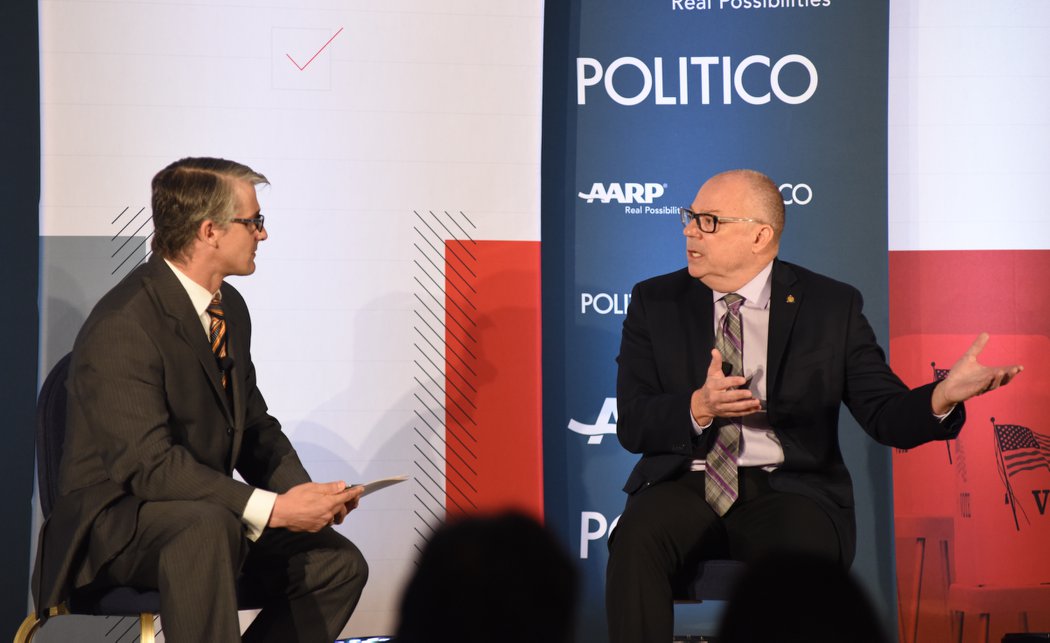 With less than two months to go until the Florida primaries, David Richardson is continuing to hammer Donna Shalala in the race for Florida's 27th Congressional District.
Richardson spoke with politics writer Marc Caputo Friday at POLITICO's "The Deciders" series event at the InterContinental Hotel in Miami.
He's one of five Democrats competing for the CD 27 seat, including Matt Haggman, Michael Hepburn, Kristen Rosen Gonzalez and Shalala.
Richardson seemed confident a Democrat would win the open seat, held for decades by Republican Ileana Ros-Lehtinen.
"I think that this seat will definitely flip and it will be a Democratic seat."
CD 27 is one of Democrats' biggest targets given Ros-Lehtinen's retirement. But for Richardson to be the Democrats' nominee, he has to overcome his competition, the biggest of which seems to be Shalala.
He's gone after Shalala in a series of TV ads, with some even airing on Spanish television. Those ads hit Shalala on previous donations to Republican politicians as well as her previous opposition to universal health care, which she now supports.
Richardson continued those criticisms Friday: "She wants to call herself a progressive now, and that's just phony … She's a corporate Democrat, she's part of the establishment."
*                    *                    *
Richardson, meanwhile, has tried to position himself as the true progressive in the CD 27 race. He has served in the state House since 2012, representing District 113. His 2012 win made him one of the first openly-gay representatives elected to the state legislature.
One of Richardson's most eye-catching efforts as a representative is his fight for private prison reform. He made strides by visiting various prisons throughout the state and pushing for audits.
As a member of the Health Care Appropriations Committee in the House, Richardson has also advocated for a state-level Medicare-for-all plan, putting forward a bill with state Sen. Victor Torres.
Richardson has called for Donald Trump to resign, even supporting a state House resolution backing his impeachment.
Those are just some of the efforts Richardson points to as he tries to position himself a progressives' preferred choice in the primary. He's also touted endorsements from various liberal groups.
And Richardson believes those efforts will appeal to voters in 2018. "People are not really interested in just electing a Democrat. They're interested in electing the right Democrat."
*                    *                    *
That's not Shalala, according to Richardson. "She also has a number of issues to explain to the voters." He argues her time on the board UnitedHealth throws into doubt whether she will truly push for a Medicare-for-all plan, which Shalala says she supports.
Richardson also referenced her positioned as a board member with the Lennar Corporation, a Miami-based homebuilding company. Analysts say Lennar played a part in the mid-2000s housing crisis due to its involvement in the subprime mortgage market.
Richardson says his poll data shows that "when voters start learning about who she really is, her numbers start crumbling."
That will need to be true if Richardson hopes to win the nomination, as previous polls have showed Shalala as the overwhelming favorite.
Regardless, Richardson feels Democrats are in a good position come November.
"What we're seeing not just in Florida, but beyond, is a blue wave."