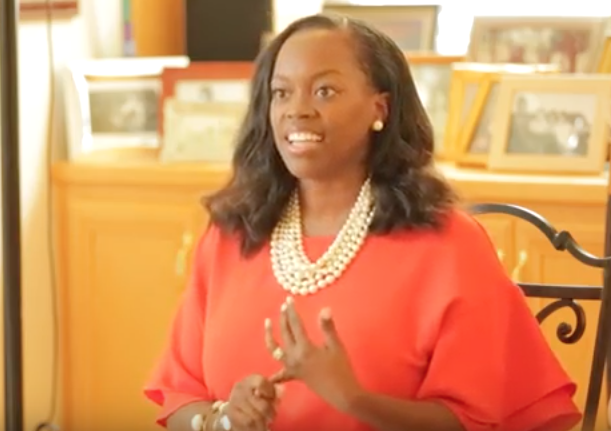 Democratic gubernatorial candidate Andrew Gillum's campaign has released a second internet video starring his wife R. Jai Gillum, offering a woman's perspective on her husband and the issues, and perhaps a subtle effort to suggest to Democratic women voters that there is an alternative to defaulting to vote for Gwen Graham.
In the new one-minute, 50-second video being released Thursday, "First Lady Gillum Hosts Women for Andrew Gillum," R. Jai Gillum offers a much calmer demeanor than her sometimes fiery husband, as she meets with a group of women in a living room setting. [She is currently Tallahassee's first lady to her husband's role as mayor.]
R. Jai Gillum also declares that a candidate's being African American, or being a woman, is not a reason for voters to pick someone. She then discusses briefly issues, notably abortion, education, attracting jobs, and children, saying that someone has to do something different in the governor's mansion.
She is no stranger to public policy and politics, She works for the the Florida Dental Association's Foundation and has significant public sector experience, including working in the administration of former Democratic Chief Financial Officer Alex Sink, the party's 2010 nominee for governor.
With this video and the previous one, "Meet Florida's Next First Lady: R. Jai Gillum!" she and her husband also are offering something the other four Democratic candidates, and the two major Republican candidates have not yet attempted to offer: a suggestion of a partnership, the unstated assumption that the candidate and the potential first lady come as a team. It also provides Andrew Gillum the opportunity to balance his often in-your-face style with her more intimate approach.
Gillum faces Graham, Jeff Greene, Philip Levine, and Chris King in the August 28 primary, while the Republicans are fielding Adam Putnam and Ron DeSantis.
In the one-minute, 50-second new video she covertly addressing Graham's advantage as the only woman in a five-way primary: "Yes, I know that African Americans would be proud to have the first African-American governor. And women would be proud to have a woman governor. But that is not why an educated electorate picks their leaders."