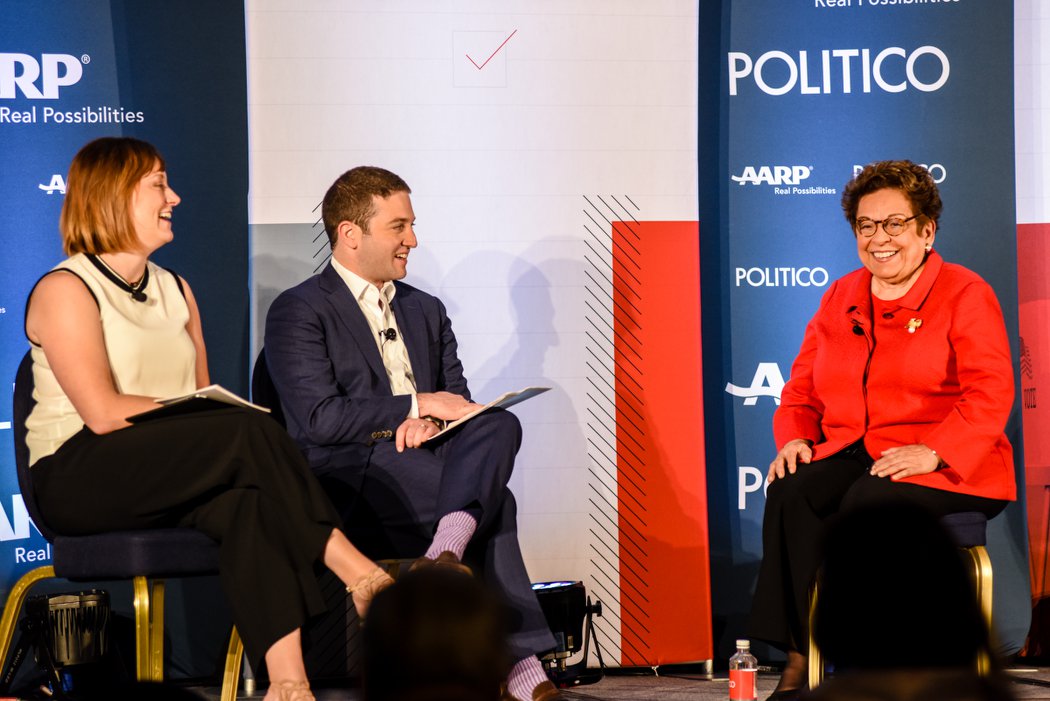 Donna Shalala made her case to Miami-Dade voters Friday, highlighting her experience and expertise in an interview for POLITICO's "The Deciders" series.
Shalala is surely one of the most accomplished candidates in the crowded field fighting for the nod in Florida's 27th Congressional District. She's competing with Matt Haggman, Michael Hepburn, David Richardson and Kristen Rosen Gonzalez for the Democratic nomination.
And polls have shown Shalala in the lead. But with a fierce primary for a flippable seat, Shalala is trying to make sure she stays there.
To do that, Shalala focused on her experience in a sit-down with POLITICO's Anna Palmer and Jake Sherman. But she also made sure to thread the needle and avoid being labeled a member of the "swamp."
"I was never in the swamp. I worked for an administration that was very dynamic."
Shalala is referencing her time the Secretary of Health and Human Services during the Bill Clinton administration. That tenure was part of a long relationship between Shalala and the Clintons.
Shalala strongly supported Hillary Clinton during both of her presidential runs in 2008 and 2016. She was also appointed CEO of the Clinton Foundation in 2015.
That has led some of her CD 27 Democratic opponents such as Richardson, who was also present at the event Friday, to label Shalala part of the "Democratic establishment."
But Shalala pushed back on those criticisms. "I'm hardly a Washington insider. I've spent most of my career running universities."
Shalala served as the chancellor of the University of Wisconsin-Madison from 1988 to 1993. She also helped make her name in South Florida as the president of the University of Miami, a position she held for more than a decade.
Shalala has also been questioned regarding some of her past positions in the private sector. Those criticisms continued during Richardson's appearance, where he hammered her for taking positions on the boards of UnitedHealth and the Lennar Corporation.
But Shalala showed off her knowledge about health care, talking about it at length. She also sought to clarify her position on universal health care, which she has opposed in the past.
"I happen to believe that we should allow people to keep their private insurance and add a public option."
On the Affordable Care Act's failures, she shifted blame to Republicans for blocking efforts to reform the law. She did concede that "you never get it quite right. There are always unintended consequences."
Shalala also had praise for retiring Rep. Ileana Ros-Lehtinen, who she is running to replace. She praised the Republican for her advocacy for LGBTQ rights and immigration reform. "But at the end of the day, I'm a Democrat," Shalala said, noting her party would push even harder on those issues if they win in November.
She was also asked to comment on the migrant crisis, specifically the facility in Homestead housing some of those children separated from their parents. HHS runs those facilities, and Shalala used her time heading that agency to criticize President Donald Trump's handling of the issue.
"I ran that agency," she said. "We resettled families. It was't designed to separate families."
On the separation of children, she slammed the administration, saying, "These policies are un-American, immoral, and frankly evil."
The conversation closed with a question on why Shalala decided to run for Congress now, after all these years. "I woke up one morning, I turned on the television, and I just got pissed off."
Shalala says she will push for change, and that her resume makes her the best fit to bring that change forward.
"I'm focused on getting things done."