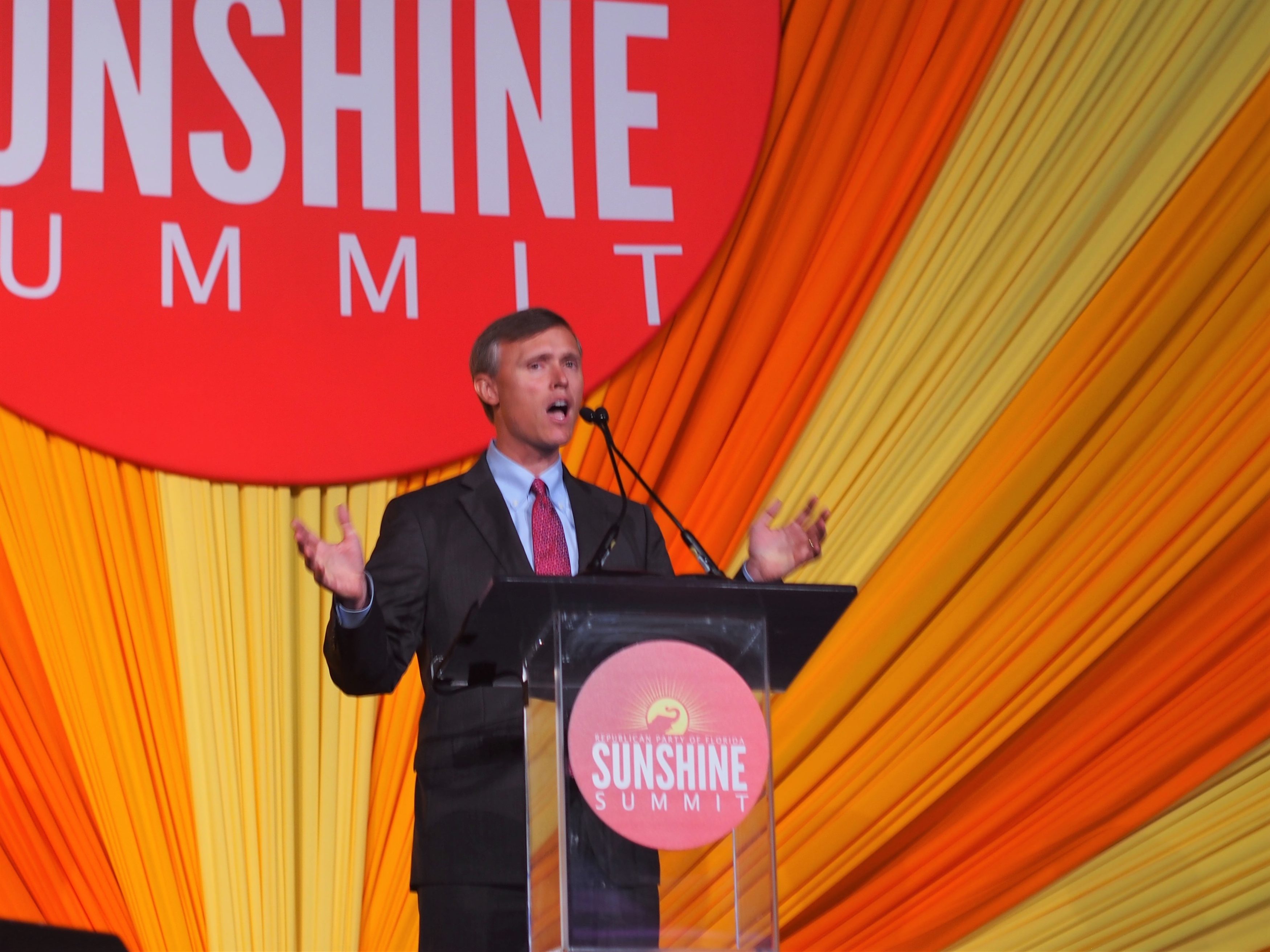 Warning that Florida is under attack by liberals and needs a defender, state Rep. Frank White vowed to follow conservative values and be a strict constitutionalist if elected the state's attorney general.
In a speech Friday at the Florida GOP Sunshine Summit, White pledged to be anti-abortion, fight against "the deep state," and defend the Second Amendment as nonnegotiable, saying Florida needs protection against many threats.
"My wife Stephanie and I are raising our three boys here in this great state because we know all that it has to offer," White declared. "But it won't stay that way unless we defend it from attack: those on the left, liberals, Democrats and even some Republicans want to change what has made our state so great.
"That's why I'm running for attorney general," he added.
White's comments and tone contrasted sharply with those of his opponent in the August 28 Republican attorney general primary, Ashley Moody, who gave her speech a few hours earlier, stressing the rule of law and her dedication, as a former judge and prosecutor to uphold laws.
White spoke of upholding the constitutions — state and federal — but also stressed he would fight for conservative values. He did talk about his 15 years in private-practice law, and of leading an association for auto dealerships, and he said the rule of law needs to be upheld, emphasizing that it is a part of defending the constitution.
White also spoke about fighting against consumer fraud, particularly against the elderly.
And he vowed "to protect the unborn, because I'm 100 percent pro-life. Our constitution's primary purpose is to protect our God-given rights, including the right to life."
He called the Second Amendment "foundational, non-negotiable, the amendment that secures all other rights," and noted he has an A+ rating from the National Rifle Association. He also pledged to protect states' rights under the U.S. 10th Amendment.
Finally, White pledged to protect Floridians from "the deep state," saying it exists both in Washington D.C. and in Florida.
"The administrative state is growing. We all know about the deep state, at the federal level; it's also at the state level," White said "Our president needs an ally in the state, and as attorney general I'm going to be that ally in fighting back against the deep state and the administrative state as it continues to grow."
Principals matter, he said.
"I believe Florida and the office of attorney general are best served by a proven conservative," White said.
"Our constitution is under attack. Liberal judges who want to be super legislators from the bench, who want to impose their policy preferences as an act of will, subverting the duly elected Legislature; Democrats who conveniently forget what our constitution says," White said. "It's critical that we have an attorney general who will defend the constitution."