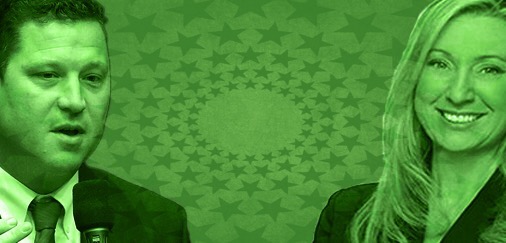 Carrie Pilon, the Democrat trial attorney challenging incumbent Republican Jeff Brandes in a battleground state Senate district, has withdrawn from the race.
Citing serious and unexpected health problems of a close family member, Pilon said, in a statement first provided to Florida Politics, that it is "impossible for me to continue forward and give the campaign the attention that it deserves."
The first sign that something was amiss with Pilon's campaign came last week, when the most recent campaign finance reports showed that Pilon's fundraising efforts had dramatically trailed off. That report showed just $6,730 in hard money fundraising.
This led to speculation at last weekend's annual gathering of Florida Democrats that Pilon was on the verge of exiting the race.
Democrat insiders attempted to persuade Pilon to stay in the race, although many were unaware of the personal issues affecting Pilon's ability to engage in the campaign fully.
Polling has consistently shown SD 24 is winnable for a Democratic candidate. A recent survey conducted by St. Pete Polls put Pilon within five points of Brandes.
Pilon's campaign got off to an inauspicious start.
Shortly after she made her announcement launching her campaign, Brandes touted the endorsement of Pilon's father-in-law, Ray Pilon, a former state Representative who is seeking to return to the Legislature.
Asked by Zac Anderson of the Sarasota Herald-Tribune if he wanted to elaborate on his decision to back Brandes publicly over his daughter-in-law, Pilon noted in a text message that as a member of the Republican Party of Sarasota's executive committee he is prohibited from endorsing a Democrat. But that did not mean he had to support Brandes. He could have stayed quiet about the race.
Still, Pilon would go on to earn her own endorsements, mostly from other Democrats. She also raised $150,000 for her bid, no easy feat against an incumbent lawmaker.
Democrats were hopeful that in this election cycle, with its record number of women candidates, that Pilon could put SD 24 in their column.
Because she has withdrawn after the candidate qualifying period, the Democratic Party will select a replacement for Pilon. According to her campaign, the party has already identified several potential candidates.
The Democrats may end up fielding a candidate, but it's likely that Pilon was their best bet. She was just the kind of candidate — smart enough to hold her own against the wonky Brandes, but unknown enough not to have too many negatives for his campaign to exploit — who could have given the Republican a real run.
"As a daughter of an elderly dad, I am keenly aware of what Carrie's family is going through," said state Sen. Audrey Gibson, the Senate Democratic Leader-designate. "Her struggle is all too familiar to thousands of families across our state, and we must do a better job of helping them.
"The Democratic Caucus of the Florida Senate was attracted to Carrie as a candidate because she has been a leader in her local community and knows how to solve problems," Gibson added. "I have no doubt she will continue to serve her community and make Florida better. Our thanks to Carrie for carrying the mantle thus far."
Florida Democrats' ambition of flipping the state Senate probably ends with Pilon's withdrawal.
Senate Democrats are also faced with the conundrum of how to fund the slate of challengers they have recruited as part of a broader effort to win control of the Chamber. The Dems have quality candidates in four other races (versus Republicans Keith Perry, Kelli Stargel, Dana Young and Ed Hooper), but probably only have the money to fund two or three full-fledged state Senate campaigns.
While Pilon's supporters and the Democrats may be disappointed in her decision to withdraw from the race, there is one community undoubtedly relieved by it: the staff and families of the students at Lutheran Church of the Cross Day School. Both Pilon and Brandes (along with this writer) send their children to the well-regarded private school. Having two parents running against each other had already become an awkward topic on social media.
Pilon's departure from the race heads off the possibility of any heated political debates on the school's playgrounds or in the student pickup line.
Here is Pilon's full statement:
"I want to thank all of my supporters and volunteers, who made this campaign special. This campaign would not be where it is today without all of you, and I will always be grateful for your support.
"It is only after much thoughtful contemplation and family consultation that I must say, with a heavy heart, that I am withdrawing from this race for personal reasons. Out of respect for the privacy of our family, I do not wish to go into great detail about these circumstances.
"However, I can say that a close family member is experiencing some serious and unexpected health problems. These health issues, unfortunately, have made it impossible for me to continue forward and give the campaign the attention that it deserves, while also being able to provide the support my family needs.
"We still have a full slate of strong Democrats up and down the ticket, and across the state, who will bring desperately needed change to Tallahassee.
"Until we change the makeup of the state Legislature, Tallahassee will continue to ignore the needs of working Floridians and continue working for special interests. I am encouraged that my short presence in this race has already brought attention to people, communities, and issues that are vital to change. I will continue to fight with our fellow candidates to ensure that change happens and will work with the Democratic Party to ensure that a strong Democratic candidate takes my place on the ballot.
"I extend my sincerest thanks to everyone who supported this campaign, and share our vision for SD 24, and Florida."
___
Jeff Brandes is a client of Extensive Enterprises Media, the holding company that owns FloridaPolitics.com.