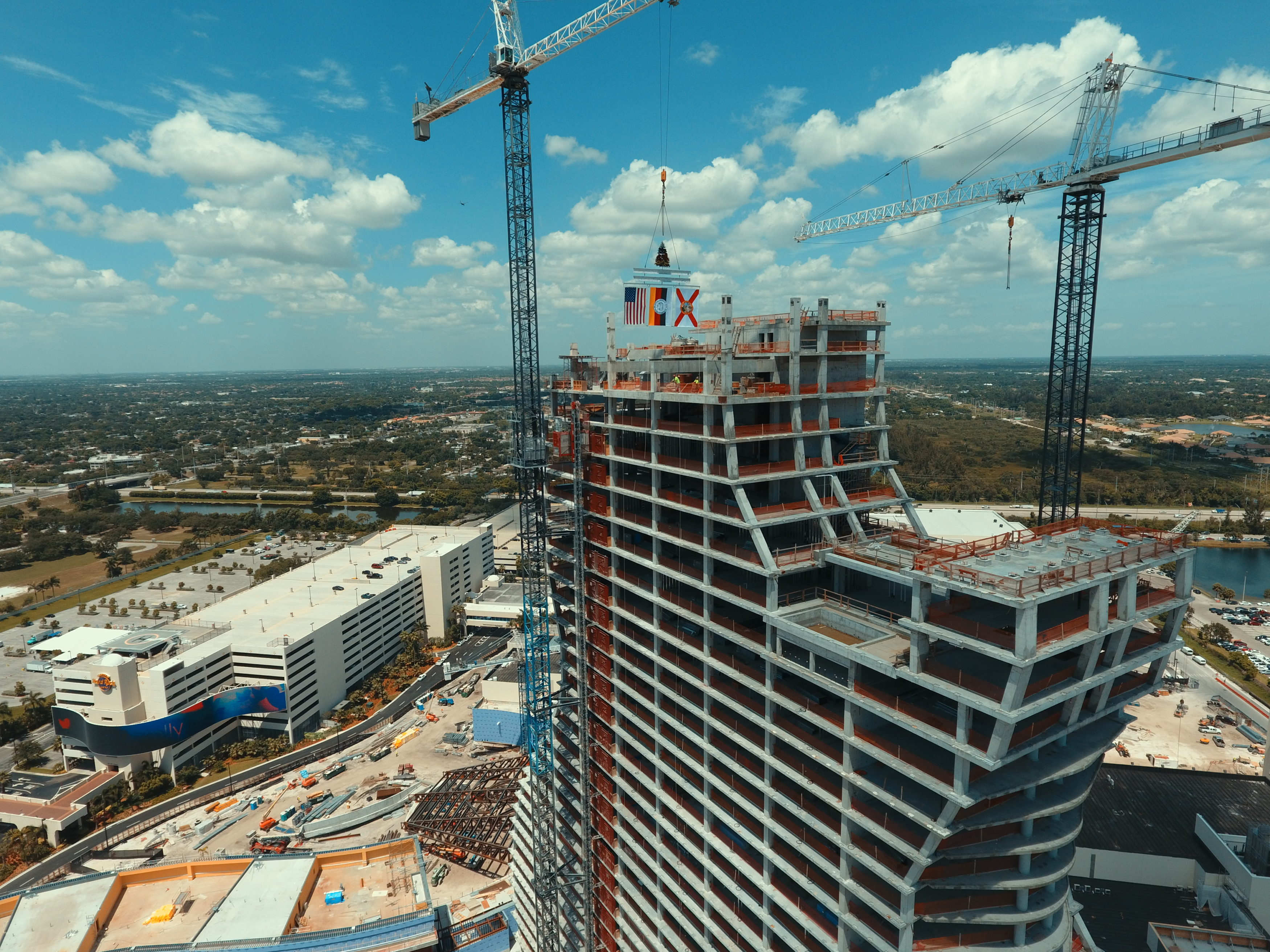 The $1.5 billion expansion underway at the Seminole Hard Rock Hotel & Casino Hollywood celebrated a milestone Monday with a "topping out" of its 450-foot high guitar-shaped tower.
That is, the final steel beam was ceremonially hoisted and set atop the tower. It will bring 638 new guest rooms and suites.
"The beam itself was transported to the Seminole Tribe's Brighton, Immokalee, Big Cypress and Hollywood Reservations over the past month to allow members of the Tribal community throughout Florida the chance to sign it as a way to share in the celebration," the company, owned by the Seminole Tribe of Florida, said in a press release. "The onsite construction teams also had the opportunity to leave their signatures on the beam."
Slated for a fall 2019 opening, the entire project "adds hotel rooms, gaming space, dining and nightlife outlets, a full service spa, three distinct pool experiences, a new retail promenade, a 6,500-seat Hard Rock Live entertainment venue and meeting and convention space to the existing property footprint."
"A vision has truly become a reality as we place this final beam atop this iconic landmark," Jim Allen, CEO of Seminole Gaming and Chairman of Hard Rock International, said in a statement.
"I thank everyone involved in this project, from the designers and engineers to the day-to-day laborers that are showing the world what the Seminole Tribe and the Hard Rock brand are truly about, unconquered vision, unparalleled service and unlimited future."
The tribe in late 2016 consolidated its control over the Hard Rock brand, buying out remaining rights from the owner-operator of Las Vegas' Hard Rock Hotel and Casino.
Since then, Hard Rock announced a fourth location in Florida with the addition of the 200-room Hard Rock Hotel Daytona Beach. Hard Rock-themed properties are now in Tampa, Hollywood (both include casinos) and Orlando.
The company bought and re-opened the former Trump Taj Mahal casino in Atlantic City, and has a deal to open a Hard Rock Casino in Ottawa, Canada. The company also wants to build a $1 billion casino in northern New Jersey, just outside New York City.