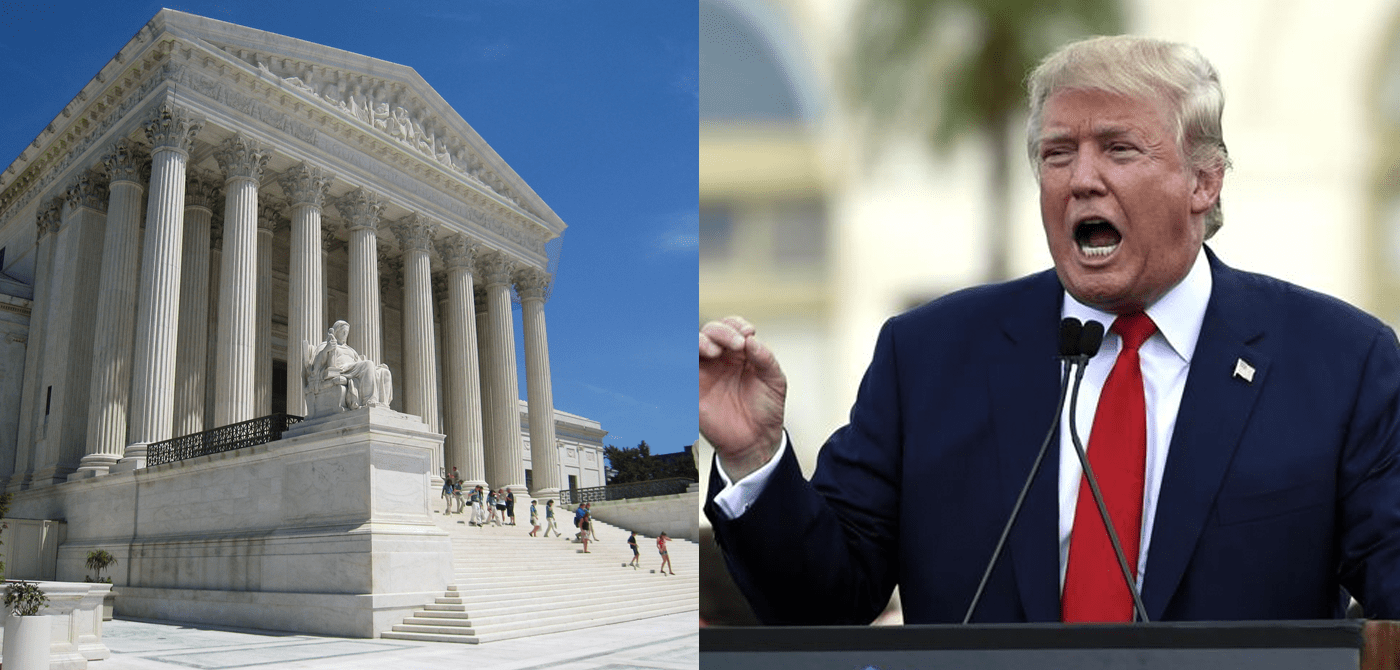 President Donald Trump is nominating influential conservative Judge Brett Kavanaugh to the Supreme Court as he seeks to shift the nation's highest court further to the right.
Trump chose the 53-year-old federal appellate judge for the seat opened up by the retirement of Justice Anthony Kennedy. Kavanaugh would be less receptive to abortion and gay rights than Kennedy was.
Kavanaugh is Trump's second high court pick after Justice Neil Gorsuch. Kavanaugh and Gorsuch served as law clerks to Kennedy at the same time early in their legal careers.
Kavanaugh is a longtime fixture of the Republican legal establishment. He has been a judge on the federal appeals court in Washington since 2006. He also was a key aide to Kenneth Starr during his investigation of President Bill Clinton and worked in the White House during George W. Bush's presidency.
Here is a running compilation of reactions from Florida's elected officials and politicians:
U.S. Senator Bill Nelson:
I look forward to meeting with Judge Kavanaugh to discuss his views on several issues such as protecting women's rights, guaranteeing access to health care for those with pre-existing conditions & protecting the right to vote, just to name a few. I'll make my decision after that.

— Bill Nelson (@SenBillNelson) July 10, 2018
U.S. Senator Marco Rubio:
"Brett Kavanaugh is a qualified, mainstream jurist who possesses the right temperament and experience for the position, and I'm pleased to see his nomination to serve on the U.S. Supreme Court.
"My decision on whether to ultimately support Kavanaugh's nomination will be based on his commitment to original intent, judicial restraint, and the understanding that the Supreme Court is a 'trier of law' appellate court and not a 'trier of fact' trial court.
"This is critically important because too many in the federal judicial system today believe it is appropriate for judges to craft new policies and rights instead of interpreting and defending the Constitution as written.
"Regrettably, Senate Democrats made up their minds to oppose this nomination long before tonight's announcement. I would remind them that just over a year-and-a-half ago the American people elected the president and a Republican-controlled Senate.
"Nevertheless, I am hopeful for a fair and thorough confirmation process as the Senate carefully examines and deliberates Kavanaugh's nomination to the Supreme Court."
Gov. Rick Scott:
Even though Bill Nelson pledged last week he would vote against the nominee without knowing who it was, he needs to do his job and give him a fair hearing. Unlike Nelson, I actually waited on commenting on the nominee until there was one.

— Rick Scott (@ScottforFlorida) July 10, 2018
Gubernatorial candidate Ron DeSantis:
With nomination of Kavanaugh, it's clear @POTUS has selected someone who understands Constitution & can apply constitutional principles in persuasive way. Whether Kavanaugh will be a fearless defender of Constitution in mold of Justice Thomas remains to be seen. Let's hope so!

— Ron DeSantis (@GovRonDeSantis) July 10, 2018
Gubernatorial candidate Adam Putnam:
History in the making. Judge Brett Kavanaugh is an outstanding #SCOTUSpick by President @realDonaldTrump who will defend the Constitution as written.

— Adam Putnam (@adamputnam) July 10, 2018
Gubernatorial candidate Gwen Graham:
"Donald Trump has nominated another Supreme Court justice who does not believe women have the right to make our own health care decisions. If Brett Kavanaugh is appointed to the court, Roe v. Wade is gravely at risk of being overturned.
"Florida: this is not a drill. If Roe v. Wade is overturned and Adam Putnam or Ron DeSantis are elected governor, women will lose our rights to make our own health care decisions.
'They would outlaw abortion within a year and appoint judges who will decimate Florida's constitutionally guaranteed right to privacy.
"As governor, I will veto any legislation that limits a woman's right to choose and I will appoint state Supreme Court Justices who will uphold our right to make our own health care decisions."
Gubernatorial candidate Chris King:
"In Brett Kavanaugh, President Trump has picked a nominee who threatens to roll back the clock on America — and with few allies in Washington, this fight now falls to the states.
"We've got to elect bold, progressive leaders who will stand up to the political establishment and fight for civil rights, workers' rights and women's health care — no matter what Donald Trump and his nominee have to say about it."
Gubernatorial candidate Philip Levine:
"It's more imperative than ever that reasonable Republicans join Democrats to complete a thorough vetting. Too much legal precedent is at stake — from preserving Roe V Wade to LGBT protections — we refuse to turn the clock back on the protections enshrined by a balanced court!"
Gubernatorial candidate Andrew Gillum:
"With his pick of Brett Kavanaugh, President Trump has done everything in his power to push the Supreme Court into the world of ultra-conservatism.
"A woman's right to make her own health care decisions is at risk. Voting rights are at risk. Collective bargaining is at risk.
'Here in Florida, Rick Scott will try to stack our Supreme Court in his final hours in office. We must hold the line on the three impending Florida Supreme Court vacancies, and when I am Governor-Elect, my Administration will use every tool available to ensure Floridians have their voices heard in their justice system."
Attorney General candidate Sean Shaw:
45's selection of Brett Kavanaugh for the SCOTUS is an attack on women's rights, workers rights, and human rights. As Attorney General, I will not sit by while the 45 attempts to roll back decades of progress. #saveSCOTUS #shawforFlorida

— Sean Shaw (@SShawFL) July 10, 2018
Attorney General candidate Ashley Moody:
Congratulations Brett Kavanaugh on being nominated by @realDonaldTrump to the highest court in the land. As the daughter and granddaughter of judges, a former federal prosecutor, and judge, the respect for the rule of law is not just a campaign slogan, it's a way of life #SCOTUS

— Ashley Moody (@AshleyMoodyFL) July 10, 2018
Attorney General candidate Frank White:
With the nomination of Judge Kavanaugh, @realDonaldTrump sets SCOTUS on a return to the founders' intent-to do what the law and the Constitution require. The American people are no longer subject to the whims of an activist court, and for that, we are tremendously grateful. #MAGA

— Frank White (@FrankWhiteFL) July 10, 2018
Republican Congressman Matt Gaetz:
"I commend President Trump for his selection of Brett Kavanaugh to the Supreme Court.
"He is an excellent jurist, with a deep and abiding reverence for the Constitution. I have no doubt that, when confirmed, Justice Kavanaugh will serve America's highest court with honor and integrity.
"I also commend President Trump for maintaining the same transparent selection process that he used when he appointed Neil Gorsuch to the Supreme Court. Like Justice Gorsuch, Judge Kavanaugh was on President Trump's list of potential candidates. Making this list available offered the American public great transparency, and an opportunity to learn about each potential candidate.
"With this nomination, President Trump has helped shape the future of jurisprudence in America for generations to come, by ensuring that the Supreme Court will faithfully uphold the Constitution as written. This is a good day for Judge Kavanaugh, for the rule of law, and for the United States of America."
Republican Congressman Neal Dunn:
"In announcing Judge Brett Kavanaugh's nomination for the Supreme Court, President Trump has taken another tangible step to secure the Constitution and ensure that the people of the United States remain pre-eminent, not the government. This is a victory for everyone who cherishes our nation's conservative values. I urge the Senate to act quickly and confirm Judge Kavanaugh."
Republican Congressman Daniel Webster:
"On the campaign, President Trump promised his Supreme Court pick nominee would be a jurist who is dedicated to freedom, the rule of law, and to preserving our liberties as enshrined in the Constitution of the United States. He also promised a transparent selection process.
"With the nomination of Justice [Neil] Gorsuch and now Judge Kavanaugh, President Trump has kept his promises."
Democratic Congressman Ted Deutch:
"With his nomination of Judge Kavanaugh, President Trump is attempting to advance a radical ideological shift of the Supreme Court that will threaten settled fundamental rights and challenge the right of every American to access affordable, high-quality health care. We know that the president has targeted the Affordable Care Act.
"He ordered his Justice Department to stop defending the Affordable Care Act. He ordered Republicans in Congress to do everything they could to weaken the law and drive up prices. And now he wants to use the third branch of government to finish the job.
"We know Judge Kavanaugh's record. If you have a pre-existing condition and benefit from those protections, your coverage is now at risk. Americans with disabilities, nursing mothers, and others who are covered by the ACA's basic protections are now at a greater risk of discrimination, skyrocketing costs, and loss of coverage. There is no longer a theoretical threat to Roe v. Wade.
"With this nominee, President Trump fulfilled his campaign promise of nominating justices who are hostile to women's reproductive rights.
"If confirmed, the conservative wing of the court — composed of five men — will be poised to strip women of the freedom to make their own health choices and control their own futures. If Judge Kavanaugh is confirmed, the Supreme Court could so severely weaken women's right to privacy that even access to basic contraception would be at stake.
"President Trump's decision to nominate Judge Kavanaugh to serve on the Supreme Court means that important precedents that have moved America forward toward a more equal and just society could be shredded. The Senate now has the responsibility to protect Americans from an ideologically-driven nominee whose confirmation would create a Supreme Court bent on setting America decades back in time."
Democratic Congressman Charlie Crist:
"A lifetime appointment to the highest court in the land is an awesome responsibility. Justices must be committed to upholding our Constitution, upholding the rights provided by it to ALL Americans, and upholding an independent judiciary where no one is above the law.
"I have serious concerns with Judge Kavanaugh's views on presidential authority, whether the executive is accountable under the law, and the threat his record may pose to civil rights and the right to choose.
"The Senate must carefully, thoroughly, and methodically vet Judge Kavanaugh before his nomination is brought to a vote."
Congressional candidate David Richardson:
As a gay man, I am terrified by #Kavanaugh's appointment.

As someone who cares about basic rights, I am terrified by this appointment.

Democrats and sensible Republicans in the Senate need to come together and protect #SCOTUS and protect #RoeVsWade, #LGBT rights, and beyond!

— David Richardson (@david4florida) July 10, 2018
Congressional candidate Alvin Brown:
"Donald Trump's Supreme Court pick Brett Kavanaugh will be a rubber-stamp for this Administration's extreme, right-wing agenda.
"With Kavanaugh on the bench, our values and the fundamental rights of generations to come are on the line. From access to affordable health care and reproductive health, to labor unions, gun safety and civil rights, Brett Kavanaugh cannot be trusted."
"He has a long, troubling record on issues that impact everyday Americans' lives, and the Senate must reject Brett Kavanaugh. Kavanaugh has no business anywhere near the highest court in the land."
Americans for Prosperity — Florida:
"We commend President Trump for nominating Judge Kavanaugh and keeping his promise to select a jurist with a sterling record of judicial restraint and a commitment to the Constitution, both of which are vital to serving on the highest court.
"Sen. Nelson put politics above country when he stated before a nominee was even announced that he was likely to oppose the confirmation of Judge Kavanaugh. But Judge Kavanaugh's record deserves his consideration and support.
"Floridians deserve Senators with objectivity during this process — Senators who will assess the nominee based on his interpretation of the Constitution, instead of coming to a pre-determined conclusion based on D.C. politics. We urge Sen. Nelson to support Judge Kavanaugh and put Floridians over politics."
Progress Florida:
"Whether you care about access to health care, reproductive rights, voting rights, protecting our environment, LGBT equality, or criminal justice reform, the fate of them all hang in the balance. Kavanaugh tried to sabotage the Affordable Care Act.
"He believes the Consumer Financial Protection Bureau is unconstitutional and time and time again he has sided with large companies over the interests of consumers. And Kavanaugh's writings clearly demonstrate that he would allow Donald Trump's abuses of power to go unchecked.
"Recent Supreme Court decisions are a stark reminder of the damage already wrought by one Trump appointment to the high court. Worker's rights, women's access to health care and voting rights have all been diminished during the just-concluded Supreme Court term.
"We cannot let President Trump take over the court for the next 40 years with justices like Brett Kavanaugh, who would rewrite the Constitution and roll back a century of progress on civil and human rights."
Republican Party of Florida Chairman Blaise Ingoglia:
"It is a historic occurrence for a President to nominate a Supreme Court Justice. And now, President Trump gets a second opportunity to deliver for this nation's highest court in less than two years.
"Judge Brett M. Kavanaugh is an immensely qualified candidate with a record of adhering to the rule of law and the original text of our finest document, the Constitution.
"A champion of our nation's legal heritage, Kavanaugh will serve the court honorably while protecting individual liberty. We urge the swift confirmation of Kavanaugh to the U.S. Supreme Court. This 'Coach K' is another winner."
Material from The Associated Press was used in this post.